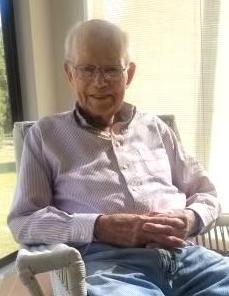 Mr. John Louis Shamblin, age 99, of Summerville, GA, died Wednesday, April 5, 2023, at his residence.
Mr. Shamblin was born January 1, 1924, in Menlo, GA, son of the late Phi Burnett Shamblin and Bonnie Marguerite Tate Shamblin.  He was a member of Mount Bethel Baptist Church, and prior to his retirement, owned and operated Shamblin Hardware.  Mr. Shamblin was a veteran of the United States Marine Corps where he served as a Sergeant in World War II.  He was also a member of the V.F.W. Post 6688, the American Legion, and the Chattooga Lodge 704 F.&A.M.
In addition to his parents, Mr. Shamblin was preceded in death by his wife, Bobbie Jo Cothran Shamblin; a sister, Hazel Reece; and a brother, Hugh Shamblin.
Survivors include his son, Mark (Robin) Shamblin; grandchildren, Sierra (Ruben) Bonilla, Hamilton Shamblin; and 3 great-grandchildren.
Graveside & interment services with military honors will be held at 11:00 A.M. (E.S.T.) Wednesday, April 12, 2023, at Mount Bethel Cemetery, Broomtown, AL with Rev. Kevin J. Norton officiating.
There will be no visitation.
In lieu of flowers, the family respectfully requests donations be made to V.F.W. (818 Memorial Drive, Summerville, GA 30747) or to the American Legion Honor Guard (P. O. Box 3311, Rome, GA 30164).