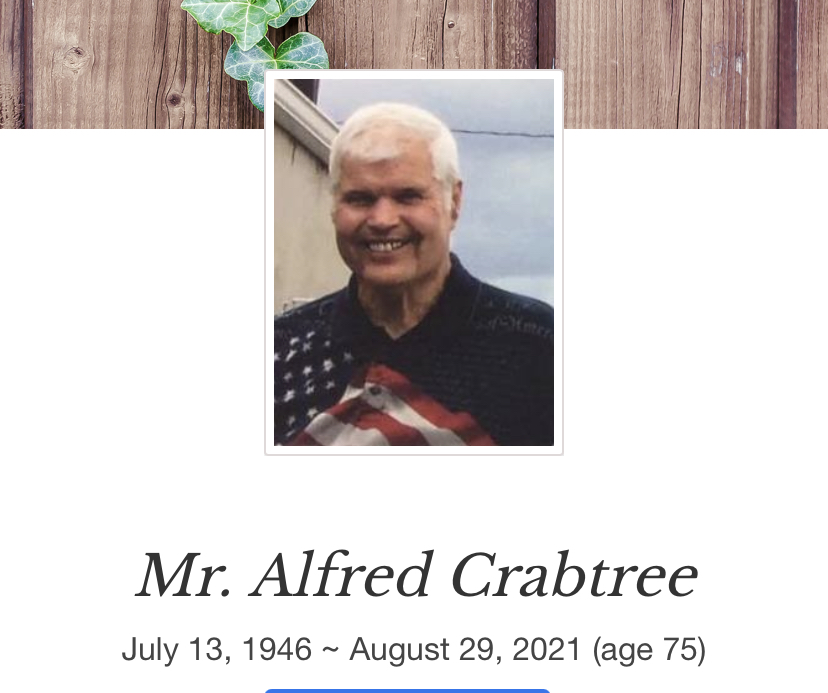 Mr. Alfred Donald Crabtree, Sr., age 75, of Summerville, GA, died Sunday, August 29, 2021, at Redmond Regional Medical Center.
Mr. Crabtree was born July 13, 1946, in Chattanooga, TN, son of the late George Gideon and Mae Elizabeth Smith Crabtree.  He was of the Baptist faith and owned and operated Crabtree Flooring. 
In addition to his parents, he was preceded in death by a son, Corey Scott Crabtree and several brothers and sisters.
Survivors include his wife, Gwyn Crabtree; children, Deb (Jimmy) Holland, Peggy (Dennis) Elrod, Alfred "Pete" (Sarah) Crabtree, Kelli (Lee) Narramore; brothers, David "Curl" (Linda) Crabtree, Clarence "Bud" Crabtree; grandchildren, Jeremy (Crystal) Elrod, Brittany Elrod, Jennifer Holland, Molly Holland, and Libby Crabtree; great-grandchildren, Ramsey Elrod, Addison Elrod, and Lorelai Holland; step-daughters, Christy Windle, Ginger Wofford, and Rese Wofford; and step-grandson, Asa Windle.
Graveside and interment services for Mr. Crabtree will be held at 9:00 A.M. Wednesday, September 1, 2021, at West Hill Cemetery with Rev. Kevin Norton, Rev. Wayne Pace, and Rev. Tom Russell officiating.  Pallbearers will be Jeremy Elrod, Gary McConnell, Rickey Cavin, Barry Duke, B.J. Gambill,  Larry Stansell, Rex Evans, Kenneth Blansit.
There will be no visitation.
In lieu of flowers, the family respectfully requests that you pass along a kind gesture to someone else or to help someone in need, just as Alfred always did.
Due to current community health concerns, face masks and the use of hand sanitizer will be requested for anyone attending the services.