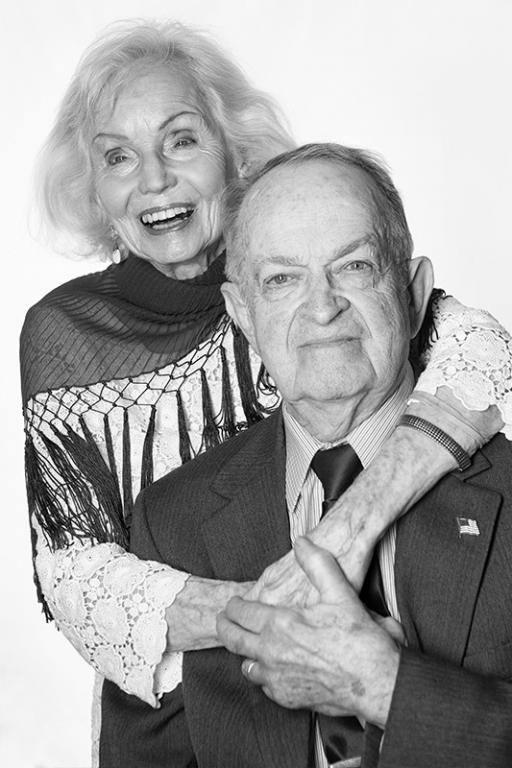 Montyne Brock Payne, wife of the late Dr. W. Marlin Payne and former Chattooga County resident, passed away in Rome, Georgia May 26, 2021 at the age of 94.  Mrs. Payne was the daughter of the late Thomas Dow Brock and Ethel Little Brock and was born in LaFayette, Georgia.  She spent her early years in LaFayette.  She and her mother moved to Rome to live with relatives in 1939 following a house fire which destroyed their home.  After graduating from Rome Girls High School in 1944, she was able to attend Freed-Hardeman College in Henderson, Tennessee.  Following her graduation there, she taught in the Rome school system.

She met her husband, of nearly 72 years, when she was 15 and he was 18.  Shortly after that, he entered the Army Air Corps.  When the war was over, they married on June 22, 1947 and moved to Memphis while he finished school.  Their first child, Jon, was born in Memphis.  After her husband's graduation, the family moved to Rome and stayed with relatives while her husband commuted to Summerville, opening his optometric practice.
Together they raised three children: Probate Judge Jonathan Marlin Payne, Marla Brock Payne Wise  (Darrell), and Thomas David (Tommy) Payne (Sue).  She adored her grandchildren: Patrick Payne, Chase Payne (Brandee), and Marlie Payne, Marisa Wise Parmer (Nathan), Darik Wise (Katie), Amy Payne Clifton (Chad), and Christopher Payne (Ashley).  Her beloved great-grandchildren are Madalyn, Audrey, and Jake Clifton, Laney and Logan Payne, Harper Payne, Addison and Reece Wise, and Elise Parmer.  She is also survived by her sisters-in-law, Mrs. Betty Crotty and Mrs. Ann Williams, special cousin, Sammie Frye Dobson, and many much-loved nieces and nephews.
In addition to her husband and parents, she was preceded in death by her son, Probate Judge Jon M. Payne, sister and brother-in-law, Evelyn and Jimmy Carroll, her brother and sister-in-law, Paul and Mary Lou Brock and two beloved nieces, Rebecca Carroll and Montyne Flint.  She was a member if the Church of Christ and taught children's and teen girls' Bible classes for 27 years, primarily at Northside Church of Christ.  Her home congregation was the Highway 27 South congregation in LaFayette, GA.
Mrs. Payne loved to travel and a favorite experience was a trip she and her husband took to the Kennedy Inauguration in 1961 as guests of newly elected U.S. Representative John W. Davis.
Mrs. Payne served as president of the Summerville Women's Club, president of the Chattooga Garden Club, was a member of the Music Study Club, and secretary of the Summerville Elementary PTA.  She was also active in Girl Scouts and Boy Scouts as her children were growing up.  She served as a member of the Board of Directors of the Chattooga County Library Board and was a former Chairman of the Chattooga County Cancer and Heart Association Drives.  She taught school at Summerville Elementary briefly and was her husband's bookkeeper and office manager for many years.  She was also a licensed real estate agent for a time.  More recently, she was an active member of the local Red Hats group.  Mrs. Payne was an ovarian cancer survivor and was always thankful that God allowed her more time with her family.
Funeral services will be held Saturday, May 29th, at 2:00 p.m. from the Graveside, with Edward Ledford, Officiant, burial to follow in the Family Plot of Summerville Cemetery.  Active Pallbearers will be Milford Morgan, Jim Hill, William Crouch, Jason Ledford, Ryan Ledford, and Charles Williams II.  Honorary Pallbearers will be Quinton Wilson, Sammy Strange, Buster Hollis, Gary McConnell, Chuck Tilley, and John Shamblin. Visitation will be Saturday from 12:00 noon until 2:00 p.m. at Earle Rainwater Funeral Home.
In lieu of flowers, donations may be made to Cancer Navigators of Rome.  Donations may be mailed to: 3 Central Plaza #415 Rome, Georgia 30161.
Earle Rainwater Funeral Home in charge of arrangements for Mrs. Montyne Brock Payne.