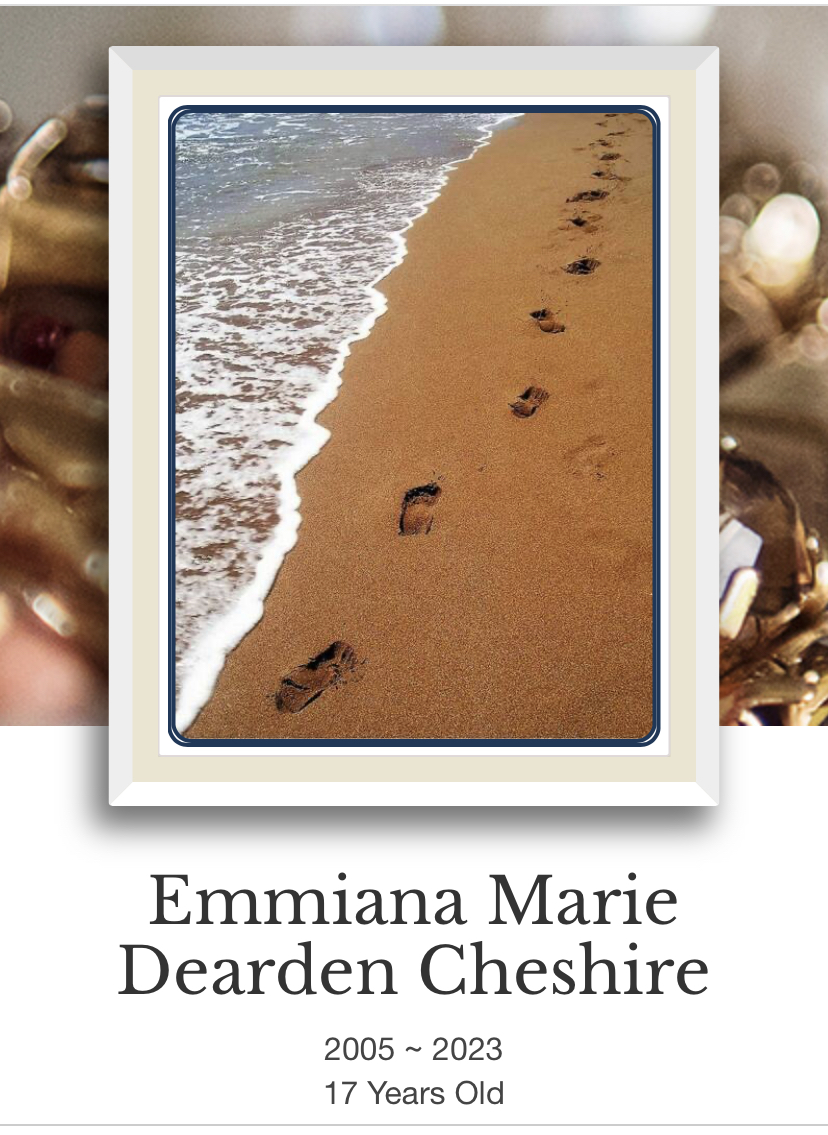 Miss Emmiana Marie Dearden Cheshire, age 18 of Summerville, Georgia passed away unexpectedly Friday, May 26, 2023 in Crystal River, Florida.

Emmiana was born in Rome, Georgia on June 7, 2005, daughter of Lee Petitt and Kristi M. Cheshire. She was a student of the Mountain Education Charter High School, and was interested in working towards becoming active in Children's Advocacy Programs. Emmiana was a very talented and free spirited individual that could do anything she set her mind to do. Among her interests, she loved to draw, make jewelry, and take pictures. Emmiana was preceded in death by her maternal grandparents, Sharon and Bill Cheshire.
Emmianna is survived by her father, Lee Petitt; mother, Kristi Cheshire; sisters, Macy Petitt and Sara Grace Strawn; brothers, Waylon Strawn and Kamden Parish; special friend, Andrea Croft; grandmother, Lisa Bryant; grandfather, Chris Petitt and a special "grandmother", Ann Strawn.
Funeral Services for Emmiana will be held Wednesday, June 21, 2023 in the Petitt Chapel with Rev. Micah Gillespie officiating. Interment will follow in the Perennial Springs Cemetery.
Emmiana will be in state the Coffman Funeral Home and the family will receive friends Wednesday from 2:00 P.M. until the funeral hour.
Coffman Funeral Home, Petitt Chapel is honored to be serving the family of Miss Emmiana Marie Dearden Cheshire. Please visit www.coffmanfh.net to sign our online guestbook and to post condolences.