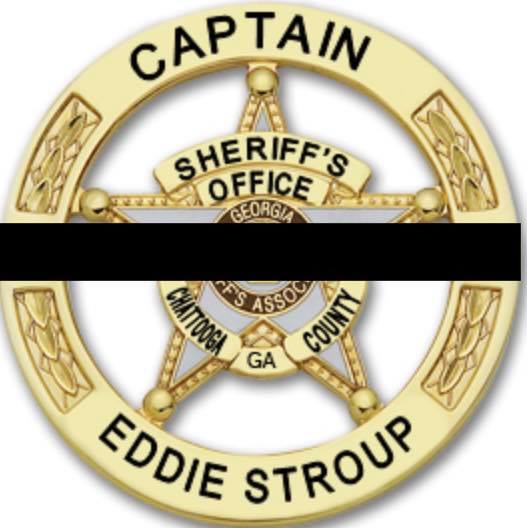 CAPTAIN EDDIE LEE STROUP, age 65, of Summerville, Georgia, passed away early Saturday morning, October 31, 2020. Mr. Stroup was born in Fulton County, Georgia of November 24, 1954, to the late Charlie and Myrtice Carnes Stroup. He was raised in Cedartown, Georgia, and was a 1972 graduate of Cedartown High School. Following graduation, Mr. Stroup served in the U. S. Air Force, the U. S. Air Force Reserve, and the Army National Guard. He began his law enforcement career in 1992 with the Rockmart, Georgia Police Department rising to the rank of Lieutenant. He was later employed with the Polk County Sheriff's Department as a Deputy, becoming the first K-9 Unit in Polk County, Georgia. In 2001 Mr. Stroup joined Chattooga County Sheriff's Department holding positions of Deputy, Road Captain, Investigator, Chief Investigator, and as of late, Jail Administrator. Mr. Stroup loved Knowing that throughout his career, he was able to help those in need. Mr. Stroup was married to Rhonda Lynn Tucker Robinson, on April 1, 2006, in a beautiful ceremony in the mountains of Tennessee, surrounded by their loving children. In addition to His Parents, he in preceded in death by a brother the late Gary Wayne Stroup.
Surviving is His loving wife, Rhonda Lynn Stroup; son, Charlie Joe Stroup (Aubrey); steps sons, John Nicholas Robinson (Sierra) and Ethan Tyler Robinson (Chelsey); grandchildren, Rory Stroup, Maura Stroup, Aiden Robinson, and Lincoln Robinson.
A Private Funeral service will be held Wednesday at the Chapel of Earle Rainwater Funeral Home with Sheriff Mark Schrader, Chief Deputy Kevin Woods, and Pastor Joel Smith officiating, entombment in Greenhills Memory Garden. Pallbearers, Steve Tucker, Jeremiah Tucker, Zach Pettett, Jason Burrage, Caine Railey, Brian Tucker, and B. J. Montgomery; Honorary Pallbearers include the Chattooga County Sheriff's Department and Chattooga County Jail Staff. In lieu of flowers, contributions may be made to the Widows Fruit Fund at Chattooga County Sheriff's Office.
Earle Rainwater Funeral Home in charge of arrangement for Captain Eddie Lee Stroup, who passed away Saturday.