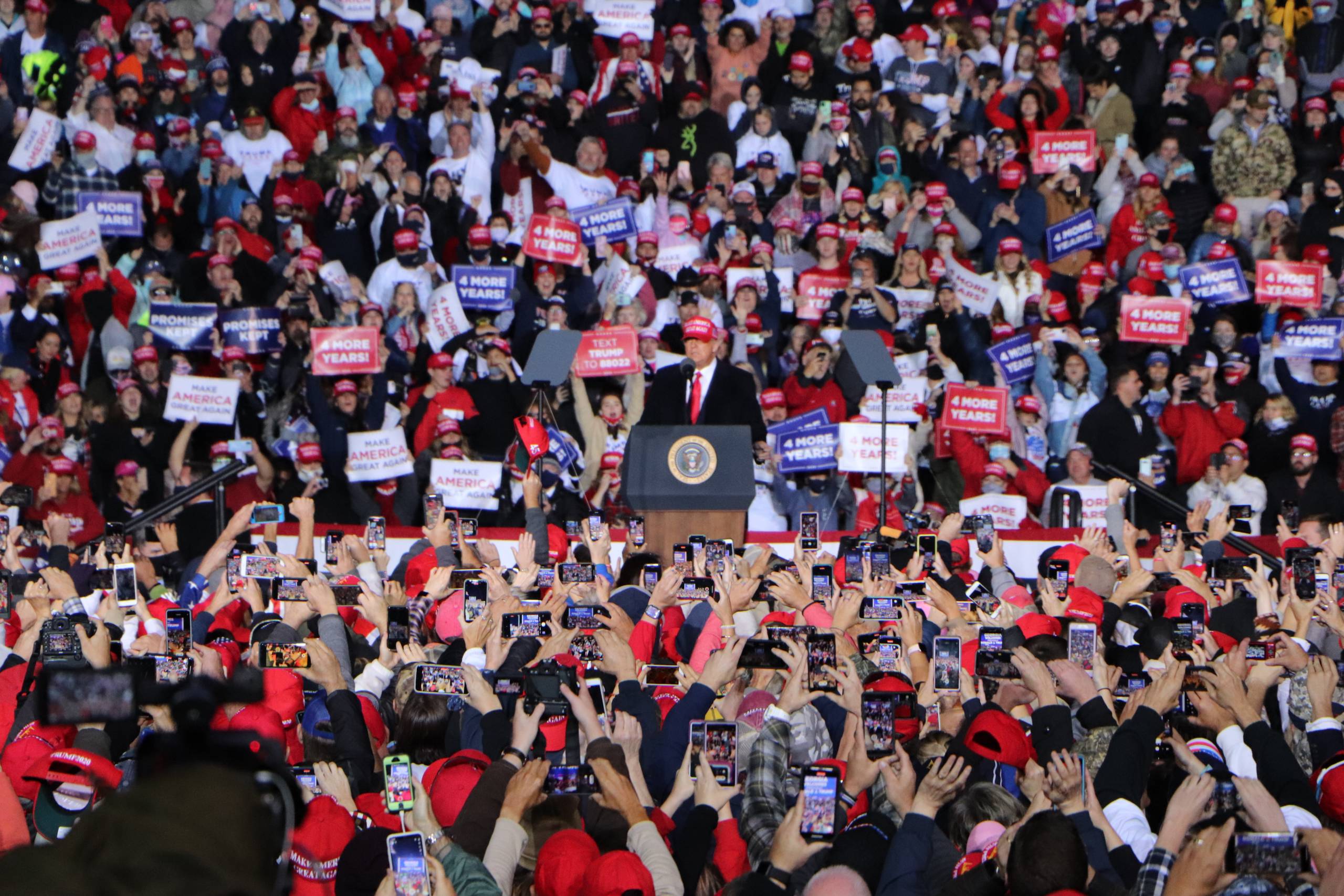 Law enforcement is grateful for cooperation from the thousands of people who attended the presidential election rally Sunday night, and for the many hundred spectators who thanked police for their service and offered support for our profession. There were some delays with traffic and crowd flow but considering the volume of people, police consider the night to be a success.
There were more than 30,500 spectators at the rally for U.S. President Donald Trump Sunday night at Richard B. Russell Airport. Police began turning away foot traffic and redirecting buses at 7:50 p.m. – an hour before the president landed in Rome. Many spectators who were turned away remained on the half mile stretch of road outside the airport because they wanted to be near the rally or see the historic landing of Air Force One in Rome.
In about two hours that same crowd was dispersed.
Law enforcement from Floyd County Police Department, Floyd County Sheriff, Rome Police and Georgia State Patrol assisted U.S. Secret Service with crowd control and traffic management.
"Our people worked well together and helped everyone have a safe experience," said Tom Ewing, assistant chief of Floyd County Police Department.
There were no reports of vandalism or theft of property either in or around the event and no disturbances or incidents of civil unrest. There were no pedestrians injured by vehicle and police only received report of one vehicle crash, which involved a driver who misjudged clearance and struck a parked police vehicle.
Police arrested one person for public drunk and one person misplaced their vehicle after the event. On two occasions a child wandered away from family but was reunited in less than 30 minutes.
Six patients were transported to the hospital with injuries ranging from sprained ankles and fatigue to chest pains and falls.
"With an event of this size there are bound to be issues that arise," Ewing. "But our officers did very well thinking on their feet and resolving problems."
A few observations from police about future events is communication with the public about changes in bus embarkation points. There were periods of waiting as the second wave of buses returned from parking areas but nothing extreme, said Ewing, pointing out that the same crowd that entered the airport in five hours was gone in two.
The event opened an hour early and for five hours people filed into the airport until the gates were officially closed at 8:25 p.m. In little more than two hours the airport was empty and all parking locations were vacated after the president left at 10 p.m.
Not all spectators arrived by shuttle. People arrived at the airport on foot as early as 5:30 a.m. to see the president speak at 9 p.m. Others parked on the side of the highway or in designated spectator parking before making the trek to see the 45th U.S. President.
Police were scattered throughout the area for at least a half mile in all directions with blue lights activated to warn drivers of pedestrians and cars parked on the road. "Our priority is always public safety, and while traffic might have been slow there were no injuries," Ewing said. "All in all it was a successful night."
Ewing said the airport has many security benefits but those can create challenges when accommodating the public in an event of this nature.
Initially there were congestion issues that were observed as spectators entered the event so police made corrections and modified bus routes to accommodate more efficient traffic flow. Traffic on Martha Berry Highway was slow but at no point was the flow of traffic stopped; police utilized the right lane as a bus lane for loading and unloading.
"The shuttle service did a tremendous work and always had buses waiting to load spectators," Ewing said. "The drivers were very professional and flexible with our changes."