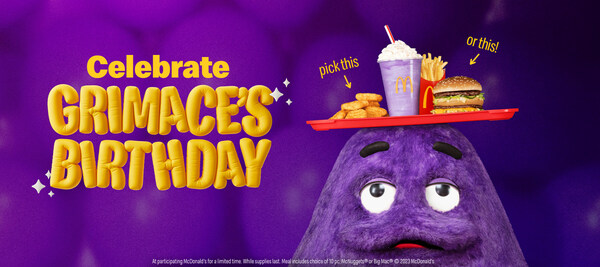 Starting June 12, fans can get in on the festivities with the Grimace Birthday Meal* – featuring a limited-edition purple shake inspired by Grimace's iconic color and sweetness. The meal also comes with the choice of a Big Mac® or 10-piece Chicken McNuggets®, and World Famous Fries®.
"Our fans have amazing childhood memories of their birthdays at McDonald's…and Grimace's Birthday is all about paying homage to the amazing, fun moments we all share," said Tariq Hassan, Chief Marketing and Customer Experience Officer at McDonald's USA. "We're excited to put a modern spin on these memories to continue to drive McDonald's relevance with a new generation. Grimace is the perfect lovable icon to have McDonald's meet our fans at the intersection of nostalgia and culture."

For those just realizing how little you actually know about your purple pal…Grimace is from Grimace Island and comes from a huge family (including his Grandma Winky, aunts Millie and Tillie and his Uncle O'Grimacey!) The timeless bestie has become a fan-favorite known for his signature fuzzy purple look, friendly and playful personality, love for shakes, and of course – ambiguous nature. What exactly is Grimace? Perhaps we'll never know…
*The Grimace Birthday Meal and Shake is available at participating restaurants nationwide, while supplies last starting June 12 via the McDonald's App, drive-thru, McDelivery or in-restaurant. McDelivery available at participating McDonald's. Prices may be higher than at restaurants. Delivery/other fees may apply.