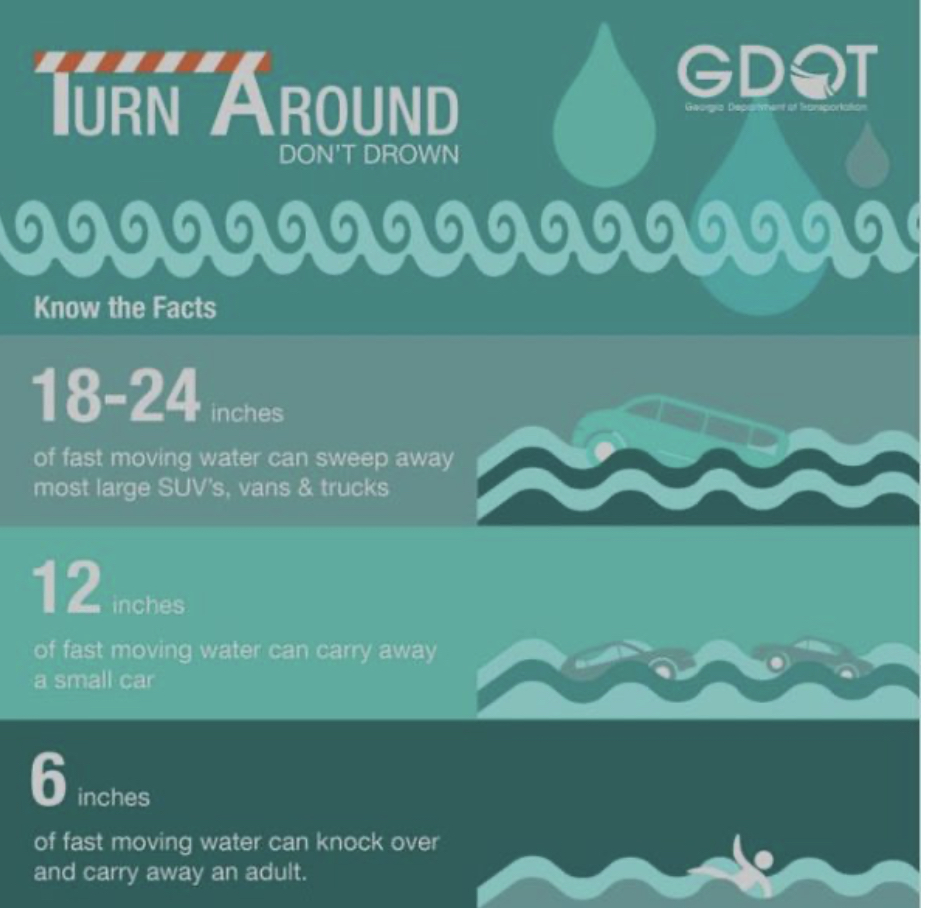 In the midst of Severe Weather Preparedness Week, the National Weather Service has issued a flash flood watch for 50 North Georgia counties, including all of metro Atlanta, until 7 a.m. Friday. Until then, much of Georgia can expect damaging wind gusts and heavy rainfall of up to six inches in some areas, which could result in localized flash flooding on state routes and interstates as well as on local streets and roads.

For motorists, this means being cognizant of standing or rushing water, and responding appropriately to road conditions that could change quickly.
When heavy rainfall occurs in a very short amount of time, water on roadways – even with storm drains that function well under normal rainfall – can rise temporarily just like creeks and rivers. As storms move through Georgia, GDOT encourages drivers to be careful, slow down, and if visibility becomes compromised, pull over until the heavy rain passes.
If an incident occurs on the roadway, call for HERO or CHAMP assistance through 511, and remain in your car——with lights and flashers on—until help arrives.
For up-to-the-minute traffic updates, use the Georgia 511 app. Georgia 511 is a free phone service that provides real-time traffic and travel information statewide, including traffic conditions, incidents, lane closures and delays. More information is available at www.511ga.org.
Click Graphic to Show Video
Facts about Flooding and Driving
Turn Around, Don't Drown
A foot of water can make a car float.
Two feet of rushing water can carry most vehicles including trucks and SUVs.
Six inches of fast-moving water can knock over and carry away an adult.
Do not attempt to drive through flooded areas. The road bed may have washed away under the water.
Do not drive around barricades.
Stick to designated evacuation routes. Do not take shortcuts.
Georgia Department of Transportation plans, constructs and maintains Georgia's state and federal highways. We're involved in bridge, waterway, public transit, rail, general aviation, bike and pedestrian programs. And we help local governments maintain their roads. Georgia DOT and its nearly 4,000 employees are committed to delivering a transportation system focused on innovation, safety, sustainability and mobility. The Department's vision is to boost Georgia's competitiveness through leadership in transportation.