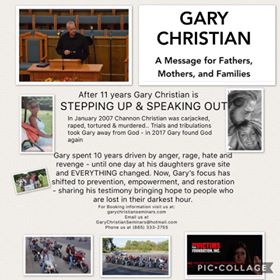 GARY CHRISTIAN: 

A Message for Fathers, Mothers, and Families
In 2007 Channon Christian, 21, and Christopher Newsome, 23, were murdered in Knoxville, Tennessee after a carjacking turned kidnapping. Channon was a student at the University of Tennessee. The brutal double-homicide shocked the locals and horrified the nation. Channon was gang-raped, choked, bound and had bleach poured down her throat and all over her body before being stuffed into trash bags and placed inside a trash can while still alive. The murderers were eventually tried twice for the crimes because of the first judge was disbarred. The parents had to sit thru the trials and retrials reliving the horrors of the crimes.
During the years of investigations and trials, Channon's father, Gary, was nearly suffacting with rage. He built up  an understandable hatred for his daughter's killers but soon, it began leading him down a horrible road. "As a father, I was filled with rage. I wanted the justice that our court system had failed to produce. I wanted my vengeance. I spent the next ten years driven by anger, hate, and revenge…until one day, at Channon's grave site, everything changed. Now, my focus has shifted from revenge to prevention, empowerment, sharing my story of restoration, and working towards changing a broken justice system," Christian said. 
Gary Christian will be speaking at Harrell Street Church of God in Trion (across from Trion Drugs) this Sunday night, April 8, at 6 p.m. about a day no one should face and walking with God to restoration. Christian is sharing his story with the goal of bringing hope to people who are in their darkest hour, bringing families closer together, sharing his vision of community, and bringing attention to the reality of risk we all face.