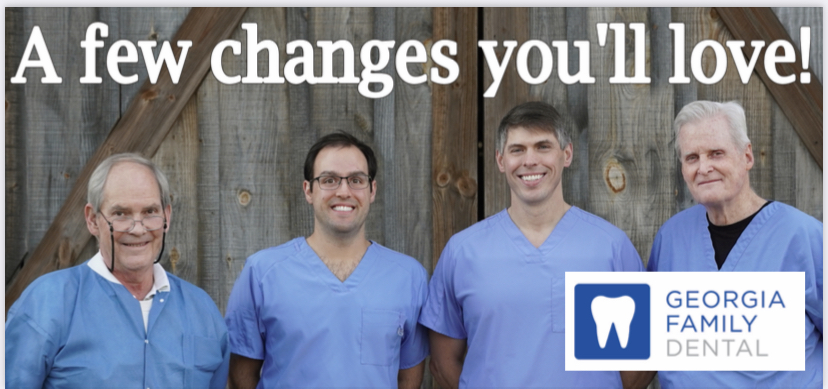 Dr. Richard Miller, DDS is pleased to announce that beginning in 2022, our practice has merged with Carney Family Dentistry of Rome and Dr. Kirk Krueger's office of Summerville to form Georgia Family Dentistry!  Dr. Miller and staff will continue to provide the superior care you have come to expect, with the additional expertise of Dr. Kyle Carney, Dr. Stephan Drescher, and Dr. Debbie Dismuke.  You will also see familiar faces from the office of Dr. Krueger!  Diane, Rhonda, and Randi will continue greeting and treating patients in our Walnut Avenue office as Dr. Krueger enjoys retirement.

Dr. Kyle Carney grew up in Rome. He went to Model High School, graduated from Shorter, and got his doctorate at the Medical College of Georgia in Augusta. He has a beautiful family with his wife of 19 years, Jessica. They have three kids, 14-year-old Laney, 12-year-old Davis, and 10-year-old Dempsey.
He got into dentistry for the love of people. "I love the interaction, the relationships you have with people, and I just like helping them," Dr. Carney says.
Dr. Stephan Drescher grew up in Atlanta and went to Lakeside High School. He graduated from Georgia Tech with a degree in Biochemistry and got his dental degree at The University of North Carolina at Chapel Hill. He continued his education in Augusta, GA completing a 2 year General Practice Residency. This residency program focused on sedation and implant dentistry as well as the management of medically complex patients.
His father is also a dentist and practices in Midtown Atlanta. "He was my inspiration to become a dentist and I enjoy the relationships with patients and the ability to help people each and every day. When I am not in the office, I enjoy sports, cooking, traveling, and spending time with my wife Sarah and our chocolate lab Sugar."
Dr. Debbie Dismuke graduated cum laude from the University of Georgia with her bachelor's degree in microbiology then completed her dental degree at the Medical College School of Dentistry in Augusta, graduating in the top three of her class.  Dr. Dismuke began her dental practice in her hometown of Douglas, GA where she joyfully served her community for over thirty years.  Dr. Dismuke is very excited to have the opportunity to practice in Summerville and establish long term relationships with her patients.
Dr. Dismuke's interests include travel, cooking, reading and historical movies.
We will now be able to offer updated technologies and services including state of the art imaging, same day crowns, bridges, and implants, and even several orthodontic services!
Exciting things are happening and we cannot wait to share them all with you!
press release