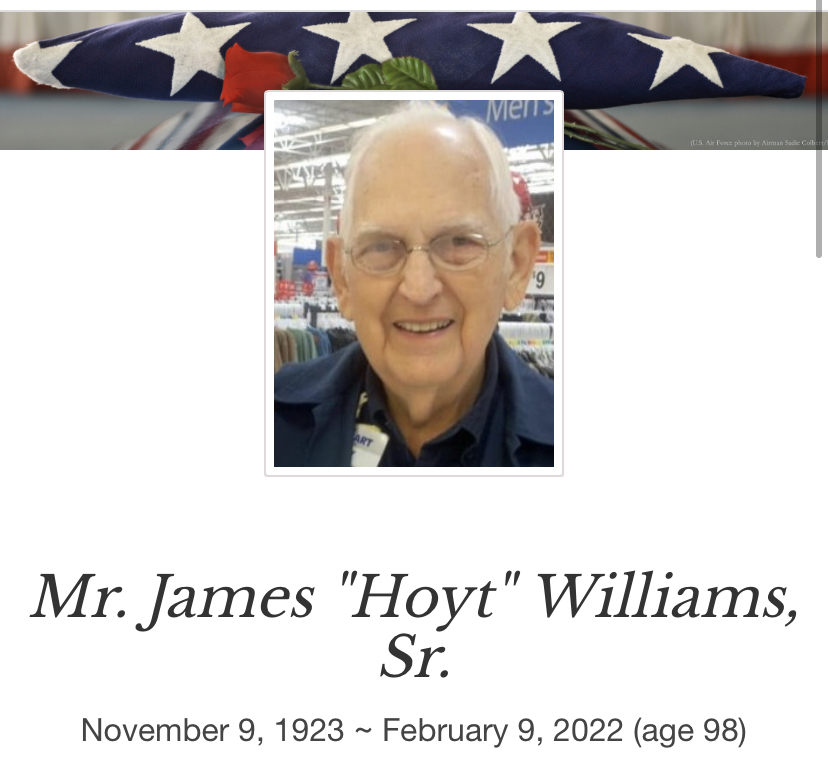 Mr. James Hoyt Williams, Sr., age 98, of Trion, GA, died Wednesday, February 9, 2022, at Advent Health – Redmond.

He is also known as J. Hoyt, or you might hear his family refer to him as "Big Daddy."
Mr. Williams was born November 9, 1923, in Trion, GA, son of the late Earl Allgood and Ruth Mullinax Williams.  Hoyt's parents married in Trion on December 15, 1910.
Hoyt Williams was a very talented man who wore many hats throughout his life.  His first job was as a paper route boy.  He attended Trion City Schools and graduated from Trion High School in 1942.
After high school graduation, he joined the United States Army and served during World War II.  Tech Sergeant James Hoyt Williams served as an Army combat engineer in both the European and Pacific Campaigns of World War II.  He served with an engineer supply company in England, France, Belgium, and Germany between 1943 and 1945.  He was awarded the Asian Pacific Service Medal, the European African Middle Eastern Service Medal, and one White Star for his service in World War II.  His final tour was in the Philippine Islands but the war ended four days after his unit arrived.  Hoyt returned to Trion after Japan surrendered in September of 1945.  In 2020, Hoyt received more medals he had earned during World War II.  Georgia Adjunct General Thomas Carden pinned Williams with a Sharpshooter Badge, Rifle Bar, Marksman Badge, Carbine Bar, and the Honorable Lapel Button for his service in World War II.  Carden stated, "You have set an amazing example for all of us.  I wish all Americans could be in this room today to witness this lesson in service that this country desperately needs today."
Hoyt was one of the original founders and members of the Chattooga County Water District Board in 1954.  He worked in the supermarket business for 40 years, which included ownership of several grocery stores in the 1950s-1980s.  He also served on the Trion City School Board and was Chairman for two terms.  Hoyt was elected as a Trion City Councilman for 16 years before being elected Mayor of Trion.  He was a longtime member of the Pennville Church of Christ.
After his political career ended, Hoyt returned to the customer service and supermarket business.  Hoyt was a proud Walmart Associate for the Trion Walmart in Chattooga County, being one of the oldest employees on the Walmart payroll.  He greeted everyone with a smile, just like he did 40 years prior while operating Hoyt's Supermarket.
James Hoyt Williams married the former Hazel Broome.  They were married for 67 years.  They had two children, Jimmy Hoyt (Lisa) Williams and the late Brenda Faye Williams.  Hazel was born on August 22, 1924 and passed away on July 21, 2009, at the age of 84.
Survivors include son, James "Jimmy" (Lisa) Williams, Jr.; grandchildren, Sam (Kim) Tripp, Justin E. (Emily) Williams, Allison Lyons; great-grandchildren, Misty Tripp (Seth McKelvey), Kayla Tripp (Sean) Willingham, Blaine Woody, Kiersten Woody; great-great-grandchildren, Lani Michael Willingham, Conlee Willingham, Maddox Baker, and Elijah Williams.
Funeral services for Mr. Williams will be held at 2:00 P.M. Monday, February 14, 2022, at Pennville Church of Christ with Min. Robbie Eversole officiating.  Interment with Military Honors will follow at Greenhills Memory Gardens.  Active pallbearers will be Nolan Crisp, Blaine Woody, Lance Peavey, Sean Willingham, Danny Strickland, Alan Mowrey, and Seth McKelvey.  Honorary pallbearers will be the Employees of the Trion Walmart.
Mr. Williams will be in state at the Pennville Church of Christ and the family will receive friends from 11:00 A.M. until the hour of service on Monday.
Flowers will be accepted, or if you feel led, please donate to the Wounded Warrior Project or to a charity of your choice to pay forward kindness as Hoyt would do!  The Wounded Warrior Project can be reached at www.woundedwarriorproject.org.
Due to the current health concerns for the community, those in attendance are asked to keep in mind the current guidelines and restrictions set forth by the C.D.C. as it pertains to social gatherings including the use of face masks and hand sanitizer.