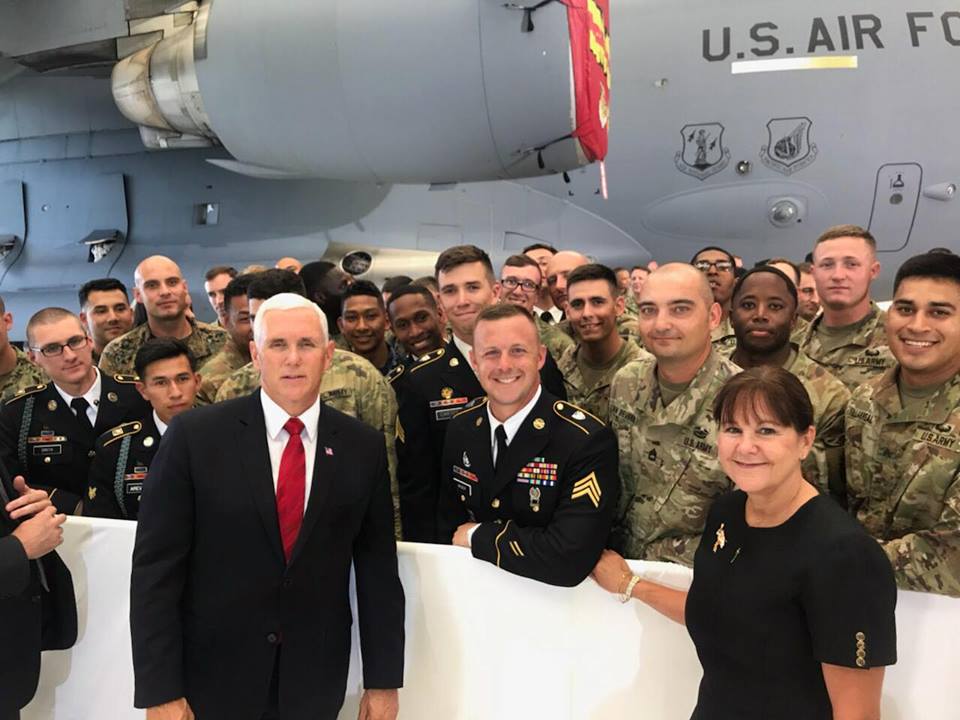 Army e4/SPC Damian Childress participated in a major historical event with Vice President Mike Pence looking on. As the remains of missing American service members killed in the Korean War were returned to the U.S. Wednesday, Childress was one of just 16 soldiers selected to represent the Army during the receiving ceremony.
"This mission was put out by our Command Sergeant Major last week and he called a group of us in that he wanted to represent this unit. After his speech and an inspection of our ASU uniform, he narrowed us down to 20 soldiers. From there we were sent to the 25th infantry division and inspected by that Command Sergeant major. Once we got down to DPAA , they gave us a brief and we got to work immediately." said Childress. Only a handful of servicemen and women were chosen to be on hand for the ceremony. "We started practicing with joint service men and women on the overall drill and ceremony that would be needed during the event. The DPAA then picked 16 personal from each branch to participate in the marching," Childress told AllOnGeorgia.
Vice President Mike Pence, whose father served in the Korean War, told the crowd gathered at the ceremony, "…to these great American heroes, fallen so long ago: Today, as a nation, we breathe a word of thanks for your service and sacrifice. And we say to you, as one people, with one voice: Welcome home."
Vice President Pence and the crowd welcomed home 55 sets of remains believed to be American soldiers who didn't make it home more than 60 years ago after fighting in the Korean War.

For Specialist Childress, the moment was an opportunity of a lifetime to pay his respects to some heroes of the past. "To get selected to be apart of an even like this one was one of the greatest honors of my military career. It was an event for the service members lost in the Korean War and their families. And to be able to bring someone home to the US after 60 or so years was an amazing feeling," Childress told AllOnGeorgia.
The Honorable Carry Ceremony was held at Joint Base Pearl Harbor-Hickam in Hawaii.
Childress is a 2014 Chattooga High School graduate. He attended basic training at Fort Benning, Georgia and AIT at Fort Gordon, Georgia. Childress is an E-4 Specialist, 25B Information Technology Specialist with the 3-4 CAV, currently 
currently stationed in Hawaii.
Photos provided by Damian Childress