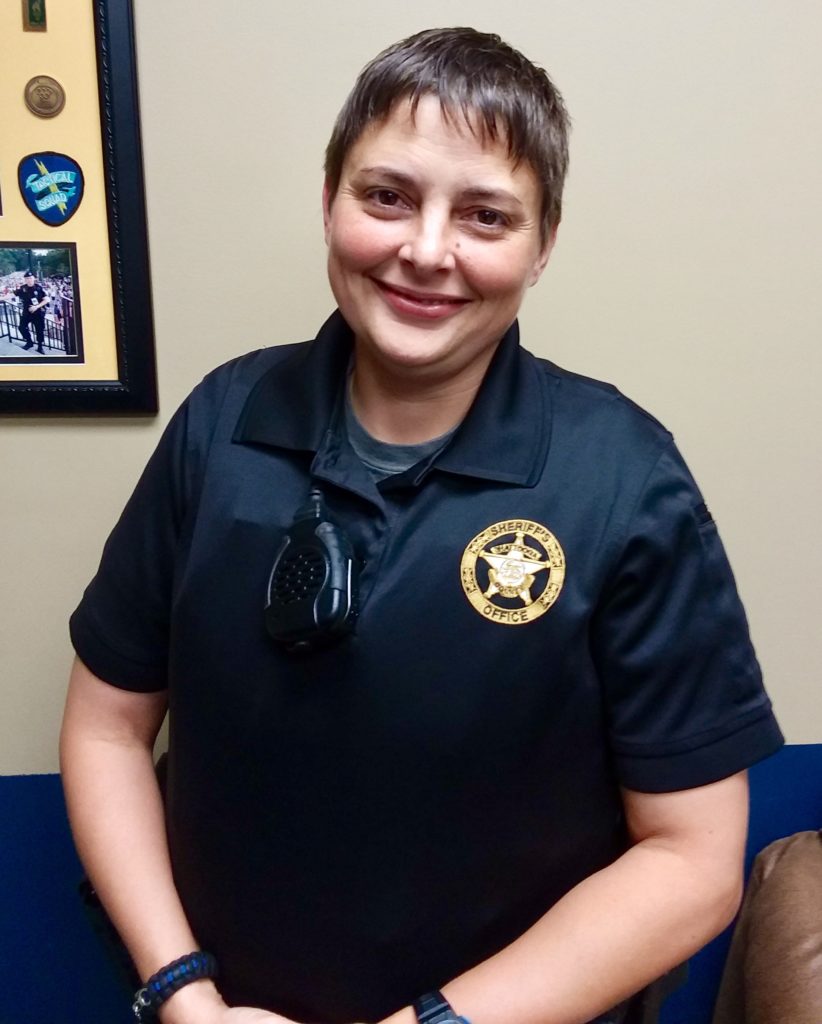 A Desperate Plea

In the early hours of Friday, August 3rd, a twenty-two year old Calhoun resident made a desperate call for help. The young mother had recently lost custody of her two year old daughter and was at her wit's end, telling 911 dispatchers that she was going to commit suicide off of the foot bridge in Trion, Georgia.
According to Trion Police Chief Jason Kellett, the 911 call was received at 3:30 a.m.. Trion Police Department Officer Donald Starkey was the first to arrive on the scene, a well-known location beside Trion's Mount Vernon Mill. Officer Starkey explained that, upon his arrival, the female was already standing on the outside of the railings and claiming that she was going to jump. "She said she was on the foot bridge but,  actually she was on the wagon bridge. It connects this side of Trion to the Mill," Kellett said.
Officer Starkey promptly engaged the young woman in conversation but he didn't get too close to her, unsure if she was armed with a weapon or not. As she spoke, Starkey apprised the situation and kept the conversation going by telling her that he couldn't hear her well over the roar of the mill noises. Starkey claims this continued for approximately five minutes, during which time he called for back up from the Chattooga Sheriff's Office. "Donald did a very good job stalling her and buying some time until back up got there." said Chief Kellett.
A Mother Responds
Corporal Corey Fielding and Deputy Nicole Sprague responded to the call. As Officer Starkey began to bring Fielding up to speed on the situation, Sprague approached the young woman and they engaged in conversation. Sprague told the desperate woman that she too is a mother. Still unsure of the circumstances, Sprague ascertained that the woman, had recently endured considerable stress in her life.
Flash Flood Conditions
After many days of rainfall, the Chattooga River had swollen considerably as flash flood warnings were issued multiple times in the previous 72 hours. If the woman leapt from the bridge, there was a chance that her body would be swept away by the force of the current.
As she attempted to continue engaging the troubled woman in dialogue, Sprague noticed that she had her phone and so she asked to see pictures of her young daughter. The woman responded by pulling up photos and allowing Sprague to inch closer. "She was trying to show me a picture of her daughter and I asked her if I could walk closer to her…" described Sprague. "She showed me a picture of her daughter and I said she was very pretty." But the photos proved to be too much and the woman reached a breaking point. She jumped.
Quick Action
Deputy Sprague rushed from the bridge to the river bank, stripping off her utility belt and gear as she went. The rushing waters did not deter Sprague; gaining permission from Fielding, her supervisor, she went straight into the river. Despite the darkness of night and the power of the swollen river, Deputy Sprague followed the beams of light from Starkey and Fielding's flashlights and found the jumper. "I am a very confident swimmer and I knew I could get her," said Sprague. By this point, panic had set in and the woman was reaching for Sprague, willing to be rescued and pulled to safety. "I grabbed onto her and she let me, thankfully." said Sprague.
"It was nothing short of heroic." said Chief Kellett, of Deputy Sprague's actions. A native of Ohio, Sprague moved to the Lafayette area about 11 years ago; a town where her mother was born and raised. A former stay-at-home mother of four, Sprague's search for a job was answered when Sheriff Schrader "took a chance on me" and hired her to work in the Chattooga County jail in November 2013. She was promoted to the patrol division in July 2017.
Words of Hope
As Corporal Fielding was calming the woman, Deputy Sprague approached her again, not just as an officer of the law, but woman to woman… as a mother. "I told her that her kids need her and she needs to get better for herself before she can help them," said Sprague. The kind words were effective as the young woman agreed to seek help. "She agreed to go to the hospital" where the process of healing can begin.
Sheriff Schrader remarked on the event, "Deputy Sprague exemplified the life of a law enforcement officer early this morning. All to often, law enforcement officers go above and beyond in the performance of their duties only to be over shadowed by the bad actions of one officer somewhere else. I am truly proud to serve alongside the men and women of the Chattooga County Sheriffs Office. I am also thankful for our relationships with our local police departments."
Suicide in America
Responding to a suicide attempt can be a very risky situation for law enforcement officers. Dealing with a despondent person who may possibly be armed, an officer never knows when emotions may boil over and the scenario take a deadly turn. Some statistics show that as much as 39% of officer-involved shootings are suicide by officer.
According to the Centers for Disease Control and Prevention (CDC) WISQARS Leading Causes of Death Reports, in 2016:
Suicide was the tenth leading cause of death overall in the United States, claiming the lives of nearly 45,000 people.
Suicide was the second leading cause of death among individuals between the ages of 10 and 34, and the fourth leading cause of death among individuals between the ages of 35 and 54.
There were more than twice as many suicides (44,965) in the United States as there were homicides (19,362).
Between 1996 and 2016, Georgia experienced a 16.2 percent increase in suicide rates, comparatively low compared with the 25 states where suicide rates rose by nearly 30 percent. But that's still considered a significant increase, according to the CDC.
This call was another example of police officers being thrust into the role of mental-health-care professional in a crisis situation. Police officers often become front line soldiers in a war for better mental health care.