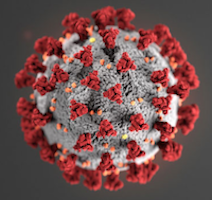 On Thursday the state reported the first COVID-19 related death of a Chattooga County resident since April 28th.


That one death was among the 42 Georgians listed on a daily infection and mortality report released by the Department of Public Health.
Since March, the total number of Georgians who have died of the disease has risen to 4,026.
Chattooga County had 19 new COVID-19 cases reported on Thursday bringing the running two-week total to 118 confirmed cases, according to the Department of Public Health. That brings the county's cumulative case total to 231.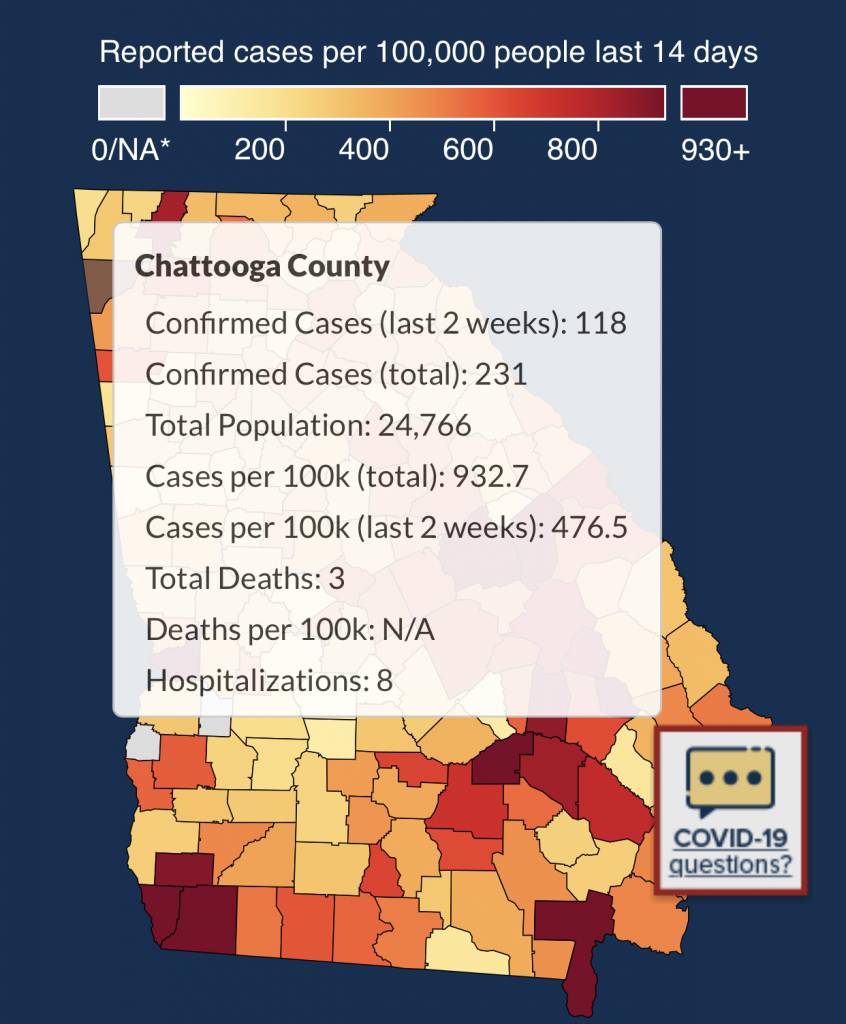 Free COVID-19 testing available to anyone regardless of symptoms present or not.
The Georgia Department of Public Health Northwest Health District testing hours at its ten Northwest Georgia drive-up COVID-19 testing locations: Free testing is available Monday through Friday from 8:30 a.m. to noon at the Chattooga, Catoosa, Dade, Gordon, Haralson, Paulding, Polk, and Walker county health departments. For health department locations and contact information, go to https://nwgapublichealth.org/counties.
Free COVID-19 testing will continue to be offered Monday through Friday in Bartow County at the Clarence Brown Conference Center, 5450 GA-20, Cartersville, and in Floyd County, at the West Rome Baptist Church, 914 Shorter Ave NW, Rome. Testing will begin daily at 9 a.m. at both locations and will continue on a first-come-first-served basis while the day's test supplies last.
Saturday testing at certain locations will depend on test-supply availability and, when possible, will be announced locally.
Free COVID-19 testing is available to all Georgians, and anyone can be tested.
Statewide COVID-19/Confirmed Hotline: (844) 442-2681
Effective Tuesday, July 28, several improvements were made to the COVID-19 Daily Status Report on the Georgia Department of Public Health's (DPH) website. These changes were designed to make the dashboard more user-friendly while providing an accurate picture of COVID-19 in Georgia.
The changes to the Daily Status Report will include:
o   The new color scale is based on the distribution of county-level case counts or rates, outlier values are removed from the scale calculation. The scale will change every four weeks to accommodate increasing or decreasing case counts and maintain distinctions between counties. The scale will be calculated based on the current data at the beginning of each four-week period. DPH will publish historic maps when the scale changes.
o   Rates may not be accurate when case counts are <5 and are not presented.
o   Last two weeks map reflects the number of cases per 100,000 residents in the county reported during the previous two weeks, using 2018 U.S. Census data.
"COVID-19 Over Time" now has the option to select two date options, Date of Onset or Date of Report, and they can also be viewed by county.
"Reported Today" includes cases, deaths, hospitalizations and PCR laboratory tests reported to DPH since the last update.
"Non-Georgia Resident" is now called "Non-GA Resident/Unknown State." This category represents Non-Georgia residents and cases with unknown residence and may include in- and out-of-state cases.
For information about COVID-19, visit https://dph.georgia.gov/novelcoronavirus or https://www.cdc.gov/coronavirus/2019-ncov/index.html.

Click here to read the daily statewide report.