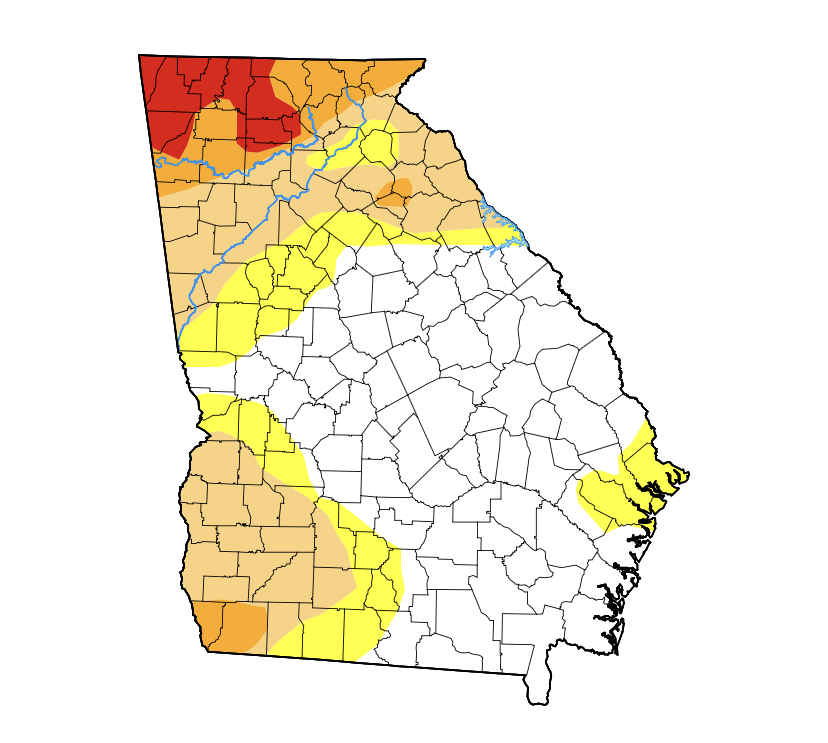 This information released from the Georgia Department of Agriculture Department:


Atlanta, GA – For the first time in four years, Georgia has been impacted by extreme drought conditions, negatively impacting the state's agricultural industry. United States Department of Agriculture Secretary (USDA) Tom Vilsack issued a natural disaster declaration for Chattooga County and three other Georgia counties following a sustained period of drought. Along with Chattooga, impacted counties include Catoosa, Walker, and Dade, which have all sustained eight or more weeks of severe, extreme, or exceptional drought conditions. This declaration allows USDA's Farm Service Agency (FSA) to extend essential emergency credit to Georgia farmers affected by these weather events.
"As a 7th generation farmer, I know firsthand the impact drought conditions can have on our agriculture industry especially those with dryland operations. The lack of moisture in the soil impacts every aspect of an agricultural operation, from delaying winter grains to forcing farmers to purchase hay to feed their cattle," said Agriculture Commissioner Tyler Harper. "We're grateful to Secretary Vilsack for recognizing the importance of providing essential assistance to our Northwest Georgia farmers."
USDA FSA loans can be used to meet various recovery requirements, including replacing essential items such as farm equipment or livestock, reorganizing a farming operation, or refinancing specific loans. FSA reviews all loans based on the extent of losses, security available, and repayment ability, and Georgia farmers and producers in the counties below are eligible to apply.
Application Deadline: June 30, 2024
More USDA Resources
On farmers.gov, the Disaster Assistance Discovery Tool, Disaster Assistance-at-a-Glance fact sheet, and Loan Assistance Tool can help you determine program or loan options. To file a Notice of Loss or to ask questions about available programs, contact your local USDA Service Center.