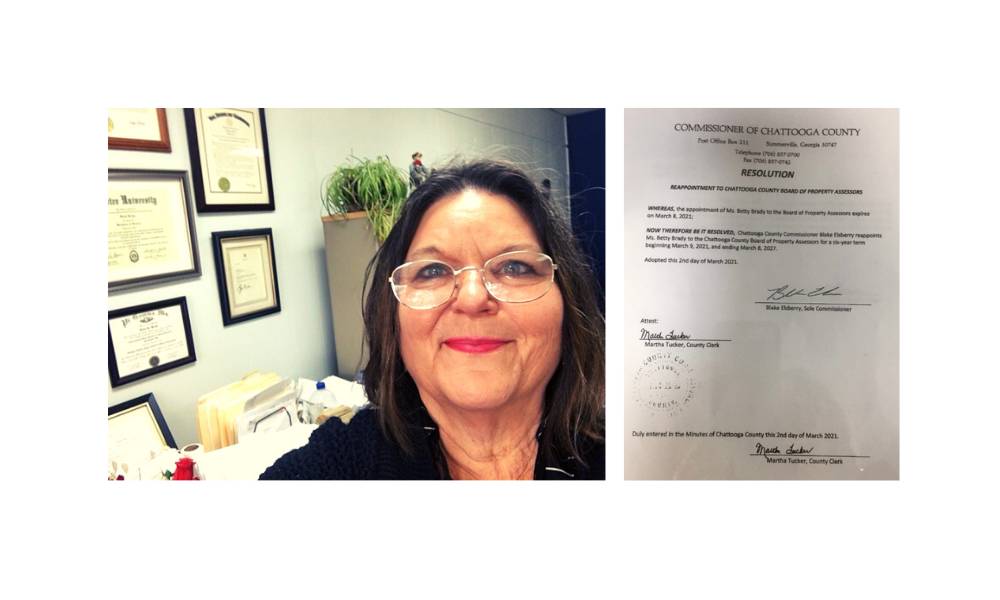 Chattooga County Sole Commissioner, Blake Elsberry, has re-appointed Summerville resident, Betty Brady, to the Chattooga County Board of Assessors for a 6-year term running from March 9, 2021 thru March 8, 2027. Ms. Brady was previously appointed to fulfill the unexpired term of Ms. Gwen Crabtree who resigned in March of 2018.
Ms. Brady moved to Chattooga County in 1976 and has remained since. She has roots in the real estate industry which date back to 1995. She is licensed thru the State of Georgia as a Real Estate Broker and was previously a registered Real Estate Appraiser as well. Ms. Brady was the first Chattooga realtor to attain the prestigious GRI designation thru the Georgia Real Estate Institute. She owned and operated her own brokerage company for many years before closing the office due to her mother's illness. She is now an agent thru Prime Realty and handles rentals thru Brady Realty.
Ms. Brady is a magna cum laude graduate of Shorter University having received her Bachelor of Science degree with Major in Criminal Justice in August of 2014. She also studied Real Estate Law thru Georgia NWT College. She was appointed by former Georgia Governor Sonny Perdue to the Georgia Commission on Women in 2005. She was further appointed by former Georgia Governor Nathan Deal with the honorary title of Lieutenant Colonel, Aide de Camp, Governor's Staff in 2015. She authored and published "Meth Survivor – Jennifer's Story' in 2003 and received a letter of acknowledgement from then President George W. Bush upon receipt of his copy.
Ms. Brady does community volunteer work with CERT, which works voluntarily in assistance to law enforcement. She is active in the local Chattooga Republican Party and other community resource efforts.
Ms. Brady lives in Summerville and has two children, Jim Brady and Jennifer Brady Tudor, and one grandchild, Weston Brady.