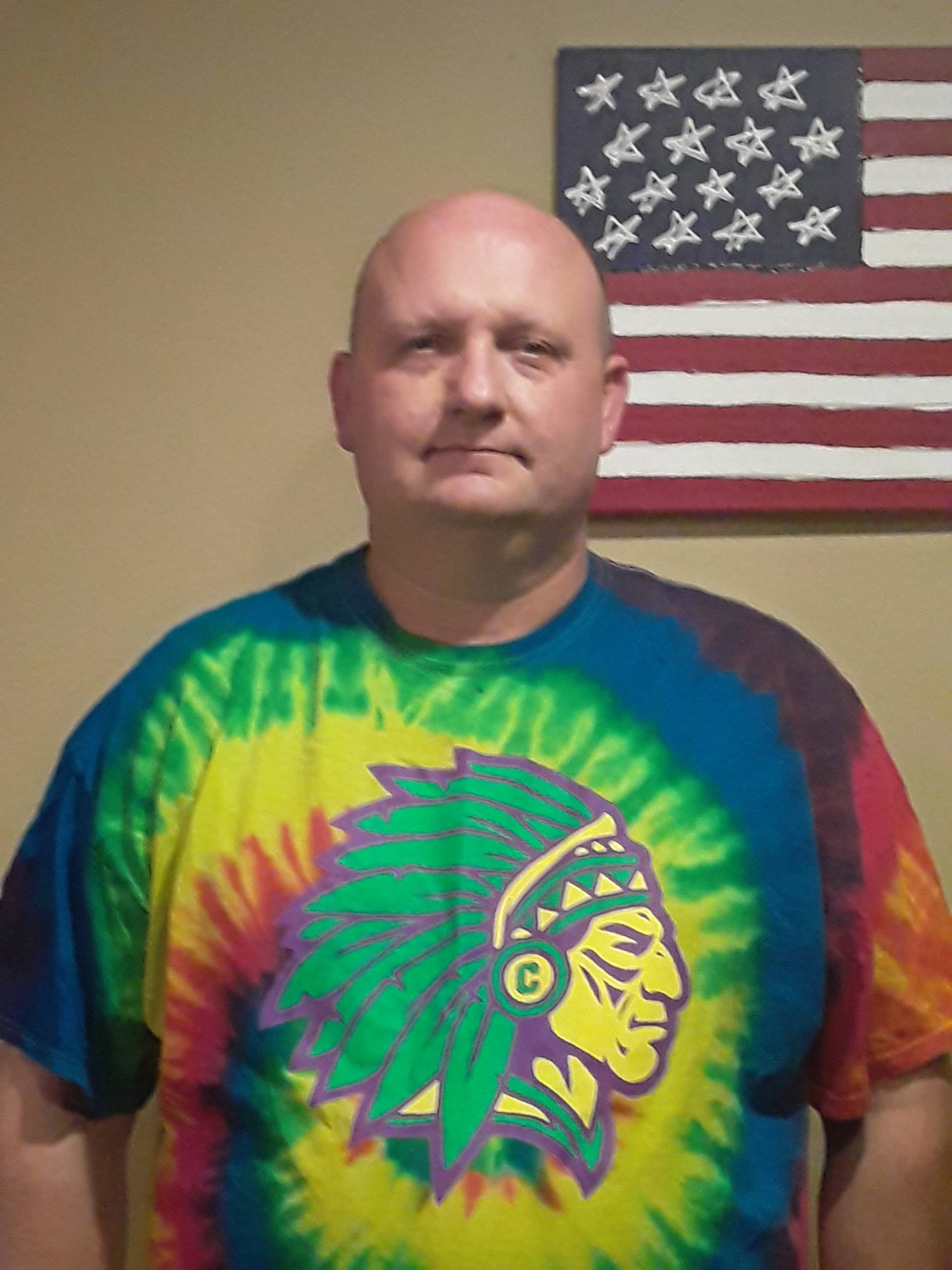 Due to the social distancing guidelines, we have converted our traditional AllOnGeorgia candidate video interviews into short questionnaires. Each candidate in the race was provided an identical questionnaire with the same deadline. (Questionnaires were emailed to the email address listed on the qualifying paperwork) Candidates were told their answers would be blank in the event that they did not respond. Answers were not edited in any way.
The Primary Election was moved to June 9th.
The last day to register to vote in the primary is May 11th.
Early voting begins May 18th.
To sign up to volunteer as a poll worker, click here.
Candidate Questionnaire — Board of Education (Chattooga)
NAME:  Chad Dodd
POST:  Chattooga Co. BOE Seat #5
Please provide a brief bio on yourself
I am 44 years of age with a wife (Joy Evans Dodd) and two children (Laney and Libby).
My parents are Joe Dodd and Janice Cavin Simmons. I was raised in Gaylesville, AL
where I attended and graduated from Gaylesville High School. My wife is a graduate of
Chattooga High School and my girls attend LeRoy Massey Elementary. I have worked
and/or lived in Chattooga Co. for over 25 years of my life.
We are very active in our church, Old Path Baptist. I am a deacon and my wife serves as
the church clerk. We have been involved and active with the Chattooga Athletic Boosters
for over 10 years, long before my children were born and before my niece and nephew
played middle school or high school sports for Chattooga Schools. Before my children
were born, I was very active in the Chattooga Co. Rescue Squad where I served as
Assistant Chief and then Chief.
What types of experiences and understanding of the education system do
you believe is necessary to competently serve on the Board of Education?
I have not been an educator in a school system, but I have been a student. My wife and I
have many family members who are school teachers, both here in Chattooga and in other
school systems. I have had the opportunity to train new employees on several different
jobs where I work so I do understand the role of an educator in a teaching position.
Before COVID-19, I had started going to each of the schools to speak to the principals
and some of the staff. Unfortunately, I was unable to make it to all of them before the
schools closed for the year. I do plan to and am willing to learn more from those that are
on "the battlefield" or what is now being referred to as "front line & essential workers". I am invested in not only my children but in all children within our community and our school system.
What are 3 strengths of which our district can be proud? Why do you see these as strengths?
1 st . Our current programs are something that we should be proud of. We have had other
schools come in and observe and have stated that they had no idea what we offer our
students, things that their school district does not offer.
2 nd – I feel that one of our strengths has been the connection between our students and
our teachers. Over the past few years, our students have shown more respect for our
school and the staff than every before. We should be proud of the accomplishments from
our students and teachers – in many areas, our students have made it to state finals and
national competitions. Our students can only do this with the help of their teachers,
teaching them the skills that they need to do well.
3 rd – Our staff and their dedication to continue to improve in areas that we have
struggled in, of finding ways to reach all of our students and their understanding that
each student learns differently and at their own pace.
What are 3 needs that must be priorities for our district to address?
First and foremost is our budget. Our school system can not function on a deficit. We
must always work to find ways that save money, yet still able to provide our students and
teachers with the best that technology can offer.
Second, I feel that we must work to rebuild the partnership between the BOE and staff.
Our staff has recently been demoralized and made to feel that all of the hard work they
have done was not appreciated or valued.
Third, I feel that the BOE needs to rebuild their relationship with the community. It is
not just the board members and school staff that it takes to make a school system works.
We need everyone involved, especially the parents/community. We need to rebuild what
was lost but also work to reach those parents/community members that have never
shown an interest or been involved with the schools.
An individual school board member has no authority; only the board as a whole can make decisions for the district. What skills or traits will allow you to contribute to effective operations of the board as a whole and how do you overcome disagreement?
Each board member brings something different to the team. It is important that the team
members work together on any issue that may arise. As a former chief of the rescue
squad, it was my job to hold monthly meetings to give any state updates and to help
debrief any call(s) that we faced and worked. I was also responsible for setting up and
overseeing routine trainings for the team members.
As a deacon of my church, we hold monthly business meetings to discuss budgets and to
approve any new projects or activities that may be brought up to the members. I have made recommendations for certain things during these meetings and I have knowledge
of how votes should be handled.
If (re-)elected, what would you hope would be key accomplishments of the board during your years of service?
I would hope that we could find a way to work together without conflict; together as a
team, with staff, and with the community. I also hope that we will be able to better the
system for the educational needs of our students.
Chattooga County is very diverse and continues to become more diverse every year – economically, racially, culturally, and in other ways. Is the Board of Education and the school system generally doing enough to adequately represent the needs of the various demographics across Chattooga County?
I will be honest and say that I am not sure what our school has been able to offer our
diverse demographics. I can say that I have not heard anyone have anything negative to
say concerning this area. I do feel that we have the staff that could recognize this need
and would advocate for any change that was necessary if a need should arise.
What should our school district be doing to ensure the safety of students and staff?
Our schools should ensure that we continue to work with our Sheriff in being able to
keep our Resource Officers (at every school). I also believe that we need to have strict
background screenings with any individual that may be in contact with students in a
professional setting (to include volunteers and even board members).
How can the Chattooga County Board of Education be more transparent about activities and finances?
I believe that the agendas for the meetings need to be provided in a more timely way to
the community; to give them time to research and plan to speak at the monthly meetings
if they feel lead to do so. There are some in our community who need more than a week
to make plans to attend due to work or other personal situations/commitments. I would
also like to see the meetings being broadcasted through local media such as the radio,
live streaming on social media, and possibly a local t.v. station. This is a way for those
that are not able to be at a meeting could still hear what was going on first hand.
Will any other employment or business venture in which you are vested present a conflict of interest for you as a Chattooga County BOE member? Please explain your answer.
a) In the event of an unforeseen conflict of interest arising in your official duties,
how would you handle such a conflict to ensure maintenance of public trust?
I am not currently involved in any business or other venture that may present a conflict
of interest, unless someone would consider my involvement with the Athletic Boosters as
a conflict. If someone has a problem with me being a member of the BOE and involved in
the Boosters, I will step down from working with the Boosters as I feel that being a
member of the BOE is where my attention needs to be. With relatives being employed
through the system, I would recuse myself from taking part in the renewal of their
contracts and other employment matters.
Chattooga County School District has operated on a 4-day school week schedule. Do you support the 4-day or 5-day school week, please explain?
I have been a supporter of the 4-day school week once it began to show how it was more
beneficial in all aspects for our school system. For example, the financial savings from
the 4-day week; we have had a savings instead of a deficit for many years. Our school
system has seen an increase in programs, better technology, improvements in our
buildings, etc. for our students and staff. Despite what some people have said, our test
scores, our graduation rate, our student dropout rate, and absences for both teachers and
students have all improved.
I have heard from some 5-day supporters and I understand why 5 days is more beneficial
to them, however, I do feel the majority of students, parents, and staff would rather have
the 4-day school week. From the 4-day supporters that I have talked to, all have the
same opinion; that our schools have benefited much more by the savings that the 4-day
schedule was able to offer. With our schools having to implement digital learning over
the past few months, I feel that there can be a way to satisfy all parties by potentially
putting the two together.
In today's society, more and more companies are moving away from 5-day work weeks,
having implemented swing shifts, or went to 4-days for 10 hours. It is very uncommon
now to be employed in a company where you work 8 to 5, Monday – Friday. Once our
teens go on to college, they will not be going to school five days a week, 8 -3. Even now
during this COVID-19 crisis, some schools have gone to a 4-day digital schedule – Trion
being one of those schools to do so. Chattooga schools have already shown the success a
4-day schedule can have in a day to day on-site environment and I feel that we can make
it work for us again in the future.
The future seems to point to potential cuts from the state funding due to the impact of COVID-19. How will you propose to reduce the budget to fit these funding cuts if they occur?
Unfortunately, I do feel that our school system will be hurt financially from results of the
COVID-19. I feel that there can be a way to continue to use digital learning to help with
the budget. As I stated earlier, I believe that there could be a way to put the 4-day system back in play but also make the 5-day supporters happy. We know by experience that the 4-day week saved the school money and kept the system from having hiring freezes or
from having to cut back on staff.
So far from what I have gathered, Mr. Lenderman (before he left) and Mr. Hosmer cut
back as much as they could from the budget without it effecting staff cuts. In order to
keep from returning to how our school system was 10 years ago, it may be more
profitable to return to 4-days. I do not want to see us lose anymore than what we already
have lost.
What is the role of a Board of Education member?
From a handbook response to what the responsibilities and roles are of a board
member/s: to set the vision and goals for the district, adopt policies that give the district
direction to set priorities and achieve its's goals, to hire and evaluate the superintendent,
to adopt and oversee the annual budget, and to manage the collective bargaining process
for employees of the district.
What motivates you to want to become a Board of Education member?
I want to see our school system be the best that it can be and show our teachers and
students that a BOE member is there to support their endeavors and to encourage them
to continue to strive to be better than what they were yesterday or the day before. I am
motivated to overcome the negative shadow that has been placed on our students and
teachers. I believe that a BOE member should be a student's and a teacher's biggest
advocate and cheerleader, not someone that demoralizes them.
What attributes are essential for successful school board members?
A successful school board member needs to be open and honest to those they serve. I feel
that they must be a good listener and not a dictator. They need to "be there" for the
schools and not just one day a month – to get to know the students, teachers, and staff
that they serve and represent.
What do you see as the board's responsibilities and roles?
I feel that it is a board member's responsibility to be present and be active, a noticeable
support for the school. A BOE member is elected to help support the superintendent in
making the best decisions possible for the school system. They are also in an oversight
position to ensure that things are done appropriately and honestly, as in any checks and
balances system.
Do you have sufficient time/energy to devote to being a Chattooga County
Board of Education member?
I believe that I do have the time and the energy to devote to being a BOE member. I do
work a 12-hour swing shift with Mohawk Industries of Summerville but I am willing to
use my vacation days to be at each board meeting that is called or scheduled. Before
COVID-19 caused our schools to close, I was trying to go into each one of the schools on
my off days. If elected, I plan to be seen monthly in all schools, not just at the board
meetings. I want everyone to know that they can talk to me and come to me with any
questions or concerns that they have. I want to show everyone that I am there for each of
them.
Describe the role of the Superintendent.
From my research, a school superintendent is the one who oversees the daily operations
of the schools. He or she is also responsible for the long-term planning of the school
district. They are to supervise the principles and district staff and work with school board
members on managing the fiscal operations.
With 1 or 2 meetings a month, all school boards are limited in what they can do. How does/should the board decide what is most important?
I feel that any safety concerns should be first on the agenda to address. The budget is
always important and anything that effects the budget. I do feel that it is also important
to show recognition to our students and staff when they have accomplished great deeds.
Is there anything else you would like the public to know about you?
I have a niece that is currently in the 10th grade at CHS, 2 nd in her class, and I have an
aunt and uncle that teach at LeRoy Massey. I have an aunt that works in the lunchroom
at Menlo and my mother-in-law works in the lunchroom at CHS. I am very much
invested in ensuring that my children, my niece and my other relatives have the best
experience possible in the Chattooga Co. School system. I may not have graduated from
Chattooga High School, but I do feel that I am a proud Chattooga Indian. Feel free to ask
me more questions by going to my Face Book page – Chad Dodd for Chattooga Co.
School Board.