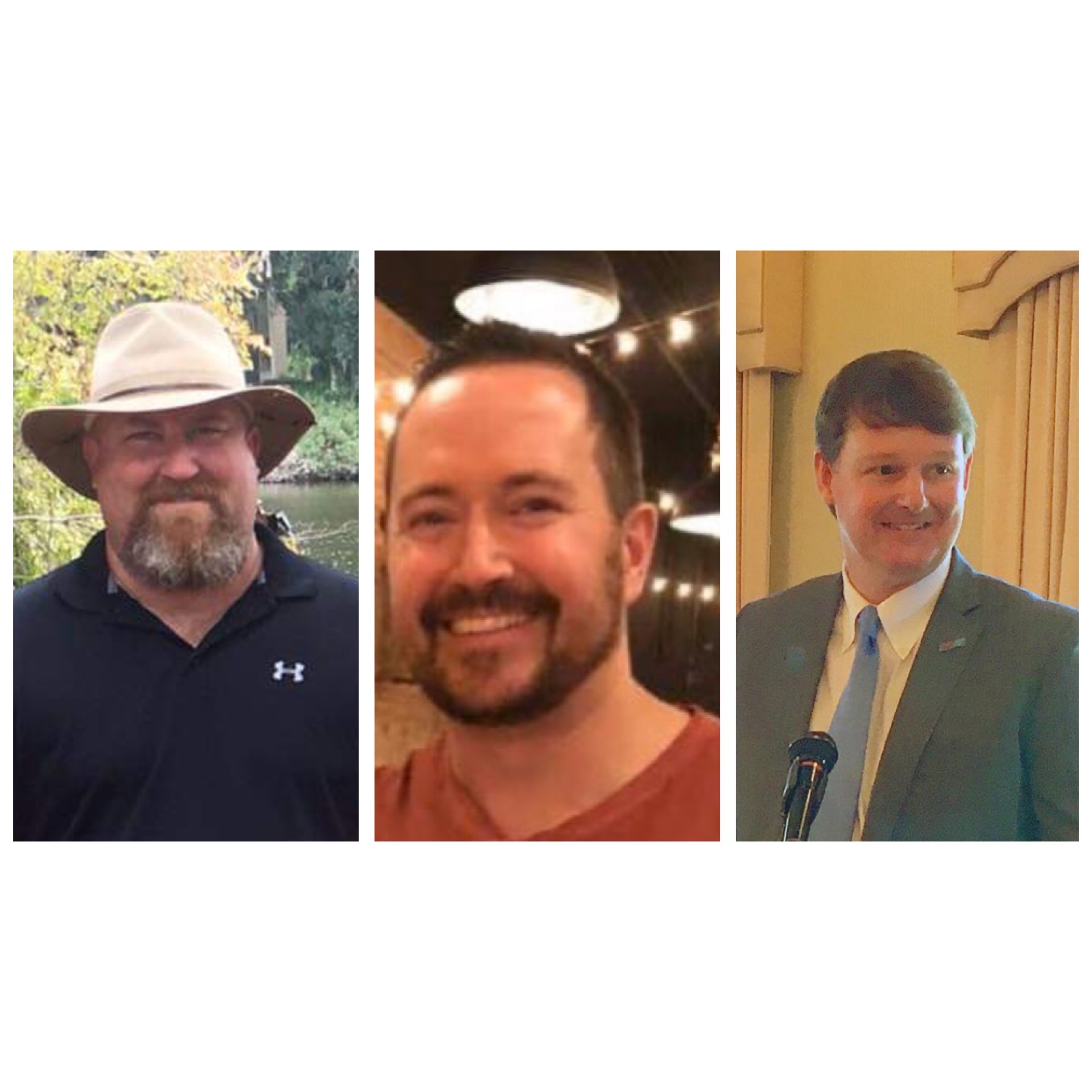 Due to the social distancing guidelines, we have converted our traditional AllOnGeorgia candidate video interviews into short questionnaires. Each candidate in the race was provided an identical questionnaire with the same deadline. (Questionnaires were emailed to the email address listed on the qualifying paperwork) Candidates were told their answers would be blank in the event that they did not respond. Answers were not edited in any way.
The Primary Election was moved to June 9th.
The last day to register to vote in the primary is May 11th.
Early voting begins May 18th.
To sign up to volunteer as a poll worker, click here.
The Republican nomination for Sole Commissioner of Chattooga County is being sought by Jeff Coley, Blake Elsberry and Incumbent Jason Winters.
Please provide a brief bio on yourself.
COLEY:  I am Jeff Coley, I am running for County Commissioner as a Republican. I am a local business owner and have been self employed for over 20 years. I grew up in Trion, where I attended church and school, I graduated THS. My family has worked in our community for many years. My parents, Leon & Sue Coley, owned and operated Flowers N Such Florist & Monuments (in Pennville) for over 25 years. My brother, Scott, has owned and operated Coley & Norton Mechanical for over 20 years. I am  married to Marcy and have two daughters, Rachel & Rebecca Coley.
ELSBERRY:  I have lived in Chattooga county most of my life. I graduated from Chattooga High School and was an Eagle Scout from troop 7 in Summerville. I earned my degree from Georgia Northwestern Technical College and have spent the past 10 years working as an invasive cardiovascular technician at Floyd Hospital. Prior to that, I held employment at Chattooga County Public Works and worked for the department of corrections, State of Georgia.
WINTERS:  Did not complete questionnaire
What are 3 strengths of which our county can be proud? Why do you see these as strengths?
COLEY:
1. I believe our peaceful, quite, rural countryside & "small hometown feel" is a strength our county should be proud of.
2. The natural beauty & attraction of our rivers, streams and mountains are another.
3. The kindness, generosity and hospitality of most our residents are second to none.
I see these as strengths because they can't be found just anywhere these days. These are some of the things that make me proud to call Chattooga County my home.
ELSBERRY:  Three strengths of which our county has to be proud include our citizens, location, and lower crime rates.
a. Our county is comprised of the best people as evidenced lately by how quickly our community rallied for cleanup after the recent storms. Chattooga county citizens are always willing to help their fellow neighbors; whether it be volunteer work at the schools, the food bank, or other outreach programs like Hope Rebirth and the animal shelter.
b. Chattooga county is situated in the foothills of the beautiful northwest Georgia mountains which inlcudes access to state and national parks; Sloppy Floyd is an immaculate state park and we are in close proximity to Cloudland Canyon State Park in Dade County and DeSoto Falls State Park in Alabama. Our county is home to the peaceful, calm waters of the Chattooga River. Chattooga county is a small community that provides citizens easy access to larger cities like Rome and Chattanooga while still enjoying small town living. The relationships between our county and other cities allows for activities such as the annual train rides to and from Chattanooga and Summerville. We also have many of our own attractions including the train depot, Howard Finster's Paradise Gardens, Finster Fest, Spring Art Market, Sum Nelly, and many other festivals throughout the year. All of these things make Chattooga County enjoyable not just for citizens, but for visitors as well.
c. Due to our close-knit community, Chattooga County ranks as one of the lowest counties in violent crime. The city of Summerville is actually ranked as the fifth safest city in Georgia in 2020 as reported by Rebecca Edwards for SafeWise | Your Guide to Home Security and Safety The lower violent crime rate makes Chattooga County a safer place for kids to play outside, for walks in your neighborhood, and is a great place to raise a family.
WINTERS:  Did not complete questionnaire
What are 3 needs that must be priorities for Chattooga County to address?
COLEY: Our infrastructure as a whole.
1. Our budget must be balanced and our finances stabilized.
2. Our roads, ditches and right of ways must be repaired & maintained.
3. We need a new jail.
ELSBERRY: Three priority needs which should be addressed for Chattooga County to thrive are financial stability, infrastructure, and industry development.
WINTERS:  Did not complete questionnaire
If (re-)elected, what would you hope would be key accomplishments during your years of service? 
COLEY: I would like to bring our county back to a point of financial stability. I want to widen some of our narrow back roads, making them safer for our citizens. I want to see our "bad condition" roads paved and lines painted on the roads. I want our ditches cleaned out and all the litter/ trash cleaned up and maintained on our right of ways. I want a new jail. I want the old jail area to be turned into a parking lot for our courthouse, so when we have court the parking spaces of our downtown businesses will not be occupied by noncustomers.
ELSBERRY:  If elected, I hope my accomplishments include a county government that is well-organized and financially stable, an infrastructure that is prepared for the future, and an advancement of the quality of life for the citizens of this county.
WINTERS:  Did not complete questionnaire
What are your views on the county's current budget and spending practices? Do any departments need additional appropriations to better serve the citizens?
COLEY:  I think spending is out of control in many areas and every department needs a complete evaluation. I'm sure some are under funded, like some of our Fire Departments that are forced to operate with outdated gear. They need our help.
ELSBERRY:  The county's current budget and spending practices are unregulated and unorganized. We need to itemize down to each, individual paperclip. Then, once we have an organized, running list of itemizations, we can assess each one individually. Only then, can we make the appropriate adjustments to be able to begin saving money. Once that is accomplished, we will be able to more efficiently use the tax payers' money in providing services for the community.
WINTERS:  Did not complete questionnaire
Are county taxes too high, about right or pleasantly low?
COLEY:  Our taxes for years were fairly low and that created a draw for people to buy land and build in our county, but that is no longer the case. Considering the amenities our county has to offer, they are too high.
ELSBERRY:  Our county taxes have gradually increased over the past 12 years. While our taxes still rank low for the state of Georgia, our county is one of the poorest in the state at around a 20% poverty rate. We have had a steady decline in population over the past 4 years at around 5%. Those two factors make any tax increase a heavy burden on already struggling households. It would be my goal to establish a position to where we could see improved quality of income for our citizens and at the same time, eventually ease the tax burden as we become more financially stable.
WINTERS:  Did not complete questionnaire
Describe how you see a county commissioner's role in the daily operations of the county government and what kind of oversight should a Commissioner have over county employees?
COLEY: I think the Commissioner should be very hands on and should lead by example. Having a positive attitude, a strong work ethic and a genuine love & concern for our county and it's people. Our tax payers deserve performance and results from each & every department.
ELSBERRY: The commissioner should be aware of and involved in all daily operations. The commissioner has the responsibility to work harder than anyone else in the service of his or her community; be the first to show up and the last leave. That being said, he or she must also surround him or herself with people who will take the initiative to make their department more efficient. Department heads working with the commissioner must be capable and competent to handle departments without being micromanaged while also knowing when to reach out for help.
The commissioner should serve as the voice for his or her community; whether it be speaking at local, county meetings or in front of state and/or federal legislators. He or she should lead by example with the highest level of integrity and professionalism. The commissioner should be the voice of reason guiding the county toward the future.
WINTERS:  Did not complete questionnaire
How can the office of Sole Commissioner be more transparent about activities and finances?
COLEY:  I plan on having a complete and thorough forensic audit done and the results made public. People deserve to know where our money has been spent and where we stand on bills and debts. I welcome an open door policy and when we hold public meetings, your questions will be encouraged and answered to the best of my ability.
ELSBERRY:  If elected I want to have budget meetings with all elected officials who receive county money on a scheduled basis. I will also have regularly scheduled, open meetings for the community. These "clear direction" meetings will be open to the public and recorded for those who are unable to attend. The community will have the opportunity to ask questions and provide suggestions. At these meetings I will explain what the commissioner's office is working on and the plan for each item or project. At these meetings, I will welcome any ideas or suggestions because I believe we are all in this together. We need those ideas to build upon and move forward. these meetings will be beneficial as we organize the new budget and forge the path of saving money.
WINTERS:  Did not complete questionnaire
Will any other employment or business venture in which you are vested present a conflict of interest for you as a County Commissioner? Please explain your answer.
a) In the event of an unforeseen conflict of interest arising in your official duties, how would you handle such a conflict to ensure maintenance of public trust?
COLEY:  NO, not in any way, I won't allow it. If an unforeseen conflict arises, I will consult with our county attorney at that time.
ELSBERRY: I have no other job or business that will be a conflict of interest with the office of County Commissioner. I believe the office of commissioner demands the utmost attention and dedication; therefore, if elected I will resign from my current full time job. I plan to put all my effort and focus into doing my best for the people of our county. The goals for this county require my full attention and I will work for the citizens only.
If ever an unforeseen conflict of interest was to arise, I would bring it before the community for them to decide whether or not a concern existed.
WINTERS:  Did not complete questionnaire
Is there anything else you would like the public to know about you? 
COLEY: I have worked hard since I was 14 years old. I have experience in politics as former City Council and Mayor (Lyerly) where I had proven positive results. I have handled several multi million dollar projects, from the ground up, working with SBA, USDA, various other lenders, architects, engineers, grant writers and construction contractors. I have worked with many agencies and lenders in various city, county, state and federal positions to accomplish my needs and goals. I work well with others, from all walks of life. I set high goals and work hard to achieve them. I have a vision and high goals set for our county. If you give me this opportunity , I will not disappoint.
I am a conservative Republican who is Pro-God, Pro-Family, Pro-Life and Pro 2nd Amendment.
ELSBERRY: I have lived in Chattooga county most of my life. I graduated from Chattooga High School and was an Eagle Scout from troop 7 in Summerville. I earned my degree from Georgia Northwestern Technical College and have spent the past 10 years working as an invasive cardiovascular technician at Floyd Hospital. Prior to that, I held employment at Chattooga County Public Works and worked for the department of corrections, State of Georgia.
I currently reside in Trion with my wife Lauren, our son ,William, and our furbaby, Winston. The decision to run for commissioner has been years in the making. I've talked about it for many years and after long conversations and a lot of praying, my wife and I decided it was time. I have spent the past several months doing due diligence; gathering information and ideas. I've spoken with people from all parts of our county as well as neighboring cities and county governments to share ideas and information. This research has been eye-opening.
I've learned an awful lot in a short period of time and from the knowledge I have gained, I believe, that with teamwork, we have a solid plan in place for Chattooga county; not to be a county that just makes ends meet, but to be a county that thrives; a county I know can become the benchmark for all other rural counties in the state of Georgia. The last 10 years at the hospital, I've been part of a team who cares for people when they are at their most vulnerable, coming to the hospital with a heart attack. Currently, the county is financially vulnerable. I believe it's time for a change, but I cannot do it alone. It's going to take everyone's effort and input to move forward.
Success will only occur if transparency exists between the office of the commissioner and the citizens of this county. I have the desire to put the needs of the people in the county first and will do this with a common sense, ethical approach. I have a clear direction for Chattooga county and I am ready to implement the plan and see it through.
You may contact me via facebook at @blakeelsberrycountycommissioner or via email at ElsberryBlake80@yahoo.com.
WINTERS:  Did not complete questionnaire
What is your position on expanding to a Board of Commissioners if the public declared that is what they'd like instead of a Sole Commissioner? 
COLEY:  If that is what the public wants, I would not stand in the way of their decisions. However, I believe there are pros & cons to doing so. I 100% believe in Democracy and the will of the people. Public officials work for the public.
ELSBERRY: I believe a board of commissioners would make progress in our county harder to achieve. It would make it more challenging to obtain resolutions passed and harder to attract new industry. Businesses like to move quickly and a board would almost certainly slow down our vision of new industry.
We also would be responsible, as tax payers, for multiple salaries and benefits instead of one. I believe there would be many times you would see where very little would be accomplished because an agreement couldn't be reached among members of the board. I also believe the voice of the people would get lost in the process as each board member could have their own separate agenda. Many people think we are behind the times as one of the few counties with a sole commissioner, however, research is indicating a return to an organizational methodology with a sole commissioner at the top. For example, Gilmer County has a Chairman/Chief Executive of the county government functioning similarly to Chattooga's sole commissioner.
I have a 4 year, an 8 year, and a 12 year plan. My goal is to work hard and be the voice for our county. I would like to see such steady progress at the end of 12 years that it would be too much for one person to handle. At that time, it would make sense to discuss hiring a county manager or implementing a board of commissioners. With that said, I believe the citizens have the say in how their county operates. If they decided they wanted to vote on a board of commissioners, so be it. I would voice my concerns but at the end of the day, the tax payers should make the decision on how their county operates.
WINTERS:  Did not complete questionnaire