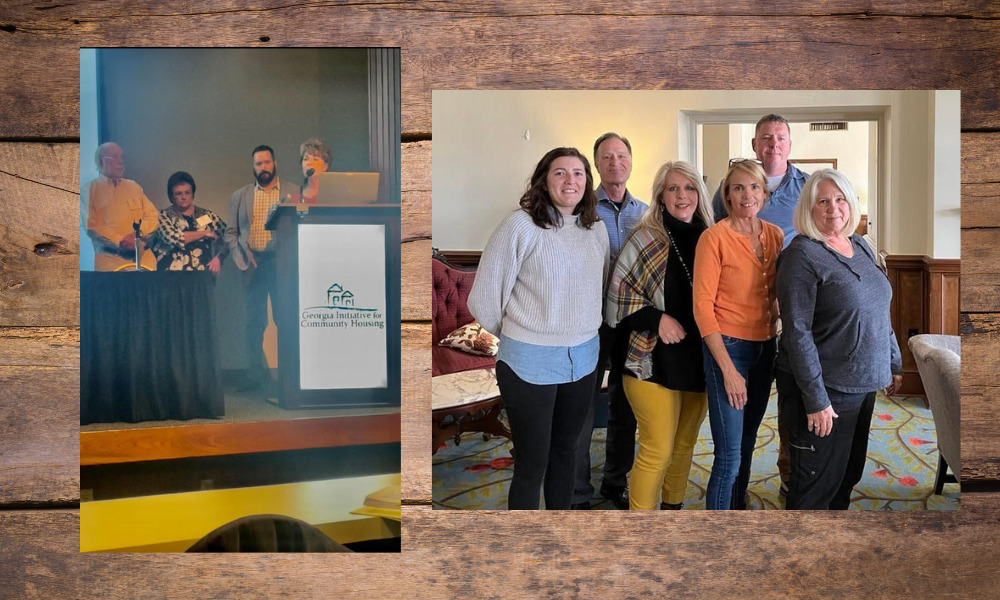 Chattooga AGCI Team

Olivia Knauss (Paradise Garden), Susan Locklear (Summerville Main Street), Harold Cunningham (Friends of Sloppy Floyd), Jeff Gardner (US Forestry), and Cindy McGraw (Chattooga Chamber) all went through the AGCI workshop at Lake Junaluska, NC Oct 24-27. The project they developed with their coach, Cheryl Smith (Georgia Dept of Agriculture) and the plan of action will be reported over the next several months.
The Chattooga AGCI Team Vision—
We envision vibrant communities with their own character and with a common thread of unity steeped with an appreciation for our local arts and natural resources, branded as one community, proud and strong to be part of the fabric which is Chattooga County, GA.
To help communities develop thoughtful strategies around some of Appalachia's most treasured assets,  The Conservation Fund launched the Appalachian Gateway Communities Initiative (AGCI) in 2007 with support from ARC and the National Endowment for the Arts. Read more about AGCI at https://www.arc.gov/investment/appalachian-gateway-communities-initiative-providing-tools-for-tourism/
While the Chattooga AGCI Team trained in the North Carolina mountains, the GICH team enjoyed a fall retreat in south Georgia. Carla Harward (Helping Hands Ending Hunger) led the team of four others: Blake Elsberry (Sole Commissioner), Anita Willingham (United Community Bank), Jerry Braden (The Braden Group), and Sandy Matheson (Primary Healthcare). The facilitation session with Annaka Woodruff (Dept of Community Affairs) took place in Summerville Oct 12th because Ms Woodruff was not able to attend the retreat in Tifton.
They attended several breakout sessions with valuable information about building resilient communities, leveraging comprehensive planning, addressing housing issues, overcoming resistance to affordable housing, and land banking. What may have been the most informative session concerned conducting Housing Needs Assessments and follow-through. This group will be sharing all at the next full team meeting later this month. Carla said, "For all of us, being able to bond was essential. And, with each of these events, we gain insights from other vibrant communities which will prove invaluable for our work….advancing one sustainable community where everyone can thrive."
Via: Chattooga County Chamber of Commerce