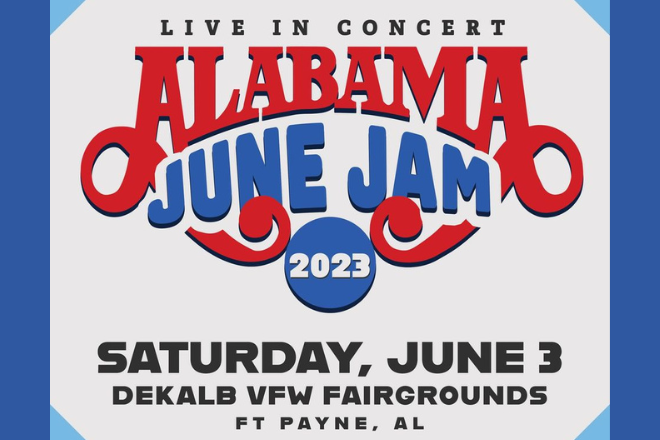 JUNE JAM
June Jam — one of the nation's largest country music festivals in the 1980s and 1990s is returning. The concert is scheduled to begin at 1 p.m. and will take place at the Dekalb County VFW Fair Grounds. As with previous June Jam concerts, this year's reboot will benefit those in need and disaster relief in and around the state of Alabama. Line up for the June Jam consist of Randy Travis, Jamey Johnson, Jake Owen, The Oak Ridge Boys, The Frontmen (a country supergroup comprised of Richie McDonald, formerly of Lonestar, Tim Rushlow, formerly of Little Texas, and Larry Stewart of Restless Heart), Exile, Mark Wills, Neal McCoy, Dailey & Vincent, Home Free, The Malpass Brothers and Dee Jay Silver.
Tickets for June Jam can be purchased at Fan Club or via ticketmaster.com
A week of fan appreciation events will lead up to June Jam 2023. These will include public Celebration of Life for the late Jeff Cook (12 p.m. June 3 at the VFW Fairgrounds), Teddy Gentry's Singing with the Stars Talent Contest (6 p.m. June at the Fort Payne City Hall Auditorium), the Fans Songwriter Showcase Spectacular (7 p.m. June 2 featuring Jamey Johnson, Gary Baker, Ronnie Rogers and Chris Tompkins), and a brunch at Cook Castle for the Jeff & Lisa Cook Foundation (Friday, June 2 at 11 AM). Each event is ticketed separately. Ticket information is available at the Alabama Fan Club.