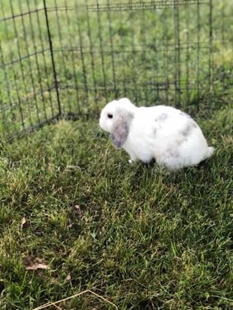 Today started out like most days, morning feedings then trek to the Art barn to work on commission pieces or upcoming classes.  Our next paint class is of the American Flag and the freedom it represents.  This morning I stopped to check on my vegetable garden and noticed how bare the bunny yard had gotten since sharing it with the bottle-fed calf a few months ago.  I decided to move the bunny out to an enclosure under the shade tree to enjoy more fresh green grass.

Little Houdini, as he is now called, is the last mini lop we have on the farm.  He was previously known as 'Cuddles', named in the beginning by my granddaughter, but he was definitely not living up to that name.  To be fair, he was born when life around here was busier than usual, and more pressing matters such as bottle feeding took precedence over spending extra time handling the bunnies. Now, since I was outside creating the rock garden that was to become home to my refurbished gnomes, in front of the Art Barn, I decided to let little Houdini out to graze. I pulled him out of his hutch knowing he was going to love all that fresh grass and roaming area but instead he fought with everything he had to free himself – definitely not 'cuddling'.  I held him firmly receiving a few scratches as I safely transported him to his new temporary play area telling him the entire time how ridiculous he was being, fighting against the provision of a larger area to play in with greener grass.
I worked a bit longer than I had planned, as I went from creating the rock garden to painting the door hangers for the upcoming paint party.  Once finished, I went to move little Houdini back to his hutch.  Upon reaching the area all I found was an empty enclosure.  With a deep sigh of 'not again', I called for my oldest grandson to come and help me find the runaway rabbit.  Throughout the entire search, all I could think about was, "that ungrateful rabbit!"  Here I have provided Houdini everything he needed – water, food, roaming area, love, and yet he chooses to run away to the wilderness.  Taking his chances with predators instead of enjoying all that was lovingly provided.  Locating little Houdini was not the hard part, catching him was.  After quite some time of chasing, I gave up.  I was done and I didn't care who knew it.  I told my grandson to just let him fend for himself.  I couldn't take any more running around in this heat, trying to help someone who evidently didn't want to be helped.  My grandson didn't say a word, but as I was stomping back to the house to get ready for work, I saw him climbing up on the round hay bales.  I ask him why he was going to sit out in this heat when it was obvious the rabbit did not want to be caught.  His answer made me stop in my tracks.  "He may not want to be caught, but I can look out for him and make sure he doesn't get too far away from the protection of the farm."  After several hours had passed, I went to check on him, and I noticed Houdini was safe inside his hutch. He may again choose temporary freedom, that is full of danger instead of security and real freedom under the ever-watchful protector, but for now, he is safe.
This rabbit has everything it could possibly need and then some, yet he chooses to leave the protection provided for him time and again.  How often have we done the same thing?  We leave the land of plenty, for the land of despair.  So often we may feel like we can't dwell in God's protection because we mess up too many times, and feel unworthy and guilty.  God knows our mistakes and our weaknesses.  That's why He sent Jesus.  We can't earn His protection any more than we can earn His salvation.  We are going to slip from time to time, sometimes big. We may slip into that pit, get pushed, or even run straight for it and jump right in.  The important thing is, don't stay there.  Turn back to God as fast as we can, and get back under His shield of protection.  Making a mistake, even more than once, is one thing but choosing to stay in sin will keep us out from under God's umbrella of protection.  Don't make it harder than it is.  Our response to what Jesus provided through His blood on the cross is what is important, not dwelling on what we did wrong.  "The Lord is merciful and gracious, slow to anger and abounding in steadfast love… For as high as the heavens are above the earth, so great is his steadfast love toward those who fear him; as far as the east is from the west so far does he remove our transgressions from us." Psalm 103:8-12
By: Donna Worsham, artist and keeper of farm animals