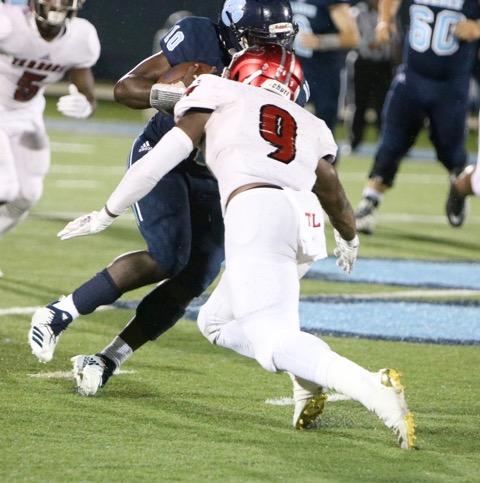 The last time Camden County played a South Carolina school things didn't go so well.

The Wildcats will try to reverse their fortunes Friday night against a Palmetto State foe when they host Colleton County (S.C.) at Chris Gilman Stadium in their final non-region game of the season.
Camden lost to Wren (S.C.) the second week of the season by a 25-14 score in a game played a Mercer University in Macon.
This week, the Wildcats will take on a Cougars team which will make the trip to Kingsland with a 2-3 record. The Cougars have won their last two games after dropping their first three games of the season.
Colleton was off last week while Camden defeated Glynn Academy 20-9 in a game that started Friday but was suspended until Saturday morning due to inclement weather.
The Wildcats (5-1) have won four straight since losing to Wren on Aug. 24.
Bradwell Institute at Effingham
Friday's game in Springfield will be the Region 2-6A opener for both teams.
Effingham comes into the game with the better record after the non-region schedule. The Rebels were 4-2 in their first six games including victories over Evans, Groves, South Effingham and Statesboro. Those teams are 5-18 combined.
Effingham lost to Beaufort (S.C.) and Burke County. Those teams are a combined 5-5.
Bradwell went 2-4 against its non-league opponents with losses to ranked foes Dodge County, Liberty County, Valdosta and Wayne County. The Tigers defeated Long County and Tattnall County.
The Rebels are led by sophomore running back Desmond House who has gained 474 yards while carrying for 10 touchdowns.
Bradwell figures to pound the football at the Rebels with senior running back and South Carolina commit Kevin Harris who has gained 691 yards and scored nine rushing touchdowns.
Wayne County at Statesboro
The Yellow Jackets are set to begin play in Region 2-5A at Womack Field in Statesboro.
Wayne is the top-ranked team in the Southeast Georgia High School Football Power Poll after rolling through its non-region schedule with a perfect 6-0 record that includes victories over Richmond Hill and Glynn Academy.
The Jackets won the region title last season with a perfect 4-0 record before advancing to the second round of the Class 5A state playoffs.
Statesboro started the season 2-0 before losing its next four games.
Pierce County at Brantley County
Coming off an open week, the Bears will kick off their Region 2-3A schedule with a road trip to Brantley County.
Pierce, ranked No. 3 in the area power poll, is 5-0 for the season and has not been scored on since giving up 14 points to McIntosh County Academy in the first game of the season.
Brantley gained some momentum going into the region opener with its first victory of the season last week over McIntosh in its first home game of the season as well.
The Herons started 0-4 with four straight road games to begin their first season under head coach Geoff Cannon.
Liberty County at Tattnall County
The Panthers will kick off their Region 2-3A schedule on the road Friday night against the Battle Creek Warriors after having last week off.
Liberty is 3-1 for the season and is ranked sixth this week in the AOG area power rankings.
The Panthers average 279 yards rushing per game, and senior feature running back Kris Coleman has already rushed for 914 yards and 10 touchdowns in five games.
Tattnall is 0-5 on the season and has not scored more than 14 points in a game this season.
Appling County at Long County
Appling and Long will also clash in the Region 2-3A opener for both teams on Friday night.
The Pirates are 2-3 for the season.
Long (0-5) is still looking for its first win after going without one in the non-region portion of its schedule.
Both teams were off last week.
Savannah Country Day at McIntosh County Academy
The Buccaneers are still looking to crack the win column as they rebuild in 2018.
The Bucs are 0-5 under first-year coach Tony Glazer. They lost their first Region 3-A game two weeks ago at Calvary Day before falling last week at Brantley County in a non-region game between two teams looking for their first victory of the fall.
The Hornets are 4-1 for the season. They won their first four games before suffering a 32-10 loss in their region opener last week at Claxton. Country Day was ranked No. 7 in the Class A private school poll going into that game.