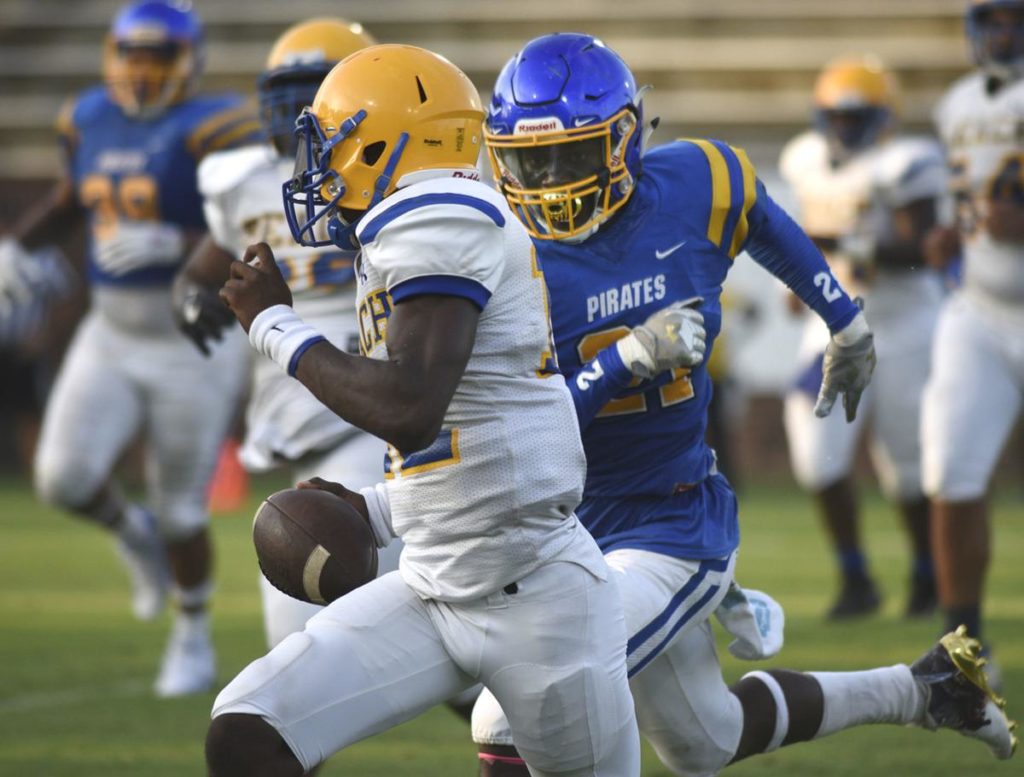 Last season, the Brunswick Pirates defeated Richmond Hill 56-34 in a showdown between two high-octane offenses.
That game was the first that the Wildcats lost and would be the first of three in a row they would lose to end the season.
For Brunswick, it was another win in which they scored more than 40 points. The Pirates actually scored 40-plus in all seven of their victories last season.
This season, the Pirates have actually eclipsed the 40-point mark twice in wins over McIntosh County Academy and Monroe – two teams with losing records.
But, the Pirates don't appear to have the overall offensive firepower they had last season as they get ready to begin the Region 2-6A schedule. They got blanked on the scoreboard against Camden County and scored 7 and 12 points in their other two losses.
The Wildcats hoped they would have more explosiveness than they have now, but they lost senior Aaron Bedgood to a season-ending injury in their third game against Camden which took away a lot of their big-play capability.
Richmond Hill coach Matt Lezotte felt the Coastal Carolina commit who they used as a quarterback, running back, receiver and return man was the best offensive player in the region coming into the season.
Now, as Brunswick and Richmond Hill get set to square off in the region opener for both teams Friday at Glynn County Stadium, it would seem that their game this year would not turn into the offensive shootout that last year's did.
Lezotte wouldn't wager his milk money on it, though.
"If I were a betting man, I wouldn't know whether to put my money on the over or the under," he said, referring to the total points that might be scored in the game.
Brunswick comes into the skirmish with a 3-3 record through its six non-region games. The Pirates lost to the three teams most would consider to be the best on their schedule – Coffee, Bartram Trail and Camden County – while knocking off a winless McIntosh County Academy team, a solid New Hampstead outfit and a Monroe team that visited Brunswick last week with a 3-3 record.
The Pirates were able to build momentum for the region opener with their wins the last two weeks, but now they must rise to the challenge that awaits them going into region action, according to head coach Sean Pender.
"I think we're pretty even," he said when asked about the Wildcats. "We've played better the last two weeks, and I think we have a good game plan for this game, but we have to execute it.
"They executed better against Bluffton, so it looks like they're getting more confident in their offense."
The Wildcats lost Bedgood early in their game on Sept. 7 against Camden and wound up losing to the Wildcats 33-6. They opened the season with a road win at Grovetown and lost to undefeated Wayne County 23-21 in their second game in which Bedgood returned a punt for a touchdown.
After losing to Camden, Richmond Hill did not get to play New Hampstead the next week as the game was cancelled mid-week amid weather concerns related to Hurricane Florence which did not end up impacting the Georgia coast.
The Wildcats returned to the field on Sept. 21 and struggled to score again in a 22-12 loss to Liberty County. Last week, though, they blinked the scoreboard often in a 52-6 victory at Bluffton (S.C.) which dropped to 2-4 following the loss to the Wildcats.
Even if the offense isn't clicking, Pender said the Richmond Hill defense and kicking game can keep the Wildcats in most games the rest of the season.
"Their defensive line is probably the best part of their team, and they are just really sound defensively," he said. "They run the same scheme as Glynn (Academy) and Camden, a 3-4 concept and try to play man concepts in the secondary and bring the heat with blitz packages."
Last week against Monroe, the Pirates had perhaps their best game of the season offensively.
They ended the night with 396 yards including 303 through the air.
Sophomore quarterback KJ Lee was 18-of-25 passing for 275 yards and three touchdowns.
Senior running back Jaylen Trimmings carried for 102 yards and also scored twice including a 49-yard run for a touchdown.
The Pirates ran 28 rushing plays and 27 passing plays.
"We're not gonna win the kicking game," Pender said, noting it will thus be harder to keep the field-position advantage against the Wildcats. "We're gonna have to sustain drives and create some big plays. Defensively, we can't give up those same big plays."
This will be the first of two straight games for the Wildcats at GC Stadium. They will return to the local stadium for their second region game next Friday against Glynn Academy which is off this week.
Richmond Hill defeated Glynn last year in Brunswick but fell the next week at home against the Pirates and would also go on to lose their season finale against Effingham and their first-round playoff game to eventual state champion Lee County.
"Brunswick is very well-coached. Their coaches do a great job with their kids," Lezotte said. "It's exciting for us to come down there and compete against a high-caliber opponent."
Kickoff for Friday's game is set for 7:30 p.m.