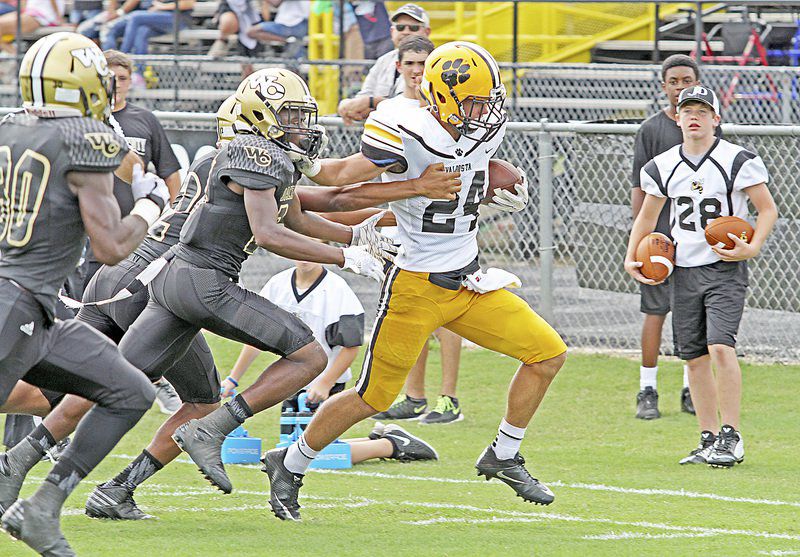 Week 2 of the high school football season in Southeast Georgia will include the Wayne County Yellow Jackets taking the field for the first time.

The Jackets, who are ranked No. 1 in the first regular-season Southeast Georgia High School Football Power Poll, have been chomping at the bit to get their much-anticipated season under way after having an open week last week when several other teams in the region played for the first time.
Wayne will get its first chance under the Friday night lights when it travels to play at Long County this week.
The Jackets are returning several starters on both sides of the ball and have a big senior class on a roster of players that they hope can help them claim a second straight Region 2-5A title and go beyond the second round of the state playoffs where their season ended a year ago.
This will be Wayne's second season under head coach Ken Cribb, a veteran coach who came to Jesup after coaching many years in South Carolina.
Long doesn't figure to present much of a challenge for the Jackets as the Blue Tide suffered a 35-0 loss in their opener last week at South Effingham.
The Jackets should get a better challenge next week when they play at home for the first time against Richmond Hill, a Class 6A team which is off this week after winning its opener at Grovetown last Friday.
Other games around the area Friday include the following matchups:
Brantley County at Charlton County
The Herons are another team that will be playing for the first time this season when they go on the road to Folkston to take on the Indians.
The game marks the head-coaching debut of Geoff Cannnon who took over the Brantley program last December when the school made a coaching change.
Cannon spent last season as an assistant at Allatoona in metro Atlanta, but he spent several years coaching in Southeast Georgia as an assistant coach at both Glynn Academy and Frederica Academy.
The Indians won their opening game last week at Frederica on St. Simons Island when they got an interception return for a touchdown in the final moments to get out of town with a hard-fought 28-21 victory.
Cannon's coaching counterpart in his debut is Rich McWhorter, who has 281 wins in his long coaching career with the Indians.
Charlton is ranked sixth in the Class A public-school rankings this week.
Ware County at Burke County
The Gators and Bears will meet in a matchup between ranked teams in different classifications.
Ware is ranked 10th in Georgia's Class 5A rankings while Burke is eighth in the Class 4A poll.
The Gators rolled to a 62-0 victory at home last week in Waycross against Pine Ridge (Fla.) in a game that was delayed three hours by the lightning storm that interrupted several games across the region.
Burke suffered a tough 23-22 loss against Benedictine last Saturday in the Erk Rusell Classic played at Georgia Southern's Paulsen Stadium in Statesboro.
Burke scored just inside the final minute to pull within the final 1-point margin, and opted to try for the win with a two-point conversion. The attempt failed, though, as a high snap to the quarterback doomed the play before it really started.
Burke and Ware haven't played since 2009 when the Bears beat Ed Dudley's Gators 19-14 at home.
Camden County vs. Wrens (S.C.)
The Wildcats will travel to Mercer University in Macon where they will take on their counterparts from South Carolina.
Camden kicked off its new season with a 27-20 win last Friday in Kingsland over West Forsyth.
The Wildcats got a 3-touchdown performance from junior quarterback Logan Watson in his first varsity start.
Watson, who was named the first Southeast Georgia High School Football Player of the Week on Tuesday, was 14-of-20 passing for 204 yards in the game.
Friday's game is the season opener for Wrens. The Hurricanes were 6-5 last season.
Liberty County at Bradwell Institute
The 2018 battle in Hinesville will take place Friday at Bradwell's Olvey Field.
This will be the second game of the season for the Tigers who suffered through a turnover-filled 23-15 loss last week at Dodge County which is ranked seventh in Class AA.
Liberty is making its season debut after playing in the Class 3A quarterfinals each of the last two seasons. The Panthers are ranked third in our power poll and are ninth in their state classification rankings.
Bradwell ended a five-year losing streak against the rival Panthers with a 22-7 win last season.
Pierce County at Bacon County
The Bears opened the season last week with a 48-14 triumph over McIntosh County Academy in Darien.
The Bears got two rushing scores from Dee Bethea who gained 149 yards on just five carries. They also got two passing touchdowns by Jeramine Brewton.
Pierce's varsity defense allowed only 35 yards in the first half before giving way to junior varsity and freshmen players after halftime.
Bacon County lost 45-7 last week against Fitzgerald.
Vidalia at Appling County
Both teams will be playing their season lidlifters Friday in Baxley.
The Pirates are now under the direction of longtime coach Rick Tomberlin who came out of retirement a second time to coach at his alma mater.
Tomberlin has coached at several schools in Southeast Georgia in his career including Effingham, Calvary Day and Jenkins.
He also coached at Valdosta and Washington County where he had his most success.
Appling was 3-6 last year while Vidalia was 5-5.