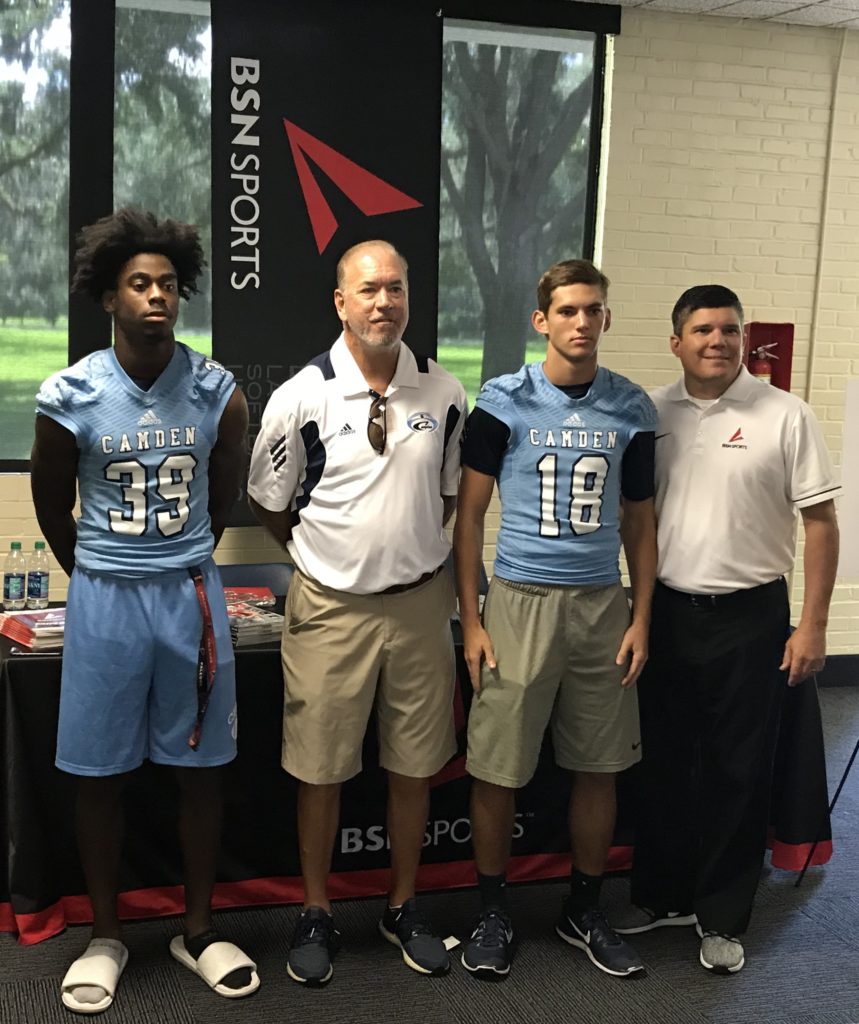 Bob Sphire took on a tall task when he accepted the head coaching position with the Camden County Wildcats prior to last season.
Yes, outside of having good players that win football games with good coaching, Camden already had all the ingredients needed to play winning football.
The Wildcats proved as much under former head coach Jeff Herron who won three state championships with the program in Georgia's largest classification before moving on following the 2012 season.
Thing is, this proud program had fallen on hard times, at least by its standards, with a 2-7 season in 2016 after which school administrators decide their team needed a shake-up including changing head coaches.
Thing is, in hiring Sphire, the Wildcats didn't just change coaches, they were willing to make a change in their on-the-field approach, too.
Sphire, who built defending state champion North Gwinett into a state power, made it clear he would change the defensive system and also the offense, bringing in his proven spread attack to replace the Wing-T offense that had become a staple in Camden's program.
Last season, the Wildcats continued to struggle, finishing 3-7 overall and going 0-3 in the rugged league that is Region 1-7A, while learning Sphire's way of playing football.
But with the benefit of a full offseason, the Wildcats figure to be much improved. What that will look like on the won-loss worksheet remains to be seen, however.
"We've got nine playoff teams on our schedule, so we know we'll have to come ready to play every Friday night," Sphire said Saturday while speaking at the Southeast Georgia High School Football Media Day on St. Simons Island.
Sphire knew it would take time to get the Wildcats back among the elite programs in Georgia's highest classification, and his patience was certainly tested last season as the veteran coach suffered his first losing season since 1992 when he was at Lexington Catholic in his native Kentucky.
He did his best to establish his program last season in a short time, but the coach has been working tirelessly on that process since the end of the 2017 campaign.
One thing he did at the start of the calendar year was sit down with potential rising ninth-grade players and their parents and discuss with them his plans and vision for Wildcats football.
"We needed to re-establish those relationships. Every kid coming to high school wasn't playing football like they once did. Our ninth-grade numbers are up, and that's gonna pay dividends four years from now," Sphire said.
He said his coaching staff has also worked hard to develop players this offseason. Sphire was amazed at Camden's overall lack of size and strength when he started with the program, and the strength and conditioning program has been a major point of emphasis since the end of the 2017 campaign.
"We're starting to see progress with our players," he said.
On the field, though, the Wildcats are still light years away from where Sphire wants them to be offensively, but he added they will cater to their strengths as they continue to work on the playbook with the spread offense.
"Right now, we've focused on putting our best athletes on defense and have spent a lot of time in the kicking game, so we can be as good as possible in those two areas while the offensive system is going through the transition," Sphire noted. "I've seen a lot of things on the practice field now that we're doing a lot better than we did a year ago, but I also know the best football is ahead of us offensively."
Camden is set to scrimmage Ware County on Aug. 9 in Kingsland before taking on West Forsyth at home on Aug. 17 to open the new season.
The Wildcats won't play their first region game until Oct. 12 when they go to Colquitt County.
"We're trying to recruit the best players in our school system to come out and play football again, like during the golden period of Camden County," Sphire said.
"We're making sure we're back on track with our player development. We're working really, really hard to strategically perfect the things we believe in that have made us so successful wherever I've been in the past. And, we want to have a program that the community is proud of."