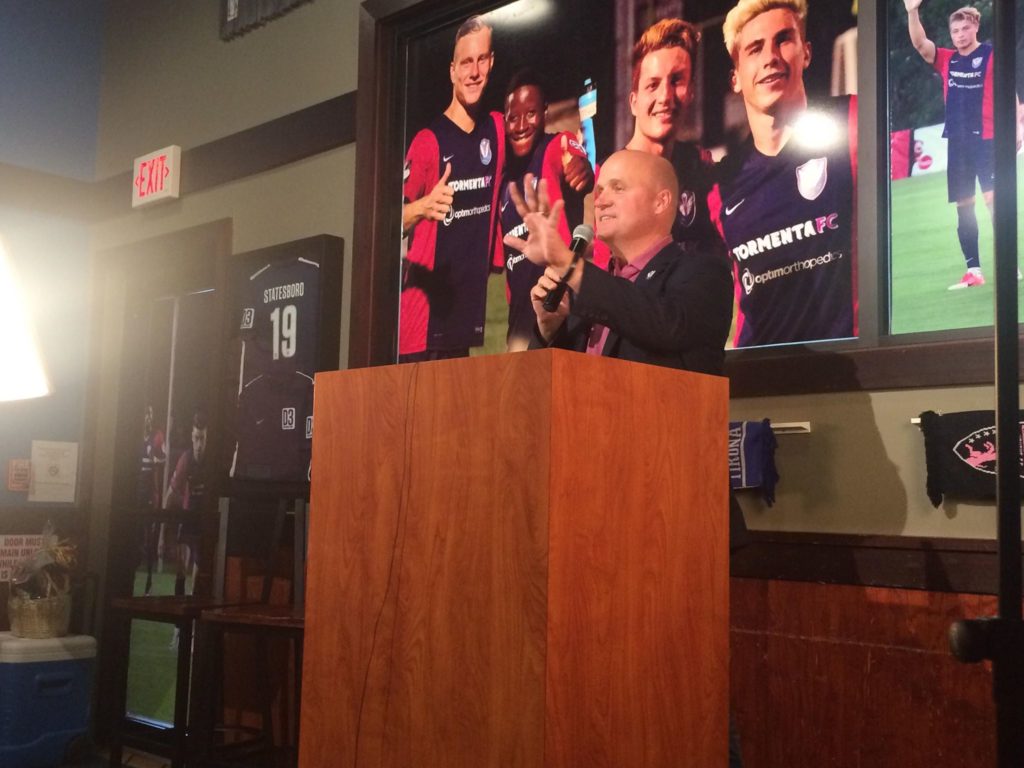 Statesboro's own Tormenta FC is one of four teams battling it out this weekend for the PDL Southern Conference Championship. The tournament, taking place in Statesboro, hosts champion teams from the Deep South, Southeast, and Mid-South divisions as well as one Wild Card.  Tormenta hosted all four teams Thursday night for a welcoming press conference at The Clubhouse.

Brent Tharp and Becky Davis of the Statesboro Visitors Center presented gifts to each team's head coach as a welcome to Statesboro. When asked about the impact that Tormenta has had on the Statesboro community, Tharp emphasized that sports tourism is an important part of the Statesboro economy. He continued saying that Tormenta and PDL soccer has not only helped boost sports tourism to the area, but has also become an integral part of the culture and community.
Team owner, Darin Van Tassell paused to take in the view of the packed room – which included not only the teams, but community members/fans of Tormenta. After snagging a quick photo of the supporters, Van Tassell spoke of his excitement not only for the weekend of games but the future of the Tormenta legacy. Next year, Tormenta not only moves up to Division 3, but will also see their new home. A new 5,000 seat stadium for the team is part of the growth that Van Tassell spoke of, which he says will reshape the city.. The development will be a 250 acre investment that will be home to the new stadium, hotels, apartments, and shopping.
Before closing out the proceedings and giving the players a chance to spend a couple of hours enjoying the activities of the Clubhouse, each head coach briefly spoke of their teams and hopes for the weekend.
Calvary FC head coach, James Clakston, said that he is proud of his team, "We set some lofty goals at the beginning and accomplished them. We set new goals for this weekend and hope to reach them as well."
Anderson DaSilva, head coach of The Villages SC, knows his team is considered the underdogs for this weekend as they are the Wild Card and weren't division champs. However, DaSilva says he's not intimidated by that label, but rather likes the roll. He says determination defined his team's ability to get to the point despite stumbling a bit, and that same determination will play out in the playoff rounds.
Central Florida's SIMA Aquilas has had an outstanding record of 21-3-3 in the last 2 years. When asked about his teams success, coach Mike Potempa said that his key to success was playing with a balanced roster and that his player play with authenticity.
John Miglarese helped lead Tormenta to an undefeated season in his first year as head coach. Although Tormenta had such a strong season, Miglarese said the team did face adversity off the field, but is proud of how they faced their obstacles. When asked how Tormenta could bring it home for Statesboro this weekend, he said it would be as simple as the team scoring goals. He doesn't feel that we will see one team dominate the weekend, so it is up to his team to capitalize on big moments in games.
Games will begin Friday, July 20 at 5PM at Erk Russell Park. Tormenta is slated for the 8PM game Friday night against The Villages SC. The championship match will be Saturday at 8PM. Tickets are available at tormentafc.com/finalfourtickets or at the gate.