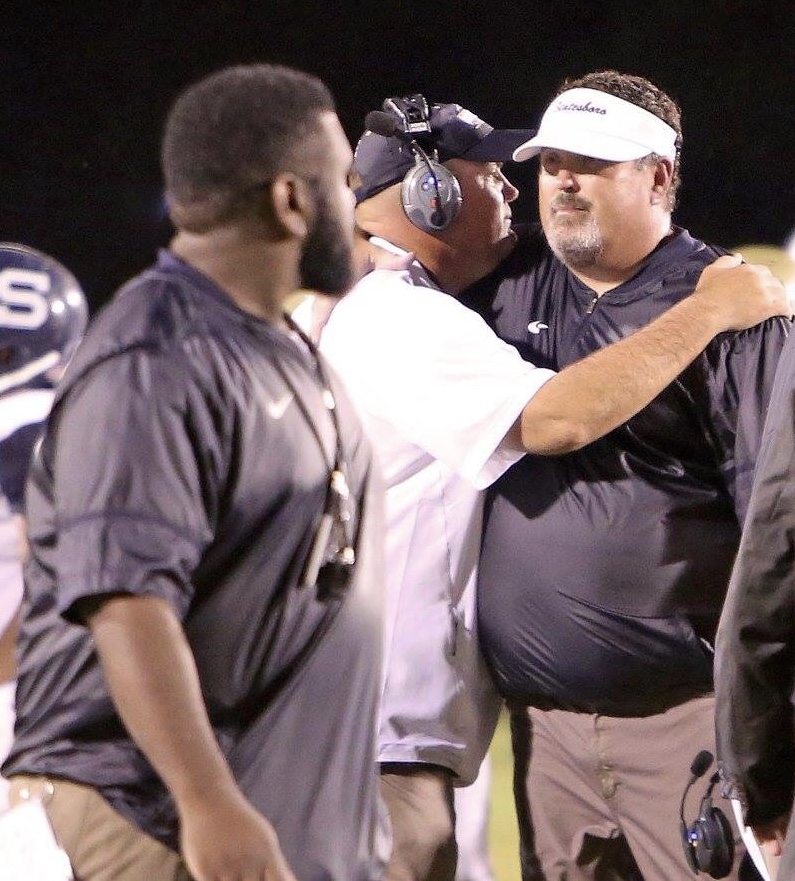 Jeff Kaiser is an old-school football coach.


And, the second-year head coach at Statesboro is using old-school philosophies and strategies as he attempts to restore the proud Blue Devils football program that has fallen on hard times in recent seasons.
If the start of this season is any indication, the Blue Devils are on their way back under Kaiser who was a star football and baseball player at Statesboro in the early 1990s before going on to play on the defensive line at the University of Georgia.
Statesboro is off to a 2-0 start with wins over Greenbier (7-3) and Liberty County (23-6) in the first two weeks of the season.
The Blue Devils have not started a season with back-to-back wins since the 2013 season which also was the last winning campaign for the program. Statesboro will try to go to 3-0 Friday night with a win at Veterans which has won each of its first three games.
Kaiser is happy with the start by his Blue Devils, but the no-nonsense coach didn't turn in cart wheels in his office after either of the first two wins nor did he start designing championship rings for the team.
"We've still got a long ways to go as a program," Kaiser said. "We've changed the way we do things, the kids are buying in, but by no means are we back, sort of speak, yet."
The Blue Devils do appear to be headed in the right direction, though, under Kaiser's leadership.
The program had surprisingly fallen from glory the last several years, winning just four games in the final three seasons combined under longtime coach Steve Pennington who resigned after the team's 0-10 season in 2016. That season is the only winless season in school history.
Pennington was the Blue Devils head coach for 13 seasons and took his teams to the state playoffs 10 times while winning more than 100 games, four region titles and the 2005 state championship in his time at the helm.
The program's downfall was hard to fathom for those in the know about Georgia high school football. Statesboro had mostly always been good as the program owns 13 region championships and five state titles including the most recent crowns in 2001 and 2005 when the Blue Devils finished a perfect 15-0.
Since that 2001 season, during which Kaiser was an assistant coach under then-head coach Buzz Busby, Statesboro had enjoyed seven seasons with double-digit win totals including the 10-2 campaign in 2013.
But things went south in a hurry as the Blue Devils finished 2-8 each of the next two seasons before losing every game they played in 2016.
The downward spiral led to the obvious question. What happened to Statesboro football?
Kaiser has had to answer that very same question since accepting the job as the Blue Devils head coach prior to the 2017 season.
"I can't really put a finger on it," he says. "Things go in cycles. Look at Colquitt County. Six or eight years ago, they weren't what they are now.
"Coach Pennington didn't forget how to coach football. He's a fine football coach. Maybe there was a drop-off in talent.
"I don't know. I was just hoping for the opportunity to come back, instill what we believe in, no matter what happened previously."
Kaiser was the head coach at Tattnall County for 11 seasons before throwing his name into the Statesboro coaching search. He was 62-55 with the Battle Creek Warriors with a 10-2 season in 2010 when Tattnall won the school's first and only region championship.
His hiring by the Blue Devils drew criticism from those who hoped to bring in a big-name coach to turn around the team's fortunes.
The Statesboro administration, though, chose to bring back one of their own, which was met with approval by Pennington and many others with close ties to the football program.
Kaiser talked to several of those same people including Pennington during the search process. Some of the information he received sent up red flags, but nothing scared him away from pursuing the job he had always wanted and eventually accepting the offer to take over the program.
"I knew some things needed to change," he says now without elaborating much.
Obviously, the Blue Devils needed to start winning more games. That really didn't happen last year when the team finished 2-7 in its first season under Kaiser, but the team was far more competitive than it had been which anyone who watched the team play could see.
The Blue Devils lost three games by four points or less and had fourth-quarter leads in four games that they didn't win.
"We couldn't finish games. We couldn't get a stop when we needed one. We wilted on defense in the fourth quarter," Kaiser said.
The coach attributed that to strength and conditioning, and he identified that as a problem area immediately upon taking the job. He quickly went to work to change that, but knew it would take time to see a significant difference on the field.
"The No. 1 emphasis was the weight room," Kaiser said. "The history of Statesboro football year in and year out was that we were one of the strongest teams around, both mentally and physically. We had to get bigger, strong and faster. By no means are we where we need to be, but it's taken us a little more than a year to see some gains."
Statesboro won its opening game this season at Greenbrier with strong defense, one that stood tall against the home team from start to finish. It was a game the team might have lost a year ago.
The Blue Devils allowed the Wolfpack just 104 yards for the game and forced four turnovers. One of those was an interception with just over a minute left on the clock that sealed the road victory.
"We feel like we're bigger, stronger and faster and in better shape," Kaiser said.
Last week in the home opener, Statesboro again got a strong defensive effort, holding the Panthers to just a single touchdown after they scored 40 points in their win over rival Bradwell Institute the previous week.
But really, Statesboro's best defense was its ball-control offense which churned out yards, ate up clock and kept the ball away from the Panthers who ran just 36 plays on offense for the night.
"They're fast on defense, but we felt like we could neutralize that with what we do on offense," Kaiser said.
This year, the Statesboro offense is taking a ground-and-pound approach that is familiar to the team's fan base which saw the wishbone and a power running game plow through many opponents like a tractor in a hay field in days gone by.
Kaiser said he isn't necessarily married to that style of offensive football, but he definitely believes it can still work in today's game which features more wide-open and pass-happy offenses.
"When you have the people to run a spread offense, that's fine," he said, "but if you don't, I believe you go with two (tight ends), the wishbone and run the ball down the other team's throat.
"What you do is really overrated. It's still about blocking and tackling, really. But our philosphy, with the people we have, is to hog the clock, keep the ball. The other offense can't score if they're standing on the sideline drinking water."
That sounds very much old-school, right?
Well, that's Kaiser, and his old-school methods don't stop with his offensive and defensive philosophies.
His old-school beliefs go beyond the X's and O's, and the Blue Devils are learning that, too.
"You have to establish a culture, set standards," he said. "We've tried to develop good practice habits and accountability, things like that.
"When did being late become OK? When did missing practice become acceptable? It's not, and we don't tolerate it. We discipline it or kids don't play."
The Blue Devils also go hard in the weight room year-round. They don't deviate from their routine just because their season is here. And, game days are no different than any other day of the week, Kaiser says.
"We lift five days a week, and we lift the same on Fridays now as we do in the summer or the winter," Kaiser said. "We don't believe in just maintaining during the season.
"Our work in the weight room is finally benefiting us, and the kids are understanding what we are talking about after the last two games."
Yes, the players are responding to Kaiser's methods and strict practices.
More than 100 players are in the program, and only 15 of them are seniors. The Blue Devils have 40 freshmen on their roster, as many as five sophomores have contributed defensively the first two weeks, and the team's entire offensive backfield is made up of juniors who have another year in the program.
The makeup of the roster excites the Statesboro coach.
"I feel good about the future and us continuing to make gains," Kaiser said.
"It's getting there. A lot has to come together to have a good program."
It looks like the pieces are starting to fit into place for the Blue Devils and the Statesboro family has taken notice. Womack Field was alive last week like it was when Kaiser was playing in the trenches for the Blue Devils.
"The atmosphere we had at the game last week was as electric of an atmosphere as I've seen around here in a while," Kaiser said.
A football revival is taking place in Statesboro, and a former Blue Devil is the one preaching to the pigskin choir.