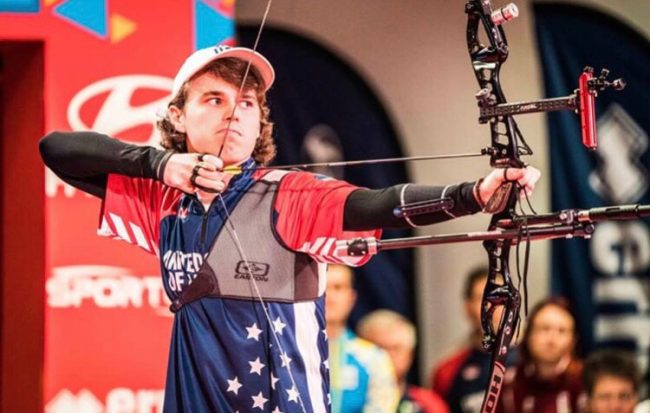 When 19-year-old Georgia Southern student and archer Adam Heidt arrives in Naples, Italy, this July, he'll be competing against some of the top collegiate athletes in the world as he works toward his goal of one day competing at the Olympics.

Heidt, a Springfield, Georgia, native, will join other college athletes at the summer World University Games (WUG) to represent USA Team in the individual, team and mixed team archery competitions.
WUG is an international multi-sport competition held every two years and is open to collegiate athletes around the world. This year's event is set for July 3 through 14. Heidt placed in the top two at the USA Archery Collegiate Nationals, which earned him a spot on the USA Team for the WUG.
"Making this team was one of my big goals for this year, so I'm very excited for the opportunity," Heidt said. "I'm most looking forward to the opening ceremonies as well as catching up with friends from other international events I've been to."
Heidt has been competing in archery since he was 12 and competed on a national level at age 14.
"I was also a resident athlete at the Chula Vista Olympic Training Center (California) for two years from 2016 to 2018 where I was training full time and finishing high school online," Heidt said. "When I started college, I knew that competing at the collegiate level was something I wanted to do."
Heidt's ultimate goal is to compete at the Olympics, although it hasn't come without challenges. Being a part of the team at WUG and competing at this level has helped him refocus on that goal.
"This last year I've really struggled with my motivation to continue shooting and questioning if pursuing this next Olympics is something I want to do," Heidt said. "But I've slowly been getting that drive back and making this team has really helped me find a reason to continue."
This is a press release from Georgia Southern University.