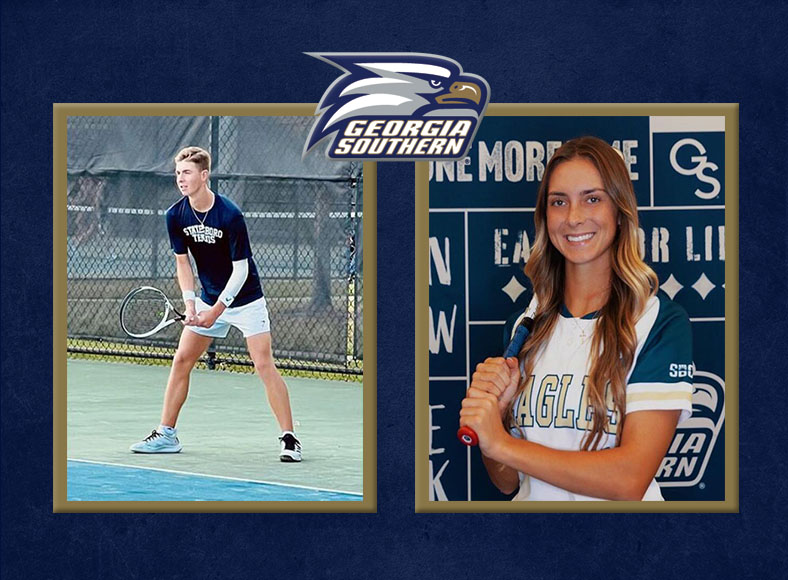 Georgia Southern Athletics announced this month that two of Bulloch County Schools' senior athletes have signed to play for the university beginning in 2023.


Statesboro High School's Holden Hall and Southeast Bulloch High School's Delanie Thames are two of the school district's most accomplished athletes. Both schools are hosting signing ceremonies to commemorate their successes. Thames' was November 17, and Statesboro High School has planned a ceremony after the holidays.
Holden Hall – Statesboro High School – GA Southern Tennis
Holden Hall of Statesboro High School has signed with men's tennis and Delanie Thames of Southeast Bulloch High School has signed with the Eagles' softball program.
Ranked in the top-25 of Georgia's individual tennis players, Hall plays first singles for the Statesboro Blue Devils where he currently has a career record of 40 wins and only one loss.  For the past three years he has been named to the First Team All-Region. He has also been named as his team's most valuable player three years in a row.
In a statement released by the university on Nov. 14, Jeremy Bayon, head coach said, "I am very thankful and excited to have Holden joining our Eagle family. His talent, hard work and dedication allowed his game to grow tremendously since we met a year and a half ago.  Holden is a great addition to our program. I am very happy that he and his family decided to stay in Statesboro."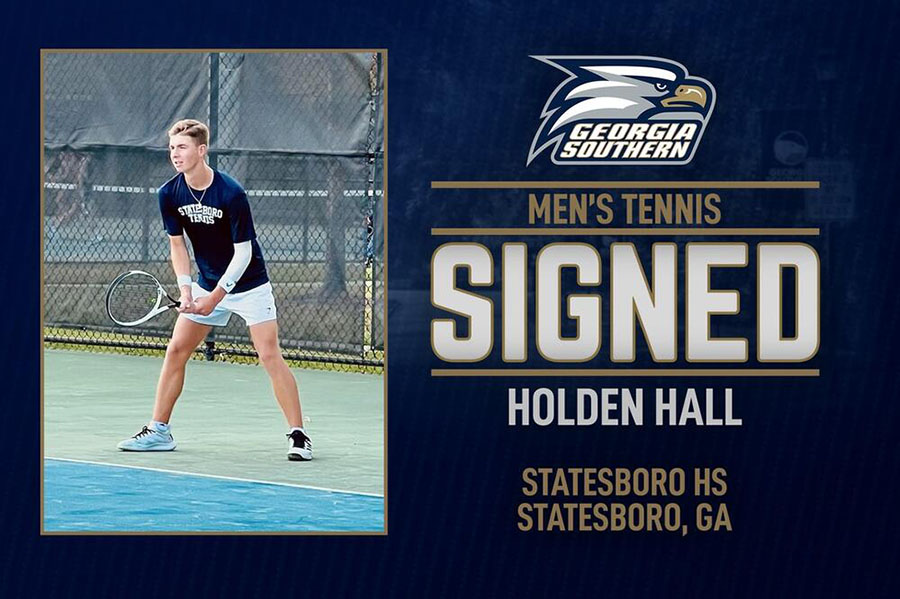 Delanie Thames – Southeast Bulloch High School – GA Southern Softball
Thames is one of Southeast Bulloch's most-accomplished and most-decorated athletes.
According to NCSA College Recruiting only about 1.6 percent of student athletes make it to the Division 1 level in softball, so family, friends, teammates, faculty and coaches from across Thames' multi-sport middle school, high school, and travel ball career came to celebrate with Thames at her official signing ceremony.
In a statement issued by Georgia Southern Athletics about its Softball program's 2022 signing class, Head Coach Sharon Perkins said, "Delanie has wowed me since day one. She always pays attention to detail with her footwork and arm slots defensively. She is a great communicator and leader and leaves everything she has on the field each day. She will also add much needed power to our lineup offensively. Del is the epitome of blue collar and exudes confidence in all aspects of the game."
Thames is a three-sport athlete playing infield in softball, linebacker on her school's state-champion flag football team, and at 5′ 9″, a basketball player as well. She was also on the track and field team her freshman year.
With the Lady Jackets Softball team, she was a four-year starter, who made her mark as a freshman earning Region 3-AAA Player of the Year honors,  and making both the First Team All-Region 3 AAA and the Georgia High School Association's (GHSA) First Team All State for division AAA.
An injury sidelined her for her sophomore year, but she returned to the field in 2021 to again win her team's Outstanding Offense Award and receive All-Region 3 AAA and GHSA 1st Team All-State AAA honors as well as being named to the All-Star South Team.
As a senior she was named as the Offensive Player of the Year for Region 3 AAAA for a second time, and she was named to the 1st Team All-Region. Her career record at SEBHS is a batting average of .533, with 35 home runs, 148 runs scored, and 79 stolen bases.
Her head softball coach, Aimee Civalier, has described her in interviews with area sports reporters as a "game changer" and an "offensive threat every time she comes up to bat," which is dynamic praise from a coach that's taken the school's softball program to the GHSA Elite-Eight multiple times. "She's what recruiters refer to as a five-point player for her hitting, catching, throwing, fielding, and baserunning abilities, but I add a sixth point," Civalier said. "Her leadership and knowledge of the game."
Civalier was one of five coaches who spoke during Thames' signing ceremony. Each shared about her dedication, work ethic and mentoring abilities. One coach was Billy Haas, Southeast Bulloch Middle School's (SEBMS) head baseball coach.
As an eighth grader at SEBMS, Thames made history by trying out and making the school's highly competitive baseball team. She became one of its key players and helped the team win its very first region title in program history.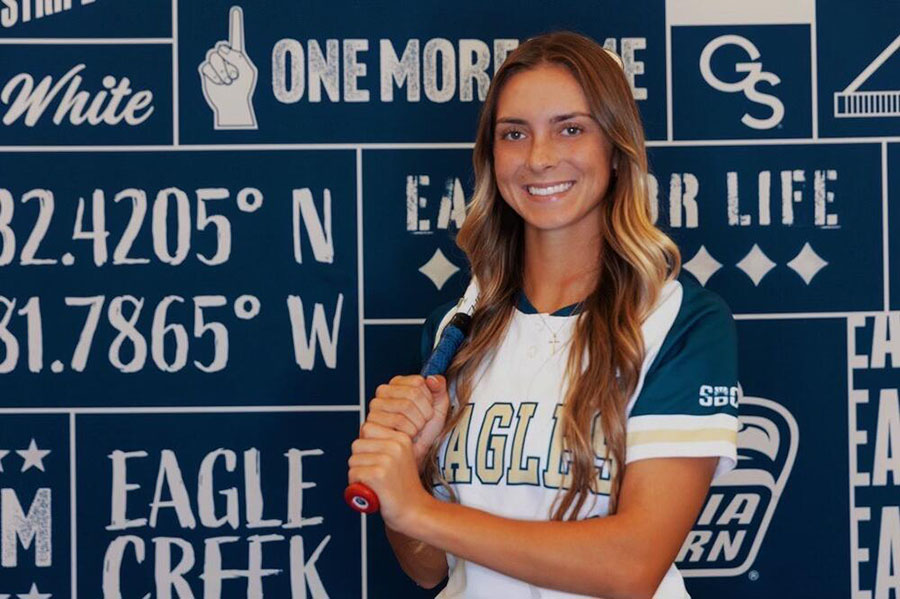 ---
Bulloch Co Schools