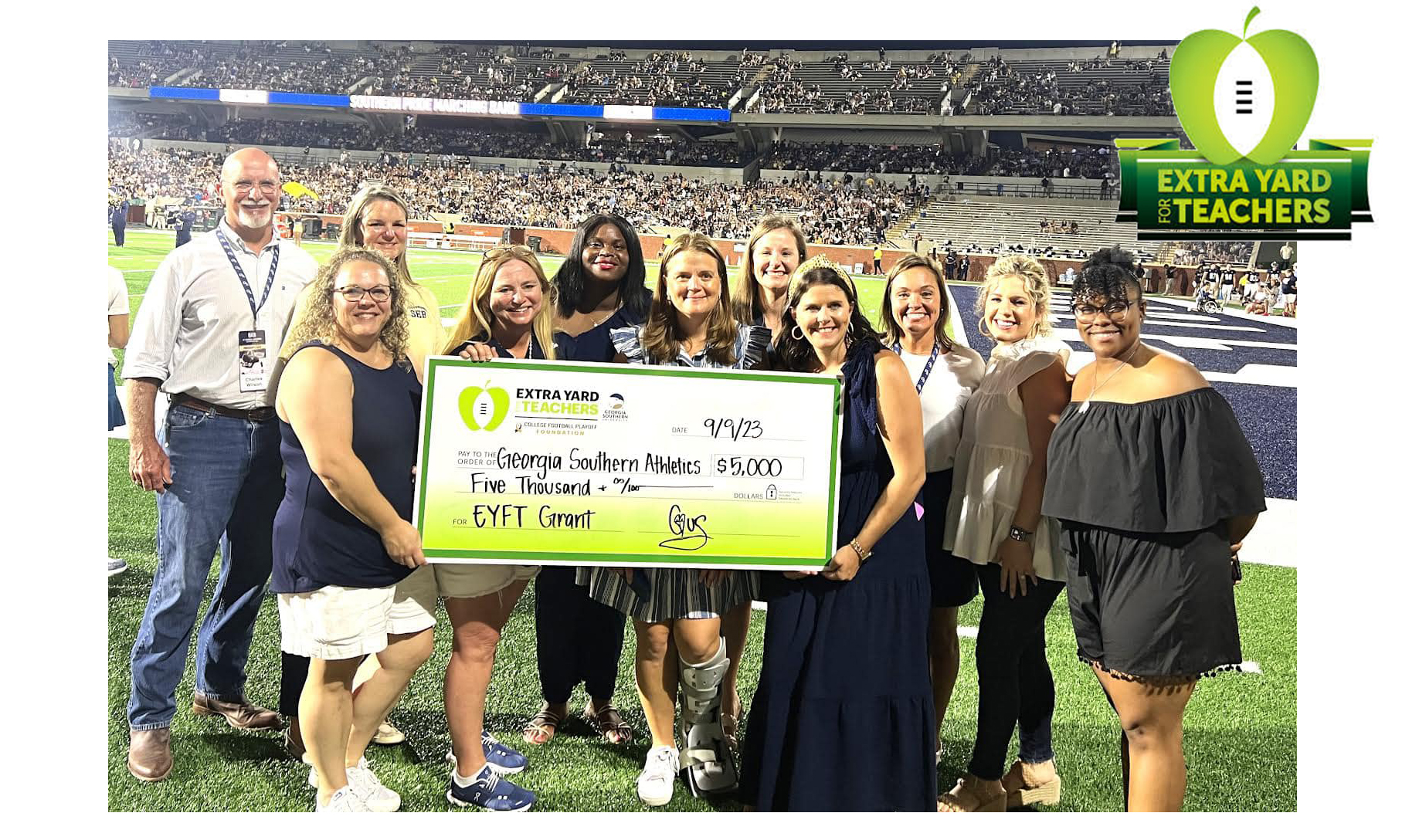 Georgia Southern Athletics and the College Football Playoff Foundation have funded 10 Bulloch County teachers' innovative classroom projects totaling $2,500.


During The Eagles' home football game against the University of Alabama at Birmingham, the Bulloch County Schools teachers were recognized on the field along with ten other area teacher recipients. The classroom improvement grants are part of the College Football Playoff Foundation's (Foundation) Extra Yard For Teachers program.
The Foundation's primary platform, Extra Yard for Teachers, elevates the teaching profession by inspiring and empowering teachers through the implementation of programs in four focus areas: resources, recognition, recruitment and professional development.
Each year, Georgia Southern Athletics partners with the Foundation to show appreciation for teachers in Bulloch, Chatham and Liberty counties, which are the areas where the University has campuses.
Each of the 20 teachers will receive a grant for $250. They were selected based on their grant applications and the itemized budgets for their projects. These submissions were then judged by a committee consisting of GA Southern College of Education faculty and students, who completed a double-blind review of the grant applications, where all personal and identifying information was removed from the application information.
"We look forward to seeing the initiatives and projects that teachers in Bulloch, Chatham and Liberty counties put forth as a part of the Extra Yard for Teachers initiative," said Gleen Hart, GA Southern's senior associate athletics director,  who coordinates the program locally. "We are excited to be a continuing part of this exciting project."
Listed below are the 10 teachers from Bulloch County Schools who received grants:
Kelli Balding, Portal Elementary School: Creating An Atmosphere For Independent Readers
Kiersten Morrison, Statesboro High School: Special Education Self-Contained Class Learning Public Transportation
Joanna Hutchinson, Sallie Zetterower Elementary School: Ear Ye, Ear Ye: Listening Readers Are Leaders!
Nechelle Boozer, Julia P Bryant Elementary School: Pre-K Garden
Marchelle Russell, Langston Chapel Elementary School: I Count, You Count, We All Count For Ice Cream
Jen Calhoun, Statesboro High School: Adventures In Podcasting
Shannon Sikes, Statesboro High School: Community Based Instruction: Restaurant Budgeting And Etiquette
Kristen Lee, Brooklet Elementary School: Messy Science, Clean Hands
Mary Beth Franklin, Brooklet Elementary School: Firstie Fine Motor Fun
Paula Kitchings, Southeast Bulloch High School: Collaborative Learning Stations For Algebra 1
---
Bulloch County Schools