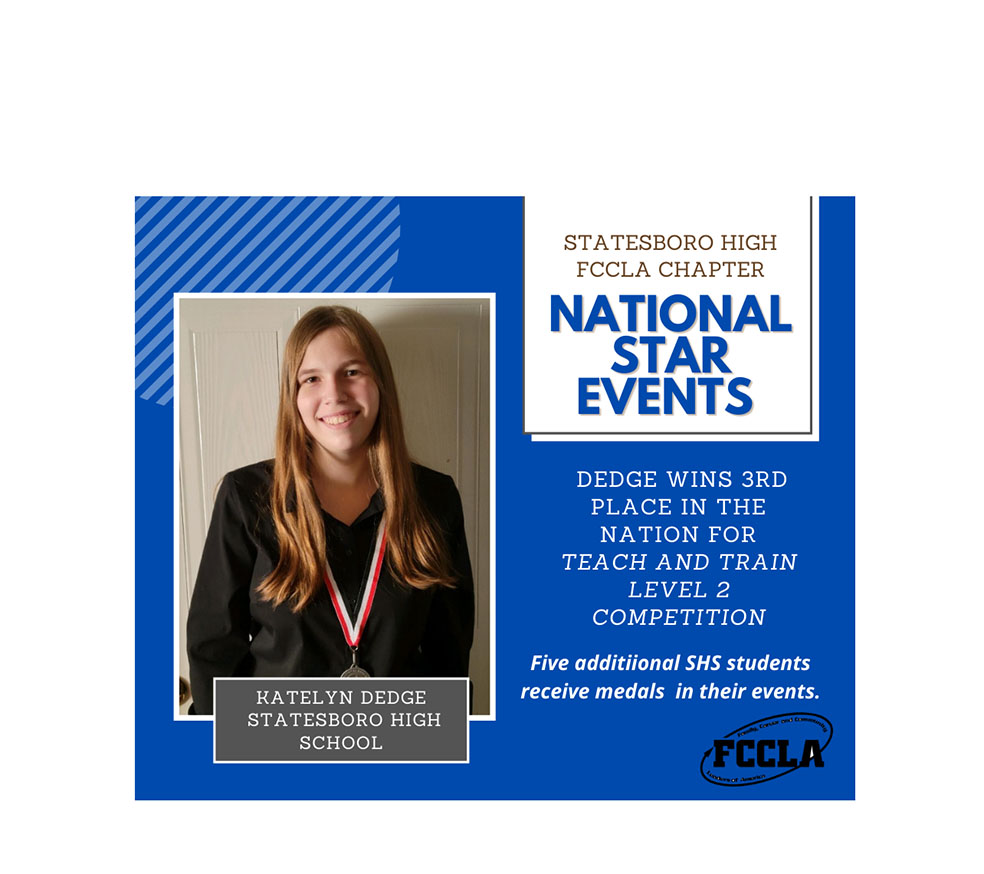 A Statesboro High School student placed third in a Family, Career and Community Leaders of America National STAR Event competition held virtually in July. Five additional Statesboro High students also placed and received medals in their respective events.

The students advanced to nationals after placing in their events beginning at the region level, then state, which were also held virtually.
Katelyn Dedge, competed in the Teach and Train Level Two competition where she placed third and also received a silver medal. Kae'dyn Miller and Gabbie Wallace competed in Public Policy Advocate level two placing fourth and receiving a silver medal, and Alexia Reed, Ashley Rawls, and Jordyn Jones completed in Chapter Website and received a bronze medal.
Event placements are based on a student's overall competition score.  In addition, they can earn medals which are based on their score range: (1) scores of 90 to 100 receive gold medals; (2) 70 to 89 silver; and (3) 69 and below receive bronze.  Those who place in the top three of their events, like Dedge, are recognized by the Family, Career and Community Leaders of America in their award ceremony.
"We are so proud of these students for all their hard work despite all the challenges of competing virtually," said Bethany Gilliam, Bulloch County Schools' director of Career, Technical, and Agricultural Education programs.
Dedge's Teach and Train competition was an individual event that recognized participants' research and hands-on experience in education and training fields. She has taken courses in both the Early Childhood Education and Teaching as a Profession career pathways at Statesboro High.
Students Taking Action with Recognition (STAR) Events are competitive events in which Family, Career and Community Leaders of America members compete at the region/district, state, and national level and are recognized for proficiency and achievement in chapter and individual projects, leadership skills, and career preparation.
The Family, Career and Community Leaders of America is one of six national career and technical student organizations where Bulloch County Schools' middle and high school students can seek membership and leadership opportunities and participate in skill-building competitions. Career and technical student organizations enhance student learning through contextual instruction, leadership and personal development, applied learning and real world application.
Bulloch County Schools provides Career Technical and Agricultural Education career pathway courses developed by the state of Georgia and the Educating Georgia's Future Workforce initiative, which leverage partnerships with industry and higher education to ensure students have the skills they need to thrive in the future workforce. For more information on the career pathways and career/technical student organizations the school district offers visit the website.
---
Bulloch County Schools