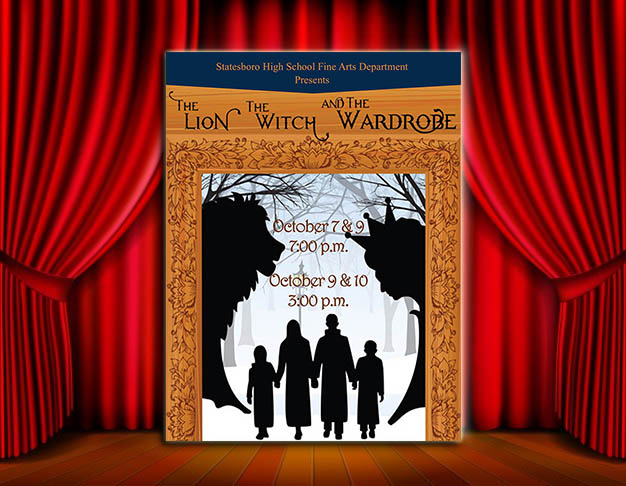 The Statesboro High School Fine Arts Department will present public stage performances based on C.S. Lewis' classic novel, "The Lion, the Witch, and the Wardrobe," on Oct. 7 and 9, at 7:00 p.m., and matinees on Oct. 9 and 10, at 3:00 p.m. 


The performances will be in the SHS auditorium. Tickets are general admission and available online only via the GoFan mobile application, via this link, or the QR code on the poster below at $10 for adults and $5 for students.  Seating will be socially distanced and masks are encouraged.
Statesboro's drama students will present the tale, which is the beginning of Lewis' seven-book series, The Chronicles of Narnia. Set in England during World War II, four pensive children (Edmund, Lucy, Susan, and Peter) are sent to the country to live with a professor to escape the bombings in London. While playing in their new home, they  step through an enchanted wardrobe and into the land of Narnia. Here they encounter magical creatures, a deadly witch determined to keep Narnia blanketed in eternal winter, and the wisest of all creatures, Aslan the Lion.
Come enjoy live theater and support fine arts education. Thank you to DX Print & Mail of Statesboro for sponsoring these performances.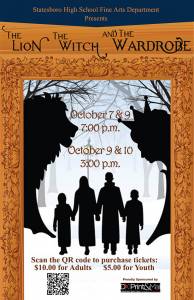 ---
Bulloch Co Schools