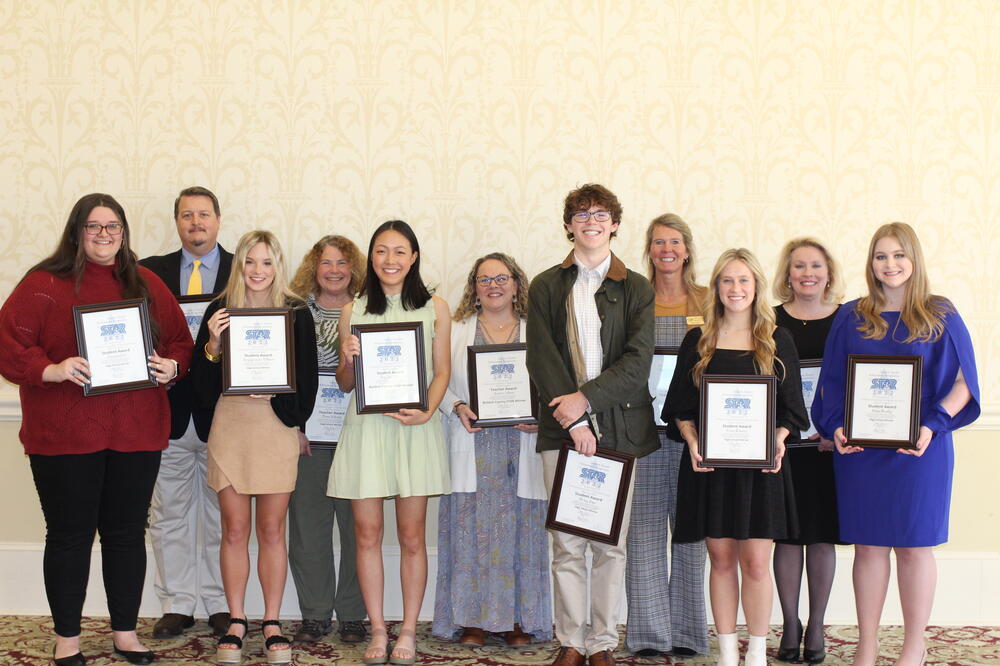 Public and private schools in Bulloch County were proud to honor students as their STAR nominees this week at a luncheon at Forest Heights Country Club.
Bulloch County School's district STAR Student is Statesboro High School's Valedictorian, and her teacher was selected as STAR Teacher. 
---
Statesboro High School's valedictorian, Evy Shen, is Bulloch County's district STAR Student. She along with her STAR teacher, Jennifer (Jenn) Calhoun, were named on Wednesday, Feb. 9, during a special recognition luncheon at Forest Heights Country Club that was hosted by five local public and private high schools and sponsored by the Bulloch County Foundation for Public Education and the Rotary Club of Statesboro.


Shen is the daughter of Dr. Junan Shen and Min Zhu. She plans to attend Stanford University in the fall and pursue an interdisciplinary pathway in Stanford's Science, Technology, and Society program which consists of a wide range of academic fields centered on society including public policy, medicine, communication, technology, and more.
Shen and Calhoun will both now advance to the Region 8 STAR Recognition, which will be held at Georgia Southern University on March 16, and will include district winning STARS from 16 area counties. The Statesboro Exchange Club is the region sponsor. The winning Region 8 STAR pair will advance to the State STAR Banquet in Atlanta on April 25.
"Mrs. Calhoun was my AP (Advanced Placement) Language Arts teacher my sophomore year, which was a really transformative year for me," Shen said. "Her class instilled in me the urgency to understand the world by increasing my news intake to educate myself on the world outside my immediate scope and to make myself uncomfortable in order to grow. She is so cheerful and funny, and she likes to keep things real. Her vocal support for my writing endeavors has made a significant impact on my life. I'm so blessed to have had her by my side for the majority of my high school career."
Calhoun, who was previously selected as a STAR teacher when she taught in Screven County, is moved by receiving the honor a second time.
"I am more than humbled by Evy choosing me to be her STAR Teacher; a recognition that goes far beyond any other award I could ever receive as a teacher," she said.
Shen, a versatile young lady with many talents, credits Calhoun with encouraging her burgeoning writing talents and for supporting her creation and editing of a literary magazine, "Listen," at Statesboro High to give a platform for creative student voices. Calhoun serves as the publication's faculty advisor.
"Her praise for my essays really boosted my confidence in my writing, which until then, I hadn't felt strongly in at all," Shen said.
Others have recognized her literary talents as well. This year she is both a National Scholastic Art & Writing Awards and a National Young Arts Foundation Merit Winner in Writing. For the latter, she is the only national winner from Georgia. YoungArts and Scholastic are the two largest and most renowned national writing competitions for youth and receive student applications from all over the world.
Shen is also Bulloch County's twelfth-grade Young Georgia Author winner, she is preparing to compete in extemporaneous speaking, and she is a two-time Governor's Honors Program participant for language arts.
"She's an exquisite writer and has been published more times in her young life than many adults can even fathom in their entire career," Calhoun said. "Her ability to use words to describe an idea or connection to the real world inspires everyone around her to be better."
Calhoun also shared that Shen is hard-working, inquisitive, dependable, and one of the best listeners that she has ever taught.
"She came into class every day with one idea: to learn as much as she could and I was lucky enough to share the world with her from a new lens. All of her teachers will tell you that she's an absolute joy to teach with a heart of pure gold."
---
STAR Program
The Student Teacher Achievement Recognition (STAR) program, now in its 64 year, is a state program sponsored by the Professional Association of Georgia Educators (PAGE) and the PAGE Foundation. The purpose of the STAR program is threefold:
Recognize academic achievement in Georgia's high schools and motivate students to be good scholars and high achievers
Honor excellence in teaching, to promote teaching as a career and to encourage outstanding teachers to remain in the classroom
Demonstrate the business community's commitment to excellence in education and to increase interaction between students and the business community
2022 School-Level STAR Nominees
Six school-level STAR student and teacher pairs from Bulloch Academy, Trinity Christian School, Portal Middle High School, Southeast Bulloch High School, and Statesboro High School were recognized during this year's event and enjoyed support from their families, school counselors, and principals who were in attendance. Bulloch County Superintendent of Schools Charles Wilson, Assistant Head of School Holli Greeson of Bulloch Academy, and Linda Woods of the Professional Association of Georgia Educators also attended. These are this year's other school-level STAR student and STAR teacher nominees from whom Shen and Calhoun were selected:
Bulloch Academy – (Tie): 
Tressa Rountree, STAR Student, is the daughter of George and Anne Rountree. She has been accepted, early decision, to the University of Georgia, where she plans to major in economics and follow the pre-law track. "I selected Mrs. Sapp as my STAR teacher because I had her every year of middle school, for both science and history, and I have always remembered her as one of my favorite teachers," Rountree said.
Pam Sapp, STAR Teacher, is a middle school English language arts and history teacher at Bulloch Academy. She was Tressa's eighth-grade Georgia History Teacher. "Tressa winning the Star Student award was not surprising," Sapp said. "However, being chosen as her Star Teacher was both an honor and a surprise! It is an honor that reminds you that you are making a difference. Nothing has more meaning than that for a teacher! It is also no secret that being a good teacher is easier when students are active learners. Tressa was a very active learner."
Wesley Joyce, STAR Student, is the son of Richard and Shelly Joyce. He has been accepted to the University of Georgia, but is also considering other institutions to possibly pursue a degree in civil engineering.
Beth Burke, STAR Teacher, is an upper school Math teacher at Bulloch Academy, where she taught Wesley in the eleventh grade. "Wesley is an intelligent, clever, and quick-witted young man," Burke said. "I have taught him for the past 2 years in Pre-calculus and AP Calculus AB, and I have enjoyed his sharp mind and his outgoing personality. He definitely brings life into the classroom. Wesley has the ability to understand complicated situations with ease.  I believe he chose me to be his STAR teacher because I made him work and study. As a teacher, you really never know who you make an impact on.  It is always such an honor when a student lets you know that you did make a difference."
Portal Middle High School:  
Jenna Goodson, STAR Student, is the daughter of Lisa Schatzel Curl. She plans to attend Mercer University, major in nursing with a Spanish minor, and pursue a career as a pediatric nurse practitioner. "I chose Mr. Thornburg because he has always inspired me to achieve more and push my limits. He ensures he goes beyond the simple requirements of his job and truly builds connections with his students."
Clinton Thornburg, STAR Teacher, is a former law enforcement officer, who is now a certified teacher at Portal, where he teaches Science. He is Goodson's Human Anatomy/Physiology teacher. "When I was a first-year teacher, Goodson was my litmus test. When conveying complex lessons, I would look to her to gauge if these concepts were grasped.  She was always attentive, interactive and if there was something she was unsure of or wanted deeper knowledge of, she was not shy to ask. Her dedication to excellence spans beyond the classroom as well. It is an absolute honor to have been chosen, especially as a fairly new teacher. I am deeply moved by the gesture."
Southeast Bulloch High School: 
Katlyn Brantley, STAR Student, is the daughter of Floyd and Kimberly Brantley. She is the valedictorian of her 2022 graduating class. She has been accepted to Augusta University, where she plans to major in Molecular Biology. She hopes to be accepted to the Dental College of Georgia at Augusta University after her undergraduate studies are complete. "I selected one of my fourth grade teachers, Dr. Kim Brantley(or less formally, Mama), as my STAR Teacher because she has consistently been a source of inspiration in my life. She has dedicated herself not only to encouraging my academic success but also to supporting the academic success of all of her students. Her nurturing nature is prevalent in all that she does; she genuinely cares for each and every one of her students. At times when I lacked determination, she was always my motivation, encouraging me to keep reaching toward my full potential. God has blessed me with the most caring, humble, and kind-hearted mother a girl could ask for, and I could not think of another teacher more deserving of this recognition."
Dr. Kim Brantley, STAR Teacher, is a second-grade teacher at Nevils Elementary School. "The beautiful, intelligent, and determined young lady who selected me as her STAR Teacher also happens to be my daughter. I am honored that she selected me, but I have been honored every day to be her mother. Her father and I have watched her blossom and transform from an inquisitive, precocious little girl into a kind, caring, and resolute young woman. I have always been impressed by her dedication to academics, but I have been even more proud of her dedication to her family and friends. Katie is one of those rare individuals who is truly as beautiful on the inside as she is on the outside. She always puts the needs of others ahead of her own. As her former teacher, I am positive that she has lived up to her potential as a student. As her parent, I am confident that she will go out into the world and demonstrate all of the good habits and characteristics she has developed through her faith, her upbringing, and her academic career at Bulloch County Schools. I could not be more proud of our sweet Katie!"
Trinity Christian School: 
Mary Genevieve (Mary Gen) Williams, STAR student, is the daughter of Mike and Rita Williams. She is the salutatorian of her senior class. She hopes to attend the University of Georgia, but she has also been accepted by Georgia College & State University and has applied to the Georgia Institute of Technology and Georgia Southern University. She is exploring majors in the medical field and mathematics and also considering Pharmacy or Nursing School. "Mrs. McKenna is an excellent teacher and an excellent person. She has been my homeroom teacher twice, and I've taken four of her classes- three of which were/are Advanced Placement classes. She's an outstanding teacher that helps me learn in a way that maximizes my understanding of the subject. She challenges me in class but she will also make time to explain a subject or answer any questions I have. This trait sets Mrs. McKenna apart from other people in the education field. In addition, she will make time to talk about anything in life and she always cares about what is going on in her student's lives. She's a role model of mine, and she's someone I inspire to be like. There's no one else that I would pick to give this honor to than Mrs. McKenna."
Donna McKenna, STAR Teacher, teaches Advanced Placement (AP) Calculus and AP Physics at Trinity Christian School. This is the sixth time that she has been named a STAR teacher. "Mary Gen is an all-around great student. She is cheerful and helpful and a joy to teach. She loves math and science, and I taught her AP Chemistry last year and AP Physics and Calculus this year. I am certain she will succeed in anything she attempts because of her great work ethic. I am honored to be her STAR teacher."
---
STAR Program Qualifications
To be a school-level STAR, a student must be a member of their school's senior class cohort, have the highest score on a single test date on the College Board's Scholastic Achievement Test (SAT) and by the end of their junior year be in the top-10 percent or top 10 students of their senior class cohort based on grade point average.
Their scores on their test may not be super scored by combining best scores from portions of the test from multiple test dates, and scores must also be equal to or higher than the SAT national average scores, for Reading and Writing and Math.
The STAR program begins each year in participating high schools throughout Georgia when the STAR Student is named and chooses a STAR Teacher to share in this recognition. The students and their teachers are honored by their schools and receive special recognition in their communities from one of the more than 170 statewide civic organizations and businesses that serve as local district sponsors of the STAR program. Students then compete for region honors. Region winners compete for the honor of being named State PAGE STAR Student. STAR Teachers continue on with their STAR Students at every level of the program.
Bulloch County Schools – District Coordinating Sponsor
Bulloch County Schools serves as the county's district coordinating sponsor for the program.  The Bulloch County Foundation for Public Education supports Bulloch County Schools' role, by underwriting the financial costs associated with the local, regional, and state level STAR events. The Statesboro Rotary Club also provides financial assistance for the local recognition luncheon and provides a public forum to showcase the school-level STARs.
Professional Association of Georgia Educators
PAGE is the state's largest and fastest-growing educator association. Deeply committed to excellence in public education, PAGE provides legal coverage, legislative advocacy, and professional learning opportunities to more than 95,000 teachers, administrators, and school personnel. PAGE honors outstanding students and educators, and encourages academic excellence through competitive programs such as PAGE STAR, the PAGE Academic Bowl for Middle Grades, and the PAGE Georgia Academic Decathlon.
---
Bulloch County Schools