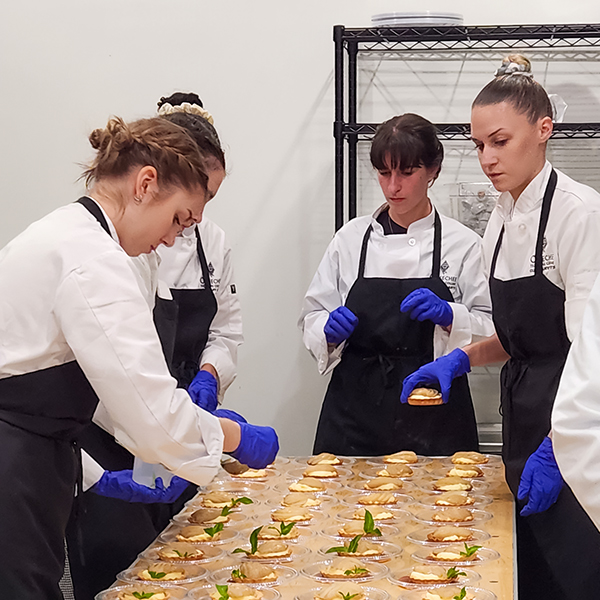 Ogeechee Technical College's Culinary Arts Program recently partnered with Lift As You Grow for the organization's annual Farm to Table dinner on October 12th at The Fox hall in the West District of Statesboro.

Culinary Arts instructor Bryan Richard, Culinary Arts Program students, and Zachary Dalgard, a graduate from the Culinary Arts Program, teamed up to prepare a 4-course dinner for 75 members of the local community.
"Our culinary arts students not only had a great opportunity to showcase the skills they've learned in class, they got to prepare a delicious meal to people of the community and they had a chance to give their own time to a great local organization, whose goals are similar to that of Ogeechee Tech," said Richard. "Many of our students know what it is like to be vulnerable, underemployed and in need of resources and were so happy to be able to help with the meal."
The 4-course menu consisted of Vietnamese style pork and duck spring rolls, roasted butternut squash soup, red wine braised short rib, and vanilla pear tartelette.
Lift as You Grow is a 501(c)3 non-profit organization that empowers vulnerable and at-risk women by providing economic mobility through transitional employment and adult education as well as a safe space for a healing and healthy society.
---
OTC