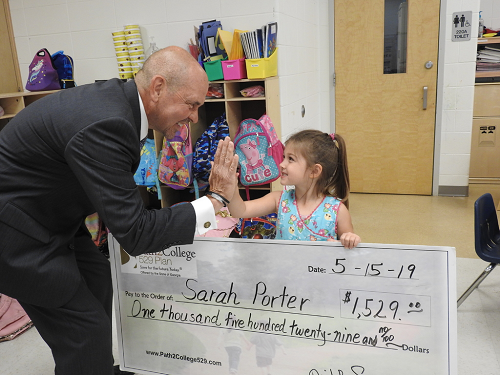 GA Path2College 529 Plan & DECAL select four state winners

Great news has come down the pipeline for one Bulloch County Schools student.
Sarah Porter, a pre-kindergarten student at Mattie Lively Elementary School, was selected as one of four state winners in the second annual Georgia Pre-K to College Sweepstakes. Porter and each state winner received $1,529 for their college savings, and their schools each received $529.
The contest is sponsored by the Georgia Path2College 529 Plan and the Georgia Department of Early Care and Learning(DECAL). Mitch Seabaugh, executive director of the Path2College 529 Plan made the check presentation on May 15 at MLES.
The goal of the contest is to help inform families about the importance of financial planning to help children continue their education after high school. Winners were selected at random from the state's more than 80,500 Pre-K students.
From the 529plan website:
A 529 college savings plan can help you save more of your money over time. Any earnings grow free from federal tax, and many states offer a state income tax deduction or tax credit for contributions. Limitations apply. See the Disclosure Booklet for details. As a 529 Plan, the Path2College 529 Plan also offers certain gift and estate tax planning benefits; consult your tax advisor. And withdrawals are tax-free at both the federal and state level when used for qualified education expenses.
You can use the funds for a lot more than just tuition — including required fees, certain room and board costs, books, supplies, as well as computers and related technology costs such as Internet access fees and printers. Additional equipment required for attendance may also qualify. Funds can be used at most accredited colleges and universities in the United States — even certain colleges abroad. In addition, up to $10,000 annually can be used toward K-12 school tuition per student from all 529 plans.*
This is a press release from Bulloch County Schools