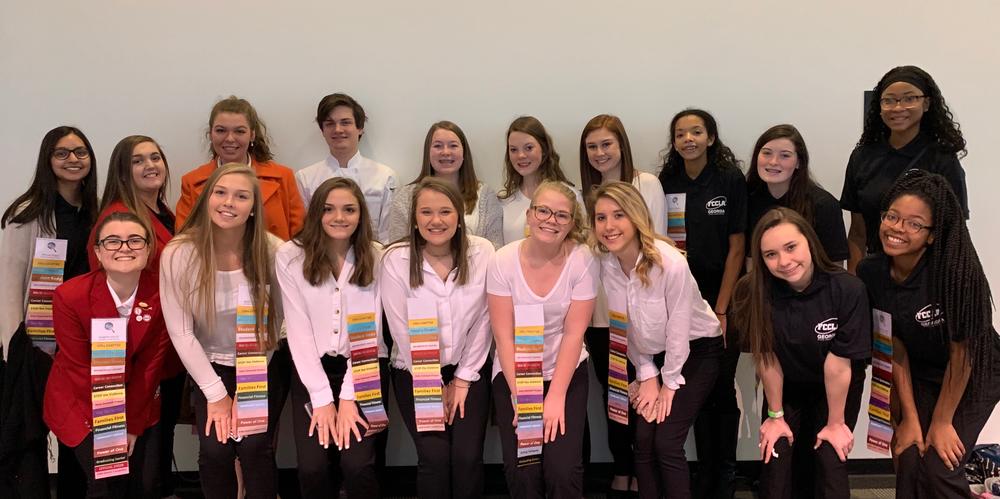 Statesboro High School's Family, Career and Community Leaders of America (FCCLA) chapter won 19 gold medals and two silver medals at the state FCCLA Leadership Conference on March 15-17 in Atlanta.  Winners will now advance to the National FCCLA Leadership Conference on June 30-July 4, in Anaheim, CA. This is the most state awards that the chapter has received in its history.  The chapter's faculty advisors are Bethany Gilliam, Kristen Rogers and Cindy Hart, all of whom are Career, Technical, and Agricultural Education program teachers at Statesboro High School.

The following students received gold medals and will advance to nationals: Bhumi Patel in Job Interview; Mallory Horst in Teach and Train; Angela Smith in Interior Design; Brianna McDaniel in Illustrated Talk; Taylor Hinson and Maddie McQuaig in Chapter Service Project Portfolio; Savanna McQuaig and Kallie Johnson in Chapter in Review Portfolio ; Zoe Pantin, Ashtyn Peeples, and Catelyn Stockdale in Promote and Publicize FCCLA; Jordyn Jones, Alexia Reed, and Ashley Rawls in Sports Nutrition ; and Annabelle Treadway and Jacy Clum in Life Event Planning. Silver medalist Keylee Phillips will also advance to nationals for her her project, FCCLA Chapter Website.
Bhumi Patel and Angela Smith were also awarded $500 college scholarships for their wins. The chapter received an Honor Roll with Distinction honor due to the chapter's significant body of work, and Bethany Gilliam was recognized as an Advisor Mentor. She will also be recognized at nationals for the designation.
Keylee Phillips was also elected to serve as the Georgia FCCLA Vice President of Community Service, making her the first Statesboro High student to serve as a FCCLA state officer in school history.
Other award winners included Chelsea Haire, who received a silver medal in Career Investigation, and Matthew Gilleland, who won third-place in the state Knife Skills competition.
Information from Bulloch County Schools