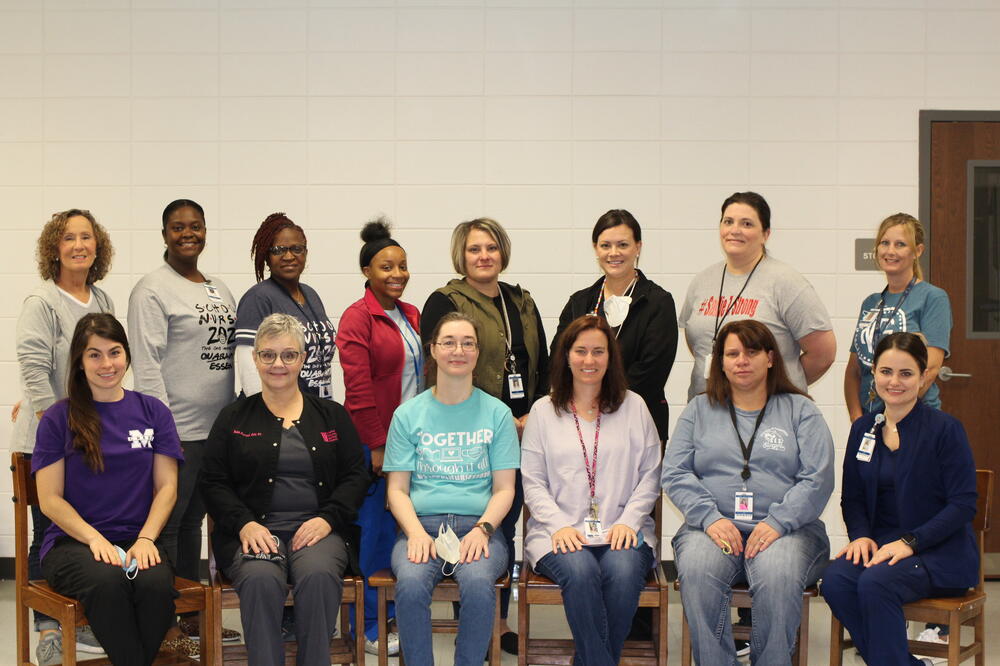 Bulloch County Schools is acknowledging the importance of school nurses and thanking them for their many hours of hard work, especially during COVID:

Bulloch County Schools' team of 18 nurses successfully managed a robust COVID-19 isolation, quarantine, and guidance plan this year for their schools in addition to their regular roles.
Each school has a trained registered nurse on staff. During the COVID-19 global pandemic, the ways in which our school nurses served their schools and community expanded exponentially.  They have worked diligently and tirelessly to coordinate with the Department of Public Health, help guide the district and school administrators to create and manage a safe return-to-school plan, provide basic medical services, communicate with families, and more.
To attempt to quantify the contact tracing work that school nurses and administrators have performed so far this year, we used a formula recommended by Rick J. Kaufman, the executive director of community relations and emergency management with Bloomington Public Schools in Minnesota. The formula was developed by Neustar, Inc., a tech company that provides real-time information and analytics for state health and human services departments in the United States.
According to the formula, each COVID-positive case takes nearly 130 minutes of time to trace:
23 minutes for a contact exposure to a confirmed case that results in a quarantine;
30 minutes for a confirmed case; and
72 additional minutes per case for follow-up calls and missed dials).
As of school week 40 in our school district's public COVID-19 reporting, these are the approximate number of hours that school nurses and their support staff have invested this year in COVID-19 contact tracing response:
652 confirmed positive cases to date multiplied by 30 minutes equals 19,560 minutes or 326 hours
4,946 quarantines resulting from contact with a confirmed positive case in or on school property multiplied by 23 minutes equals 113,758 minutes or approximately 1,896 hours
652 confirmed positive cases to date multiplied by 72 minutes equals 46,944 minutes or 782 hours
In total this equates to 3,004 hours of COVID-19 contact tracing to date, which is equivalent to 375 days of work. A school year is 180 days.
For many children, our registered nurses are the first line of medical care. In a normal year each school nurse sees an average of 75 students and employees per day for a variety of medical needs, and they help manage the care of students with diagnosed conditions like diabetes, cystic fibrosis, and asthma.
School nurses oversee on-site care and medicines which need to be dispensed at school and help teach children about their medical conditions. They conduct hearing and vision tests for children who may not have received this care from a pediatrician or health department. School nurses teach CPR to school staff, and they are part of the certified emergency response team at every school.
School nurses also provide everyday prevention education and materials to faculty and students.They contact parents and send a child home if he or she has a temperature of 100 degrees with symptoms of coughing, sore throat, and malaise. If a child is sent home with a fever, the school nurse informs the parent that the child should not return to school until 24 hours after fever is gone without the use of any fever-reducing medication.
School nurses touched many lives this year.  Please join us in saying, "thank you," to them for their service and how that work was essential in keeping schools open for children this school year.
Brooklet Elementary School  – Sam DeRosso
Julia P Bryant Elementary School – Shelby Conner
Langston Chapel Elementary School –  Karen Thigpen
Langston Chapel Middle School – Shandrekka Young and Ginger Crocker
Mattie Lively Elementary School – LaShunda Staten
Mill Creek Elementary School – Nicole Rhodes
Nevils Elementary School – Kelli Kenan
Portal Elementary School  – Chelsea Simms
Portal Middle High School  – Robin Sherrod
Sallie Z Elementary School  – Jessica Gunter
Southeast Bulloch Middle School  – Kelly LeCroy
Southeast Bulloch High School  – Sabrina Nordeoff
Statesboro High School – Brenda Shumate and Tara Knight
Stillson Elementary School – Jennifer Kniphfer
William James Middle School – Renea Durrence
Central Office, Cedarwood, and Transitions Learning Center  –  Fay Blythe
---
Source: Bulloch County Schools