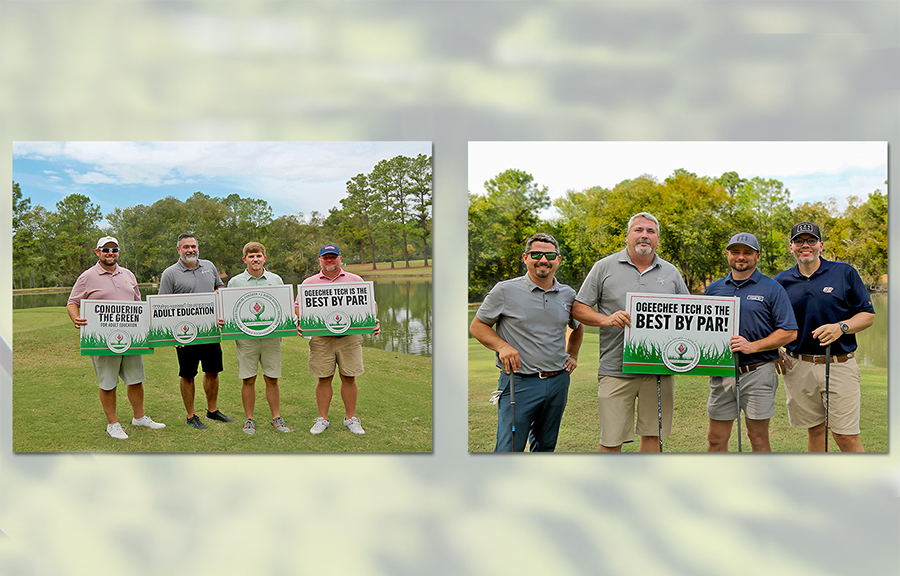 25 teams recently competed in the annual J. David Russell Memorial Golf Tournament at Forest Heights Country Club in Statesboro to raise funds for Adult Education and Adult Literacy at Ogeechee Technical College.


Prior to the 12:30 pm shotgun start, Elise Peeples, Dean of Adult Education at OTC, expressed thanks to the OTC Foundation and those who participated in, and sponsored, the golf tournament.
"I just want to thank all of you for being here today. Your participation in this golf tournament is what helps us fund what we do, and it goes a long way to changing adult lives in our community," said Peeples.
The tournament consisted of a pool of 25 teams that all competed to raise money for the College's adult literacy programs in Bulloch, Evans, and Screven counties.
"The Ogeechee Technical College Foundation is so thankful for the generosity from our sponsors, supporters and volunteers, both new and returning," said Michelle Davis, VP for College Advancement."Congratulations to our tournament winners and thank you to all of the teams who joined us this year to support the students in our Adult Education Program."
The tournament's first-place net total winners were from Brinson, Williams, and Groomes Insurance, and D&R Car Care and consisted of golfers Kyle Williams, Nathan Brown, Ray Driggers, and Taylor Driggers. The first-place gross total winners were from Bulloch Solutions and consisted of golfers Jeffery Beck, John Scott, Matt Meyer, and Logan Smith. The "Longest Drive" winner was Randy Anderson, andChris Page won the "Closest to the Pin" contest.
The proceeds will be used to help pay for the cost of the GED exam for qualifying students and to provide Integrated Education and Training (IET) opportunities for students as well.
For more information about the adult education program call 912-871-1721 or visit www.ogeecheetech.edu/adult.
---
Ogeechee Technical College