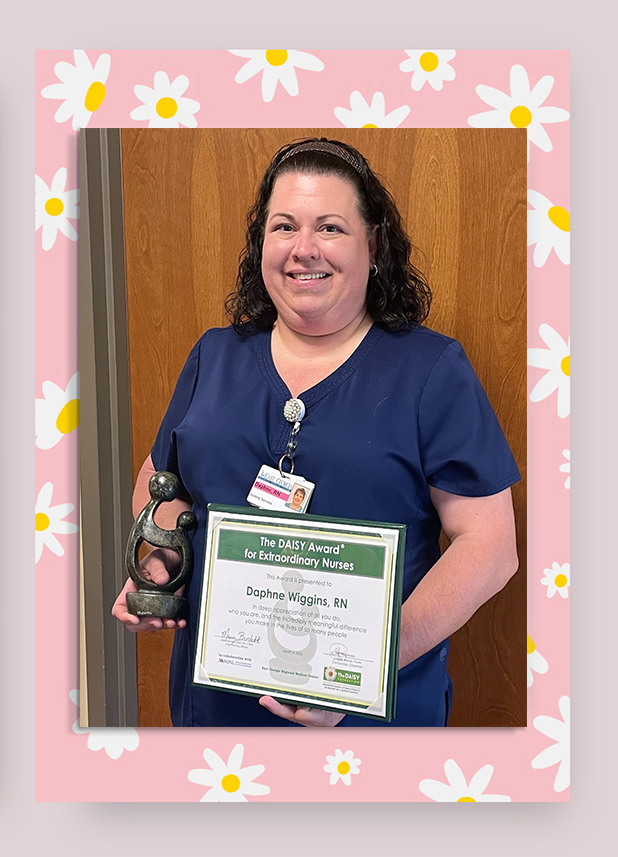 Daphne Wiggins, R.N., was honored with the DAISY Award for Extraordinary Nurses at EGRMC.

Wiggins has been a nurse at EGRMC for over 15 years.
One patient, Jordan Wilburn, wrote, "Daphne was an absolute superhero during my recent labor and delivery at EGRMC. She exemplified the extraordinary strengths and skills needed in the nursing profession, especially in labor and delivery. It was her compassion combined with quick thinking, and clear, calm communication that made my experience in the Women's Pavilion such a positive one. As my nurse, the shift charge nurse and Hurricane lan looming, Daphne took the time to talk with me and my husband, ease my concerns, was warm, patient and went above and beyond to help us. Daphne was there supporting me and even came to check on us the next day. Nurses like Daphne are angels in disguise and I will never forget how incredible my delivery at EGRMC was because of her and the rest of your amazing team!"
The DAISY Foundation is a not-for-profit organization, established by the family of J. Patrick Barnes. Patrick died at the age of 33 in late 1999 from complications of Idiopathic Thrombocytopenic Purpura, an auto-immune disease. DAISY is an acronym for Diseases Attacking the Immune System. The care Patrick and his family received from nurses while he was ill inspired this unique means of thanking nurses for making a profound difference in the lives of their patients and patient families.
To learn more about the DAISY Award, or to nominate a nurse for this prestigious award, visit www.eastgeorgiaregional.com/daisy-award-nominations.