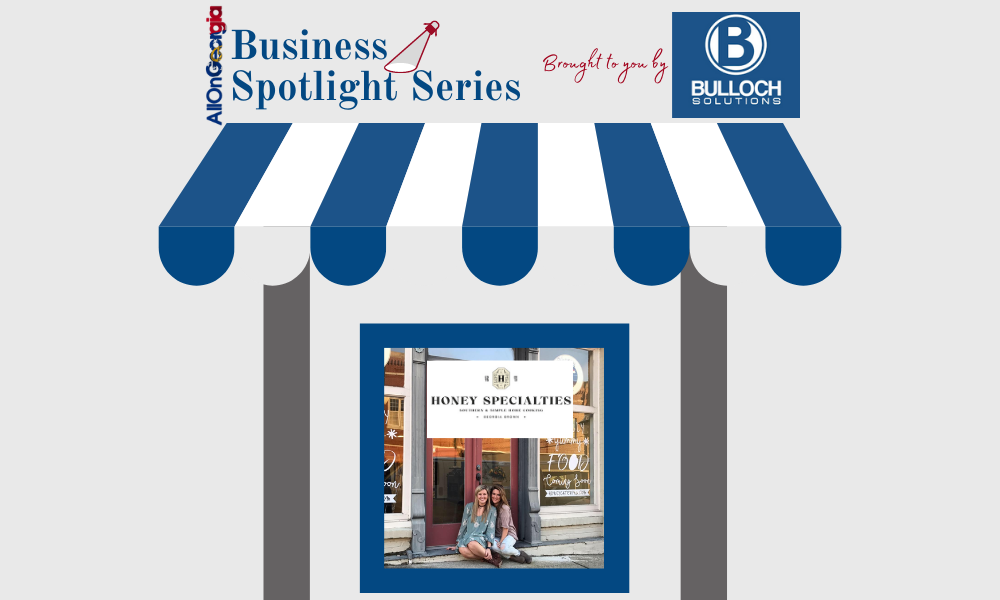 The AllOnGeorgia Business Spotlight Series features the owners, employees, and operations of local businesses in Brooklet, Portal, Register, Statesboro, and unincorporated Bulloch County, which serve as the backbone of our community. 

The series is sponsored by Bulloch Solutions.
---
Sisters Lazar Brown Oglesby and Mary Beth Brown have always had a knack for the camaraderie side of the hospitality business. 
Lazar wanted to own a restaurant from the time she was a little girl while Mary Beth, who is four years younger, knew she wanted to do something that would utilize her 'customer service-driven' orientation. Driven by their adoration for how hometown restaurants feel and their love of delicious food, Lazar and Mary Beth both landed various jobs in a handful of establishments in Bulloch County and elsewhere before they ever considered taking the leap with their own ventures. Lazar spent the better part of a decade at LeAnn's Cafe, Statesboro Brews, and Beaver Creek as she completed the Culinary Arts program at Ogeechee Technical College while Mary Beth dabbled in a few local spots before moving to Amelia Island to work for The Ritz Carlton..
These days, Lazar is the owner of Honey Cafe, Honey Too, and Honey Catering – all under Honey Specialties – and partners with Mary Beth for Dolan's Bar B Que in Millen (soon to be Statesboro!) While the two businesses are separate entities, their operations, their employees, and – right now – their location share a number of similarities. 
Earlier this month, AllOnGeorgia sat down with the sisters to discuss the Honey venture in particular, with a feature on Dolan's coming in January, after they were nominated for the AllOnGeorgia Business Spotlight sponsored by Bulloch Solutions.
On the outside looking in at the operations today, it would be hard to believe that an operation that caters across the region and a bakery that ships cheesecake to the farthest-reaching corners of the country started in the back of a flower shop in a town with a population of ~2,700. Based in Jenkins County, the Honey brand launched in the back of the Charm Barn back in 2012. Lazar wanted a home base to serve cheesecake by the slice and she would occasionally serve lunch for a few small tables in the corner of the shop, but while the demand for cheesecake and lunch increased, the catering business surged. 

In the first year of operation, Honey Specialties catered 20 weddings, ultimately taking the company as far as Tybee Island, Amelia Island, and even in Lexington, Ga near Athens. That certainly didn't slow down the business at the cafe either and before long, Honey Cafe was expanding. Lazar moved her operations to a spot down the road, adjacent to a gas station on Highway 25 at Thompson's Corner, and business was lucrative enough to support a bigger staff. Mary Beth was quick to return home from Amelia Island to help her sister.  
In 2017, Lazar bought the building where all the deliciousness available from Honey Too, Honey Cafe, and Dolan's is cooked today – the same place Hooks BBQ once called home. Everything sold at the Statesboro location is baked in Millen and delivered to Statesboro for convenient pick-up or, thanks to a new partnership, shipped overnight to the home of someone across the country. Honey's timely partnership with GoldBelly.com has alleviated some of the pandemic-related pressures and allowed them to ship cheesecake overnight to any location in the country for a reasonable rate. This is just another way Honey Specialties has evolved over the years to meet the demand by customers who love the perfect cheesecake recipe, one Lazar says is unique because of the light, fluffy filling and the noticeably sweeter crust.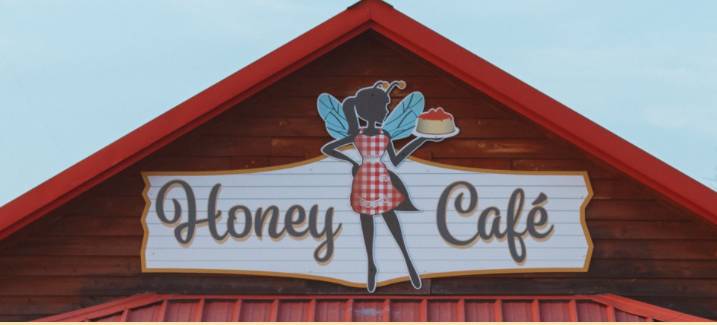 But how did a cheesecake spot grow to need a satellite location in the next county over?
Statesboro's 'Honey Too' actually started with a van. Lazar was constantly getting requests for delivery to Statesboro – for cheesecake, casseroles, and other delectable treats – and she agreed to meet customers in various locations around town. The parking lot deliveries were so successful that Honey Too moved into a brick and mortar building in downtown Statesboro in October 2017. 
It's been nonstop ever since, with weddings and large events year-round and more than 100 flavors of cheesecake available for the sweet tooth connoisseurs – all baked fresh, individually, and locally each and every time. [Click here to see some of the favorites] But Lazar says it was her husband, Johnny, who has continually pushed her to do more, expand, and make Honey Specialties all it can be. She credits him with orchestrating everything and says it was his idea to sell cheesecake by the slice – which may be one of the reasons he often still helps her make cheesecake. 
As for Statesboro's satellite location, the good news is that COVID-19 hasn't claimed cheesecake, so you can grab some just about any time you want – whole or by the slice-,  along with casseroles and a variety of chicken salads, dips, and soups. Honey Too also features a number of local and seasonal specialties for sale and the shop is open Monday through Friday.
When the new Dolan's Bar B Que opens in 2021, the current downtown location for Honey Too will be located inside the Dolan's. In the meantime, Dolan's is open Thursday, Friday, and Saturday from 10:30 a.m. to 3 p.m.
You can follow Honey Specialties on Facebook or visit them on the web at HoneyCatering.com.
Check back to AllOnGeorgia in January for a follow-up piece on the deep family roots and strong work ethic that's built the new Dolan's Bar B Que location on Main Street.