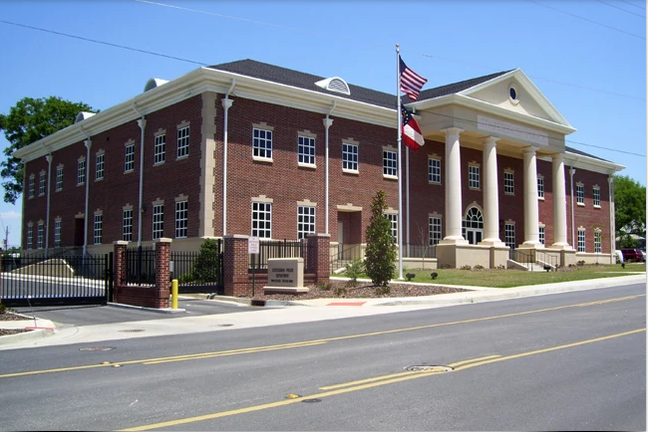 Tuesday, the Statesboro Police Department's Major Robert Bryan, alongside Mayor Jan Moore and interim city manager Robert Cheshire, hosted a seminar for local media members to view their new Use of Force Simulator, an up and coming piece of technology that provides officers with training on when and how to use force.


Police use of force has always been of great concern in every department, but is lately becoming more than just a basic training module. With the new technology on site, the Statesboro Police Department will have the ability to offer their officers quarterly training with a POST certified instructor, instead of just once a year on a per-officer basis.
The Department purchased the ~$78,000 simulator and its tools without tax dollars by utilizing seized drug funds with the intention of not only reducing the cost of annual training for the Statesboro Police Department, but also to allow use by the Bulloch Sheriff's Office, Georgia Southern Police, and other departments in the county and even the Southeast region, for a fee.
A demonstration of the simulator with the use of a handgun by Officer Custer is available for viewing below:
Statesboro Police Department Use of Force Simulator

Posted by Jessica Szilagyi on Wednesday, November 4, 2015
In a press release from the Statesboro Police Department, the benefits of the simulator were broken down in the elaboration of the technology being utilized:
The Meggitt Training Systems FATS L7 is a state of the art system that exemplifies the advances in simulator technology making training much more effective, freeing up the participants movement, and incorporating fully customizable scenarios. The system and software allow realistic training for marksmanship, judgement use of force skills, less than lethal options, shoot or don't shoot scenarios, low-light and no-light situations, cover and concealment, propert suspect interaction, and verbal commands. 
Additionally, the department will have the ability to upload their own footage of schools, banks, or other buildings around Statesboro so officers can train in potential environments.
Mayor Moore commented that she would prefer officers 'hone in on their skills in the simulator room instead of out on the streets.' She emphasized the City's committed dedication to assisting law enforcement in Statesboro in any way possible. The Department is the only agency in the region to have such technology and only a few departments of equal size around the state have this simulator, or anything like it.
To date, between 60-70% of the SPD force has had the opportunity to train on the new simulator and the remaining officers will complete the training by December. Beginning January 1, all officers will train on a quarterly basis.
You can follow the Statesboro Police Department on Facebook here.