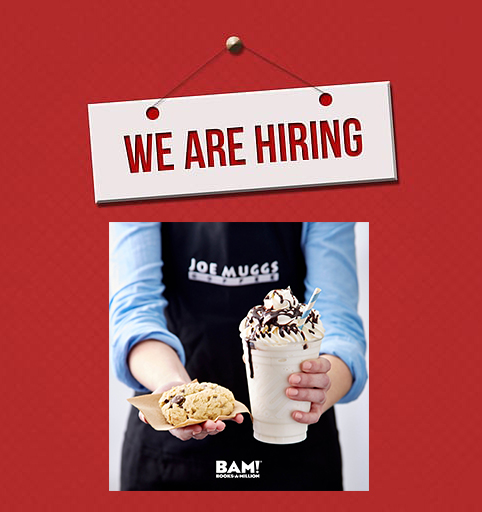 Books-A-Million in Statesboro has a job opening  for a part-time Barista at Joe Muggs Coffee.


Job Description from BAM:
Under the direction of the store General Manager, performs a variety of tasks specific to the successful operation the Café following the prescribed
guidelines for service.
Role and Responsibilities
During the majority of the shift, this is an independent position with back-up provided on an as-needed basis.
Operation of the Café equipment and prepare coffee, specialty drinks, bottled drinks, and baked and prepared goods.
Maintain a clean environment within local, state, and federal sanitation guidelines.
Complete on-going, daily and weekly cleaning of food surfaces, machinery and utensils, and customer areas.
Stock and merchandise café in accordance with company policies and procedures, maintaining a straight, organized and clean shopping environment.
Greet customers entering the store and café, and provide exceptional customer service on each transaction.
Successfully promote all POS initiatives and company programs including, but not limited to discount cards, magazine sales, pre-sale vouchers, and donation programs.
Balance cash drawer following each shift within allowable variances as identified in the Loss Prevention Policy.
Assist the bookstore as needed.
Job Requirements from BAM:
High School diploma or GED
Preferred Skills
Strong verbal and written communication skills.
Ability to multi-task.
Ability to learn and operate multiple café machines, including, but not limited to blenders, ovens, espresso machines, and cash registers.
Demonstrated customer service skills.
Cash handling skills.
Physical and Environmental Requirements
Must be able to operate a computer or register.
Must be able to use hands/arms to operate machinery, telephone and for repetitive motion activities.
Must be able to lift/push objects up to 15 lbs. on a regular basis and up to 25 lbs. on a periodic basis with or without assistance.
Must be able to communicate using speech, sight, and sound with or without assistive device.
Must be able to stand, walk, stoop, bend, twist, crouch, or reach while performing daily activities of the job.
Apply online HERE.