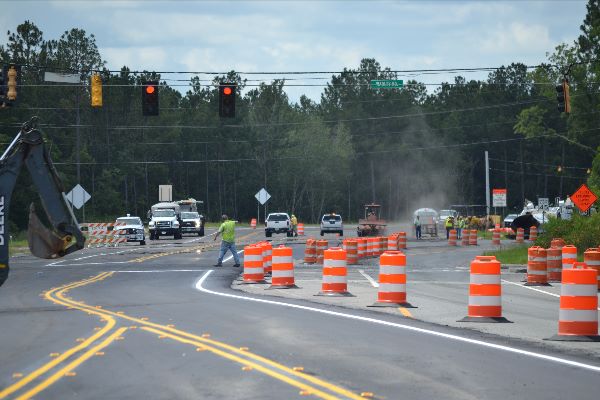 Georgia DOT continues essential road work throughout Southeast Georgia. As a result, work on construction and maintenance projects will continue Saturday, July 25 through Friday, July 31.
All work subject to change due to weather or other factors. Motorists are cautioned to reduce their speed while traveling through work zones, pay attention and watch for workers.
Lane closures are listed below by interstates and counties.
Interstate 95
I-95
 Bridge Rehab Projects in Camden County
Exit 3 interchange bridges and Satilla River Bridges north of Exit 14
Mon-Thurs 7pm-7am single LC/10pm-5am double LC
Weekend LC remain in place 9pm, Fri through 5am, Mon
Additional LC on SR 40/East King Ave & Boone St
I-95 Interchange Lighting Upgrades in Camden County
I-95 at St. Mary's Road/Exit 1
Lane closures Monday – Saturday 7pm until 7 am
I-95 and Belfast Keller Interchange in Bryan County
Double lane closure and traffic paces for beam placement
7 pm Monday until 6 am Thursday
Interstate 16
I-16
 in areas between MP 108 thru MP 99
Single lane closures for bridge maintenance
Daily 7 pm to 7 am
Bulloch County
US 80
 at Caney Branch
Temporary road closure for bridge culvert upgrade
Traffic detoured via SR 119 & SR 119 Conn
Camden County
Colerain Road 
widening project west of I-95 to Kings Bay Rd.
Lane closures west of I-95 to Christina Lane for median work
Chatham County
CR 787 Islands Expressway Elba Island rd. to Oatland Island Rd.
Double lane closure to Mobilize equipment and materials
Monday through Saturday 9 am until 3 pm.
SR 30 Effingham/Chatham County Line to Hwy 21
Lane closures for Milling and paving turn lanes and shoulders
Monday through Friday 7 pm to 5:30 am
SR 25 closed at Houlihan Bridge for repairs
Located in Port Wentworth
Traffic detoured via SR 30, SR 21, I-95 & US 17
Effingham County
SR 275 resurfacing from SR 21 to dead end
Lane closures daily Monday – Saturday
Evans County
SR 169
 @ Bull Creek Bridge replacement project
Located between Clyde & Edward Tucker Rd. & Louis Kennedy Rd.
Traffic detoured via SR 144 and US 301
SR 30 between milepost 6 to 13
Daily lane closures for resurfacing
Glynn County
US 17/SR 25 on Sidney Lanier Bridge
Single Lane Closure for Bridge Rehab work
Monday through Sunday 6 am to 6 pm
SR 25 Spur/Torras Causeway
From US 17 and extending to Kings Way
Nightly lane closures 8 p.m. until 6 a.m.
Resurfacing, bridge joint work & bike safety enhancement
Bridge Rehabilitation at various locations in Glynn County
Single Lane Closure on US 341/SR 27 and US 301/SR 23
Monday through Thursday 6 pm to 6 am
Continuous 9pm Friday through 6 am Monday
Jeff Davis County
SR 19 
RR Overpass
Detour via SR 135 and SR 135 Conn.
Anticipate completion Summer 2020
Liberty County
SR 38 
resurfacing
Single lane closures Monday through Sunday
Nighttime work 7pm to 5am from OC Martin to I-95
Daytime work 7am-7pm from SR 196 to west of I-95
McIntosh County
UPDATE:
Church Hill Road Bridge over I-95 now open to traffic
Lane closures next week to complete bridge rehab work
Screven County
SR 73
 Rocky Ford Rd. to Bascom Rd.
Single Lane Closure for Intersection improvements
Monday through Saturday 8 am to 8 pm
Tattnall County
Hillview Road closure in Collins
Bridge replacement project over Cedar Creek
Traffic detoured via Manassas St, SR 23 & Cedar Creek Rd
Ware County
SR 158 
between Hutch Lane and Barnes Road
Road closure for three bridges to be replaced
anticipated open to traffic summer 2020
Wayne County
Bridge Rehabilitation at various locations in Wayne County
Single Lane Closure on US 341/SR 27 and US 301/SR 23
Monday through Thursday 6 pm to 6 am
Friday through Monday 9 pm until 6 am