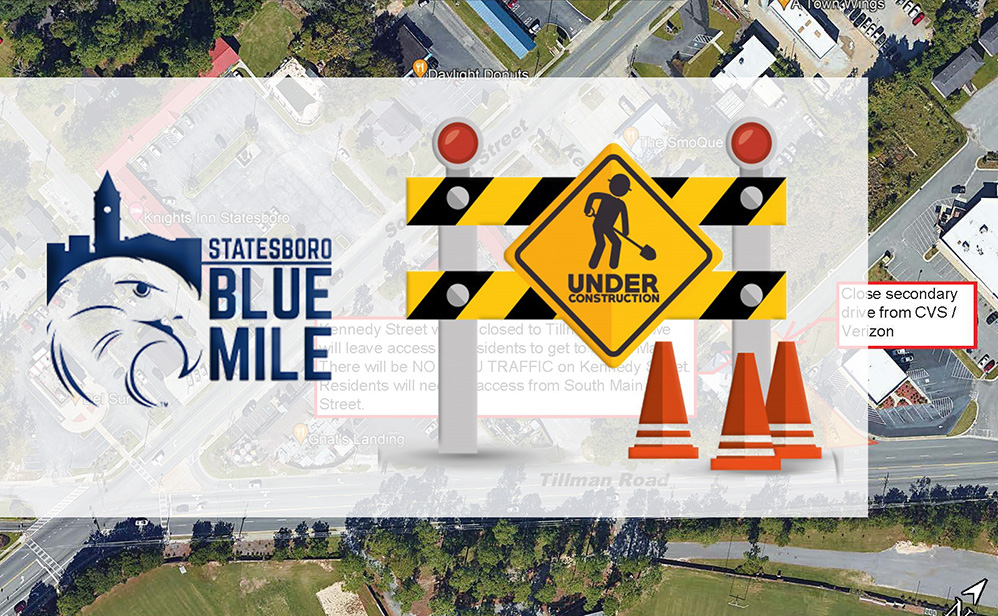 Thru traffic on Kennedy Street in Statesboro will be impacted beginning Monday, January 31 as part of the Blue Mile project. See the maps below.

City of Statesboro:
As part of ongoing construction with the Blue Mile streetscape project, contractors will be installing a new sanitary sewer on Kennedy Street next week. This work will impact thru traffic on Kennedy Street, most notably from Tillman Road to South Main Street. The current traffic control plan has the contractor closing Kennedy Street in sections. Phase 1 of the Kennedy Street closure and Tillman Road lane closures will start on Monday, January 31st.
Homeowners along Kennedy Street will have access from either South Main Street or Tillman Road, but they will always have access. The secondary drives into the adjacent business parking lots will be closed depending on which end of Kennedy Street is being worked on (Verizon, CVS, Chinese Kitchen, Smoque Pit).
During all of these stages, there will be NO THRU TRAFFIC on Kennedy Street between Tillman Road and South Main Street. Additionally, the Kennedy Street intersection on the west side of South Main Street will experience periodic closures. Drivers are encouraged to avoid the area if possible. We thank you for your patience as we work to improve The Blue Mile.