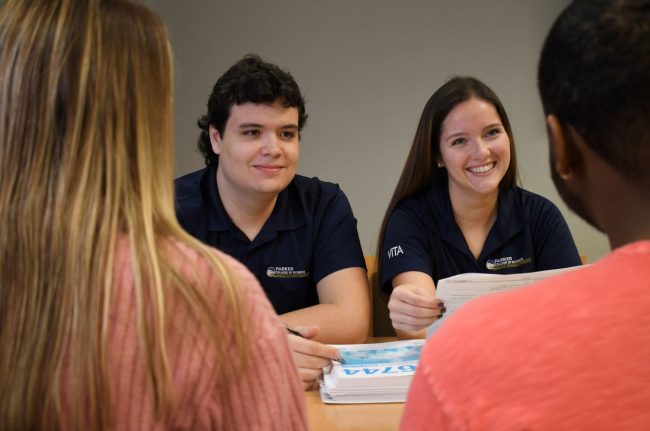 GSU's Parker College of Business is again offering free tax preparation through the VITA program. Taxpayers in the Statesboro community are able to receive free tax preparation and e-file services, while undergraduate and graduate students in the School of Accountancy gain experience.

Students in Georgia Southern's Parker College of Business are ready to get hands-on experience preparing income tax returns while helping community members save money through the Volunteer Income Tax Assistance (VITA) program, which will begin on January 30 and continue until Thursday, April 6.
The annual program is hosted by the University's School of Accountancy through a partnership with the IRS and offers free individual income tax preparation and e-file services to taxpayers. All tax returns are prepared and reviewed by accounting students and faculty who are IRS VITA certified. The service is generally available to taxpayers with a household income of $75,000 or less.
The VITA program is at Georgia Southern's City Campus in downtown Statesboro, 58 E Main St, Suite D, and is open Mondays(Jan 30 – April 3) 10:00 a.m. to 12:30 p.m. and Thursdays(Feb 2 – April 6) 3:00 to 5:30 p.m., with a few Saturday dates as well. VITA does not take appointments and services are provided on a first-come, first-served basis.
More information can be found on their site HERE.