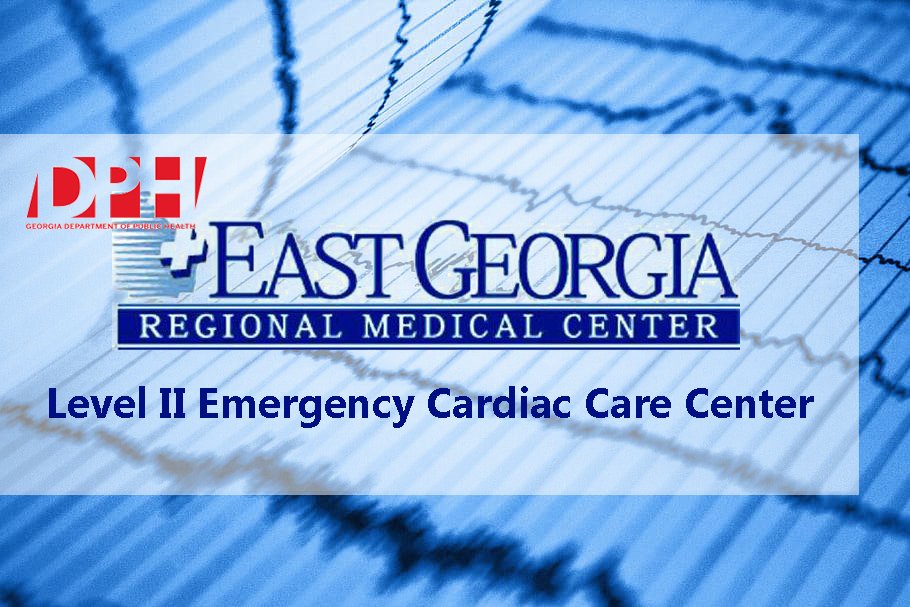 The Georgia Department of Public Health, Office of EMS and Trauma recently designated East Georgia Regional Medical Center (EGRMC) as a Level II ECCC.

Dr. Kathleen E. Toomey, M.D., M.P.H., DPH Commissioner and State Health Officer stated, "The Department commends East Georgia Regional Medical Center and your staff for the commitment to excellence in emergency cardiac care that is being provided at your facility. Improving the survival rates from heart attacks and out-of-hospital cardiac arrest in Georgia is exceedingly important and is in keeping with Public Health's desire to protect and improve the health and lives of individuals throughout our state."
As a Georgia designated Emergency Cardiac Care Center, EGRMC has become an integral part of a growing emergency cardiac care system throughout the state. This new designation from the Georgia Department of Public Health (DPH) means that when you or someone you know has a heart attack, you can continue to trust EGRMC to provide fast and effective treatment.
"Receiving the ECCC designation is such an extraordinary accomplishment for our team," says Tonya Eagle, EGRMC Director of Cardiovascular Services. "But this achievement extends far beyond the walls of our hospital– connecting first responders, surrounding emergency departments and cardiologists throughout the region to ensure each patient receives the level of care they need," added Eagle.
Dr. Toomey added, "The Department applauds East Georgia Regional Medical Center for this achievement and appreciates the contributions that you make to the health and well-being of Georgians, as well as to those visiting our state."
Healthcare organizations seeking ECCC designation by the Georgia DPH undergo a thorough evaluation process, including a site inspection and an assessment of emergency cardiac care processes and equipment. Once these steps are complete, the Georgia DPH uses a three-level designation system to rank the capabilities of each facility:
Level 1 hospitals perform open heart surgery and interventional cardiac catheterizations
Level 2 hospitals perform interventional cardiac catheterizations
Level 3 hospitals stabilize patients until they are transported to a Level 1 or Level 2 center.
To improve these outcomes and reduce the death burden from cardiovascular disease and out-of-hospital cardiac arrest (OHCA) in Georgia, legislation was signed into law in 2017 establishing the Office of Cardiac Care within the Georgia Department of Public Health.
The Mission of the Office of Cardiac Care is to improve survival rates in Georgia from out-of-hospital cardiac arrests (OHCA) and heart attacks (STEMI) through quality improvement, benchmarking and evidence-based guidelines, supported by standardized data collection and reporting systems. The foundation for the evaluation of the Emergency Cardiac Care System in Georgia is the establishment and maintenance of the cardiac registry.
They will accomplish this by:
Assigning designated levels to Emergency Cardiac Care Centers (Level I, II, III) for hospitals complying with Emergency Cardiac Care Center criteria for awareness among the public and EMS.
Establishing protocols for EMS to diagnose, triage, and transport cardiac patients to an appropriate cardiac resource hospital.
Requiring all cardiac-designated hospitals at each level to submit heart attack (STEMI) and out-of-hospital cardiac arrest data to the Georgia Cardiac Registry (GCaR) data reporting system.
Providing data to help measure performance and improve outcomes.
Benefits of the Emergency Cardiac Care Center Designation
EMS will know what cardiac resources hospitals have, and they will be able to get patients to the right treatment in time.
Hospitals will:
Strengthen Georgia's Emergency Medical Services system.
Ensure cardiac patients get the proper treatment that they need.
Save lives, reduce disability, and improve quality of life.
The community will:
Have a designated Emergency Cardiac Care Center nearby.
Have peace of mind knowing that if they go to the hospital, they'll receive the correct treatment. In some cases, that will involve transferring patients to higher-level care. In other cases, EMS will take patients directly to another hospital.
Based on these specifications, EGRMC received Level 2 designation.
"Receiving ECCC designation speaks volumes about the level of cardiac care EGRMC provides," says Stephen Pennington, EGRMC CEO. "Our continued dedication to excellent heart and vascular care – both routine and in emergency situations – is saving lives throughout our community and beyond."
---
EGRMC