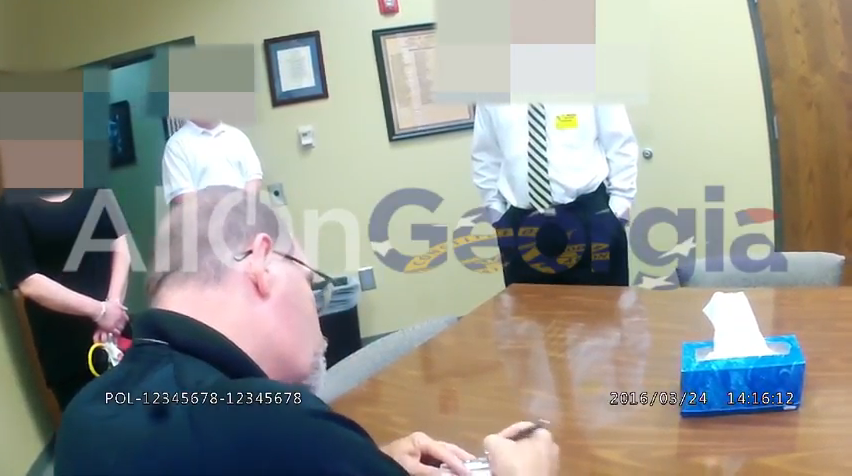 The following article is Part 5 of an investigative series by AllOnGeorgia into the Brooklet Police Department under the authority of Former Police Chief Doug Meyer (also known as Max Meyer & Clifford Meyer). The series looks into Internal Affairs investigation reports, a series of body camera files, and details over a dozen incidents during Meyer's tenure in which citizens allege harassment, retaliation, and false imprisonment by Meyer and a few of his officers. All documents contained in the article below were obtained by way of an Open Records Request filed on May 29, 2018.


Part 1 — Fmr Chief in Brooklet acknowledged citing business owner for speaking out against PD
Part 2 — VIDEO: Fmr. Brooklet Chief to Motorist: 'I'm going to work to get you fired' during speeding-related traffic stop
Part 3 — VIDEO: Brooklet PD secured warrant day after man filed complaint about traffic stop
Part 4– Documents show Brooklet Council teetered on officer discipline despite findings of wrongdoing
---
Former Chief of Police Doug Meyer issued a motorist a verbal warning on the roadside in Brooklet, but when the motorist filed a complaint with the Georgia Peace Officers Standards and Training Council (POST) over the encounter, Meyer drove to her place of employment and issued a citation. Weeks later, when the ticket was nolle prossed in court by the municipal court judge in Brooklet, Meyer issued the same ticket for the same violation for the same date and time on a different citation number.
The motorist involved in this incident will be referred to as "E.W."
E.W. was pulled over on March 23, 2016 at "approximately" 9:09 A.M. by then-chief Doug Meyer on Railroad Street.  A verbal warning for speeding was issued. Though there was a warning issued, something transpired during the stopthat was egregious enough that it led E.W. to file a complaint with the Peace Officers Standards and Training Council (POST). The complaint was filed the same day.
No body camera footage from Meyer's camera exists from the initial traffic stop with E.W., in line with a considerable amount of missing video and paperwork no longer available since Meyer's departure. Brooklet PD policy also requires that all interactions with the public be recorded in their entirety.
Meyer issues citation for speeding the day after a traffic stop.
On March 24, 2016, after learning of the complaint, Meyer traveled to the place of employment of E.W. and issued a citation for the March 23, 2016 traffic stop. The citation issued at the place of employment of E.W. was No 013197. It lists March 23, 2016 as the date of the traffic stop and assigns a May 11, 2016 court date. Meyer took another officer to the employer of E.W. to issue the citation and another officer's body camera captured the footage of E.W., the officer, and two other witnesses.
The video, which is just over 12 minutes long, shows Meyer sitting at a conference table writing a citation as three others look on. Another officer is standing over his shoulder, guiding him as he fills out the ticket.
Meyer tells the spouse of E.W. "I'm going to explain a couple of extra things when she's here because of the progression since yesterday morning."
The spouse asked if this forthcoming citation was "in addition to…", alluding to the speeding offense from the day prior, but Meyer interrupted that it was because of "all the things going on in the background since."
Though E.W. was the motorist in the traffic stop, Meyer directed much of the questions and conversation to her husband.
Meyer explains ticket was a result of allegations and complaints
At the 7:22 mark, after E.W. signs the traffic ticket, Meyer begins explaining what prompted the ticket the day after.
(Text is transcribed from video)
"A great deal of accusations, allegations have been made in the background involving a lot of people. The police commissioners, along the line of assault, and brutality. I have copies of everything that was sent to the city councilmen. The GBI was contacted. The Georgia POST Commission has been contacted. I take this very seriously that someone is endeavoring to destroy my career, my livelihood, and therefore, my life."
He went on, "I'm going to have an attorney present during this, an Internal Affairs investigation is being conducted, most probably by the GBI, which means they're going to contact you about the allegations that you've been spreading by mouth and by way of emails to various people that I did these things to you and in the end, the investigation will show what it is exactly that occurred. Do you understand, do you have any questions?"
E.W. replied that she understood and did not have any questions.
The spouse of E.W. asked what the citation was for. Meyer said it was for speeding and that he clocked her going 15 mph over the speed limit.
"This has become…I normally try to give verbal warnings…and I said, 'If you'll slow down, then a verbal warning should be sufficient," Meyer told her spouse in explaining the traffic stop. "But a verbal warning was not sufficient because after I released her on a verbal warning, all of these other things start coming through and it's somebody who's coming after me and coming after me personally."
Meyer belabored, "We are no longer dealing with just the speeding. A minor violation, which she had already gotten away with on the agreement that she would slow down, now we're dealing with defamation of character, trying to destroy my career, she's opened an investigation with Georgia POST on me, and these things are going forward. I've been around the block a long, long time….. I'm used to this. It's not going to cause me undue stress because I can handle it."
"I have what it is I need and by the time I'm done, I will be fully in command of the situation," he closed.
You can watch the video in its entirety below. Warning: There are 3 loud beeps to censor personal information. Lower your volume if you are sensitive to sound.
A Judge Weighs In
On April 18, 2018, Brooklet Municipal Court Judge Lovett Bennett, Jr. entered paperwork for a Nolle Prosequi, or elected not to prosecute, the speeding citation.
After the nolle prosse of the citation, Meyer then issued another identical ticket dated March 23, 2016, once again 9:09 A.M. as the time, and assigned a court date of June 8, 2016, even though the judge had signed paperwork not prosecuting the case.
The citations, both 013197 and 013200, read "see supplemental report" but the Open Records Request did not yield any additional information or report, which is in line with most instances where a complaint was filed and no supporting information exists. Both are signed by Badge # 101 – which was Meyer.