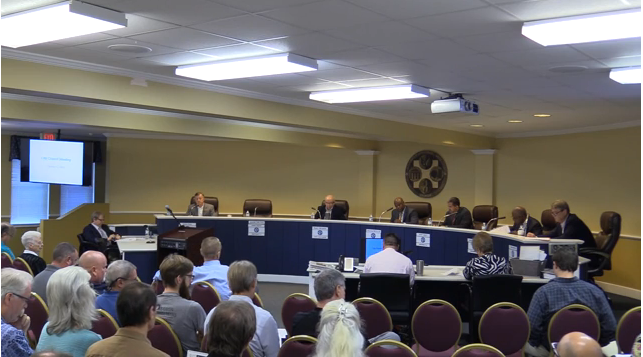 The City Council voted Tuesday night on the approval of two new high-paying positions at City Hall.


At the recommendation of City Manager Randy Wetmore, the Council voted to reorganize the Statesboro City Hall City Manager Office and create two Assistant City Manager positions to serve under the City Manager. The position creation would eliminate the deputy city manager position previously held by Robert Cheshire and leave in place the city clerk position held by Sue Starling. The City Manager would then be responsible only for police, HR, and finance.
"With all the projects we have going on, I think this will serve us well," Wetmore told council members.
According to documents provided in the council packet, the positions would be responsible for overseeing a combination of departments, redirecting department heads to those positions instead of the city manager.
Below is the recommendation by Wetmore:
Assistant City Manager Recommendations

COST
Councilman Jeff Yawn asked about the budgetary impact. Wetmore's memo included salary ranges of $80,000 to $100,000 for each position, but did not make mention of benefits, including health insurance.
Wetmore told council members during the meeting that, "If they're new hires from the outside, that's about $200,000, but if we hire internally it will be less." He then said there would "be a savings" if they hired internally. "It just depends on who actually applies," Wetmore said.
Councilman Phil Boyum said, "But it's $200,000 minus Robert's salary so you're only talking about $80,000." The discussion did not include benefits that would be paid, given the uncertainty of whether or not employees will be promoted or they will hire from the outside.
Hiring two new deputy city managers would mean three positions in the city manager's office would cost $400,000 annually. Mayor Jonathan McCollar, at the meeting, said this was concerning to him. "Meanwhile, we've got eight people cutting the grass for the City of Statesboro. To me, this looks a little too top heavy."
DUPLICATIVE
Councilman Sam Lee Jones voice his opposition to the reorganization stating that the City already has department heads who oversee various departments and report to the city manager.
"Robert Cheshire was the deputy city manager and then acting city  manager for 26 months and he did a good job. And now we have a city manager and want two more assistant positions, but if we hire from within, we still have to replace those positions," Jones said referring to the vacancies that would be created from an internal promotion. "So we're still looking at $200,000."
"If you ask Robert about his 26 months, he would have said he wished he had one or two other people to help him, I guarantee you that, without a doubt," Wetmore told Jones.
"All of the department heads have 10+ years, so thinking about the department heads handling the departments," Jones was saying as Wetmore interrupted him, "I know what we have."
Councilman Phil Boyum told Wetmore he thought it was a "great idea," and said the department heads are overworked. "We're down 32 employees right now, so we could use some extra hands."
WHAT OTHER CITIES OF SIMILAR SIZE DO
The City of Statesboro's population as of 2016 information is 31,419. The council has a habit of including the student population in their full-time population, often rounding up the population to 50,000, so a comparison has been done to cities and counties of both sizes.
Some cities and counties only have an administrator while other have a manager. Managers are generally paid more than administrators, are supposed to carry out more duties, and have additional responsibilities.
Based on calls made by AllOnGeorgia to cities of the similar size to Statesboro and close proximity to Statesboro, no city of similar size has two assistant city managers in addition to a city manager and if a deputy or assistant city manager is in place, only one is on staff. Johns Creek, with a population of over 75,000, was the only city to have a city manager and two assistants and those with a deputy at all seemed to be concentrated in the metro Atlanta area, or in close proximity of a metro area.  
| | | | | |
| --- | --- | --- | --- | --- |
| City/County | Population | Administrator/Manager Position | City/County Clerk | Deputy or Assistant Positions |
| Statesboro | 31,419 | City Manager | 1 | 2 |
| Bulloch County | 72,651 | County manager | 1 | 1 |
| Wayne County | 29,534 | County Administrator | 1 | 0 |
| Laurens County | 47,731 | County  Administrator | 0 | 0 |
| Alpharetta | 57,771 | City Manager | 1 | 1 |
| Smyrna | 51,271 | City Administrator | 1 | 1 |
| Johns Creek | 75, 728 | City Manager | 1 | 2 |
| Rome | 36,303 | City Manager | 1 | 1 |
| Peachtree City | 34,364 | City Manager | 2 | 0 |
| Gainesville | 33,804 | City Manager | 1 | 1 |
| East Point | 33,712 | City Manager | 1 | 1 |
| Hinesville | 33,437 | City Manager | 1 | 0 |
| Newnan | 33,039 | City Manager | 1 | 1 |
| Milton | 32,661 | City Manager | 1 | |
| Douglasville | 30,961 | City Manager | 1 | 0 |
THE VOTE
Boyum made the motion to approve the reorgaization and Councilman Jeff Yawn said he'd like to make a motion to table the issue for the time, but Boyum's motion had already been made, so Yawn's motion could not be made unless Boyum's motion failed for lack of a second. Instead, Yawn seconded Boyum's motion and it passed 3-1, with Boyum, Duke, and Yawn voting in favor and Jones voting against.
Councilman John Riggs was not present at the meeting.
You can watch the council meeting in its entirety below. The discussion on the new positions begins at the 47:00 minute  mark.