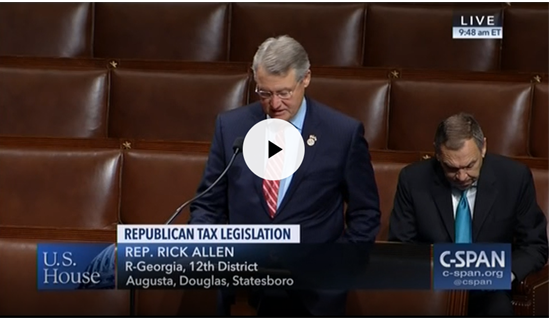 12th District Congressman Rick W. Allen from Georgia spoke on the House floor recentlyta in support of "Tax Reform 2.0," a three bill package intended to build upon the Tax Cuts and Jobs Act that was signed into law in December of 2017. Congressman Allen voted in support of "Tax Reform 2.0," legislation which includes H.R. 6760, the Protecting Family and Small Business Tax Cuts Act, H.R. 6757, the Family Savings Act, and H.R. 6756, the American Innovation Act.

Thank you, Mr. Speaker, and thank you Mr. Chairman for your leadership on this important bill, and yes, I came from the small business world and let me tell you, in my district, the small businesses are back!
I am proud to support Tax Reform 2.0, legislation that will build upon the tremendous success of the Tax Cuts and Jobs Act that was signed into law last year. After 31 years under an old, outdated, and burdensome tax code that stifled our economy and plagued our job creators, America simply needed a change.
I am happy to say that we delivered on our promise of comprehensive tax reform to the American people and we are seeing new levels of economic growth and optimism around the country—and we're not done yet.
In the month of August alone, Georgia added over 12,000 jobs and the unemployment rate fell [to] 3.8% – and we are committed to keeping this momentum going. Tax Reform 2.0 will lock in the middle-class and small business tax cuts permanently, allow families to more easily save their hard-earned money for retirement, help local businesses provide retirement plans to workers, promote start-up businesses, and much more.
As cosponsor of Tax Reform 2.0, I encourage all of my colleagues to join me today in supporting this important legislation that will unleash our economy and our economic engine that is the American family and small business. And with that, I yield back.