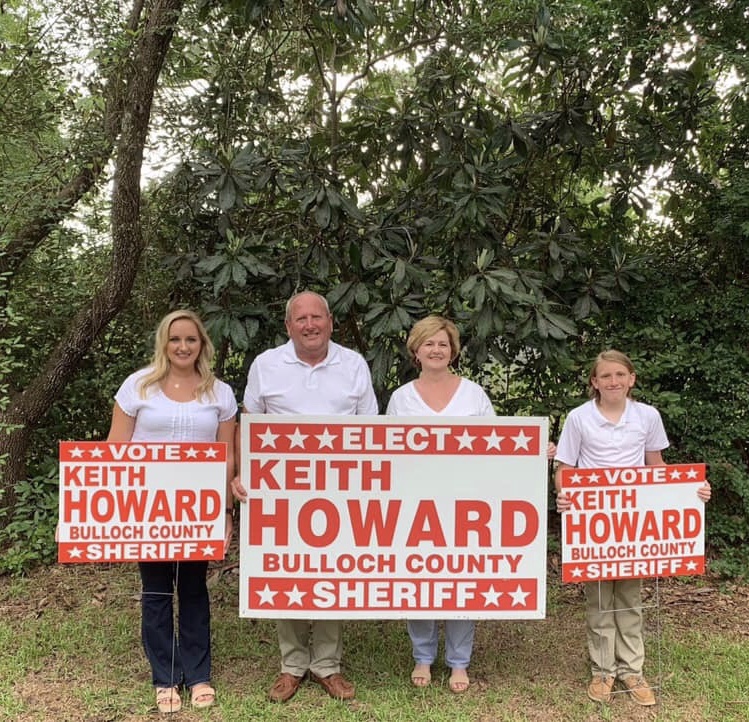 Keith Howard wants to be your Sheriff.


Howard's political platform looks much like it did when he ran in 2016 as a Democrat, though this time he will have an 'R' next to his name as it did in 2012. Howard says he is of the belief that voters should vote based on who the right person for the job is, not based on the letter after their name.
Relying on his experience, Howard says he is qualified to be Bulloch County's top law enforcement officer because he worked as a Trooper with Georgia State Patrol and as Chief Deputy in Jenkins County. The combination of those two jobs along with his tenure working on aggressive highway interdiction, his background in agriculture, and his strong work ethic, Howard thinks he has a well-rounded vision for a community-oriented Sheriff's Office.
"One man can't solve all of the world's problems," Howard said in an interview. He said he's committed to hearing feedback from all the interested parties and exhausting all available resources for fundings and support.
Howard says he doesn't have plans to go negative during the race, but he will focus on the current shortcomings of the Sheriff's Office, which have positioned him to challenge incumbent Noel Brown.
Overtime
Howard says he'd like to use reserve deputies more frequently and more closely partner with the Bulloch County Sheriff's Foundation. He says reserve deputies could escort funerals, work school zones, and even work traffic control at the Kiwanis Fair (which compensates deputies on the fairground but not on the road, according to Howard) to keep other deputies engaged in other patrol and call-related duties. He says by his calculations, the motorcycle unit – when considering overtime and base salary – cost the Sheriff's Office $500,000 between 2016 and 2019. The expense is too high, he says, because the unit has only written 158 reports and 41 tickets in three years.
Howard referenced Effingham County Sheriff's Office, noting that the county had approximately $200,000 in overtime costs compared to Bulloch's $1.5 million.
A lack of qualified personnel is not the issue at the Sheriff's Office, Howard told AllOnGeorgia. The problem is how personnel are being used.
Howard says Step 1 would be to get a part-time secretary to pick up where overtime is consuming so much time in administrative duties. A qualified part-time employee making minimum wage with no insurance or benefits to pay out. "Blend them into the cycle and send the others home when they hit their weekly limit."
He's also open to the idea of civil defense. "There are so many people who are willing to help, all volunteers, but it stopped years ago because of politics," Howard said in his interview.
As far as deputies go, Howard still wants to see a bump in pay, to ensure promotions are advertised properly, and to work to see that people deserving of promotions aren't passed over, all of which are a priority over new vehicles, Howard said.
It won't be an overnight fix, though. "It takes time. It will take a lot of time."
Commissioner Conflict
"Why would you threaten to sue the Commissioners?" Howard asked of Brown's position with Commissioners. "That's stuff you keep behind doors. You don't go to public organizations and give a speech and say 'I'm suing the Commissioners.'"
He's bothered by what he's seen of Brown's relationship with Commissioners, saying one man can destroy a bridge that will take a team and several years to build back. He said he would work to give a few thousand dollars back to the Commissioners each year, not because of the amount, but as a token of an effort to be responsible with tax dollars.
Howard is disappointed with the handling of the federal inmates, which have now been handed off to McIntosh County, according to Howard. "It's going to cost us, the taxpayers, probably a million dollars. Why'd he get rid of them? Because they wouldn't build him his multi-million jail facility." Howard said it also cost deputy overtime reimbursements for the transport of federal inmates. He says Brown should have accepted the county's offer to accept 40 beds from the Correctional Institute for low-level offenders.
"The Commissioners are bending over backwards and he's threatening to sue," Howard said. "If you ain't got the money, you have to come to a happy medium sometimes."
Traffic Enforcement and Multi-Agency Agreements
"A traffic unit is a no brainer," Howard said. He says even one floating deputy on each shift could work traffic enforcement at their leisure and have a huge impact on the safety numbers.
Howard also says it's imperative that the Sheriff's Office partner with the Governor's Office of Highway Safety so the county could be eligible for the grants. The state agency provides grant funding for a variety of initiatives and Howard would like to utilize at least one that focuses on data collection for 'peak driving times' so deputies can be concentrated during those hours. He also wants Bulloch County to participate in the statewide campaigns like those for car seat safety, hands-free devices, and drowsy driving.
The ATF and GBI would be agencies Howard would immediately seek to partner with, though he's open to working with any regional, state, and federal agency and/or task force, if not only for information sharing purposes, and he says he would work to improve the relationships with entities in the county on Day 1. That would include partnering again with Statesboro and Georgia Southern for the Crime Suppression Team (CST). He says Statesboro and GSU still work together on an Impact Team but the Sheriff's Office doesn't partake and instead runs its own operation.
He doesn't agree with Brown's criticism of CST. Howard said an Open Records Request he filed himself showed 525 CST cases in 2015 with a 96% conviction rate, seizures topping $156,000 in cash and real property seizure and drugs with a street value of $200,000. Asset forfeiture is an important component of funding, Howard told AllOnGeorgia. "If you lose the case and get the drugs and money, it is what it is. You do what you can to get free money."
Forward Looking
A few other initiatives Howard wants to implement include a substation in the City of Brooklet so people in the south end of the county don't have to drive all the way to the Sheriff's Office to file a report and a heavy focus on internet crimes, crimes against the elderly, and sexual exploitation. "The Crime Suppression Team used to help with those things," he said in explaining that the proactive approach will have law enforcement going where the crime is.
As far as the jail goes, Howard says he would work with judges and the district attorney's office to discuss leniency on who can bond out, to include setting deadlines for other agencies to come and pick up their inmates. He also wants to follow the City of Statesboro's lead on misdemeanor marijuana offenses and 'drug related object' charges. "We've got to stop the bleeding so that taxes don't have to be raised."
But it comes down to his desire to be a public servant. "I have passion for the job and that's why I've tried to prove that I'm doing this for the right reason."
The Republican Primary is set for Tuesday, May 19, 2020. Early voting begins April 27th.